Try these 11 clever tricks to create a chic and functional bathroom.
Personally, I think the most challenging part of the house to decorate is the bathroom. It's impossible and tricky to carve out more storage space in a tiny bathroom. Sometimes, even a big bathroom still feels cramped and unorganized.
That's why we searched for 11 brilliant tricks to maximize your bathroom and turn it into stylish, functional, and more spacious. Let's get started!
Create Long Lines
It doesn't matter if you have a small rectangle or weirdly shaped bathroom, there's always an area or space in your room that's wider or a bit longer than others. To use this trick, you can install a floating shelf, colorful tiles, striped wallpaper or paint, or even a molding chair will be enough to emphasize the longest line in your room, and draw the eye to the widest point. Creating long lines gives the impression of a more spacious bathroom.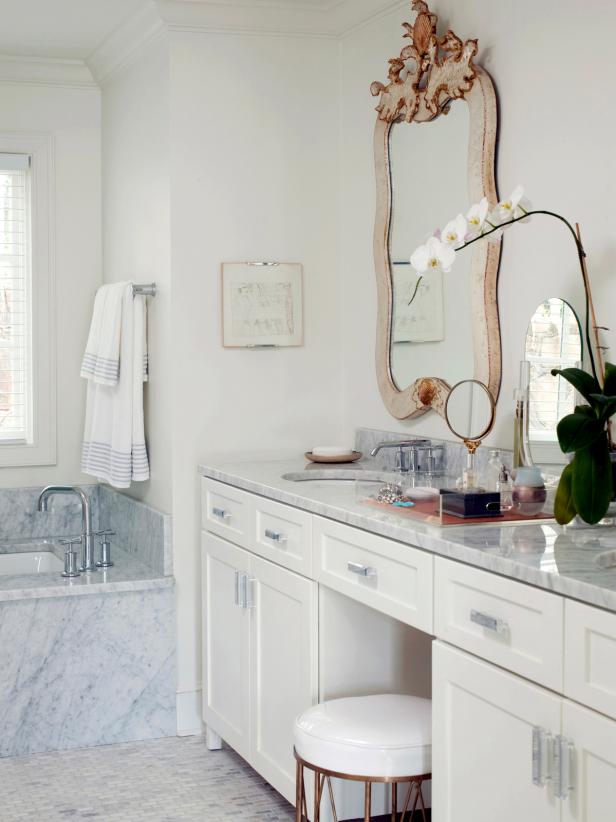 Eliminate the Clutter
A cluttered bathroom will never feel spacious. Trust us, even though you have a large room, it'll still feel stuffy and disorganized if all of your things are on display. If you aren't using any of the products displayed, then it's time to either get rid of them or keep them in the storage space under the sink.
Think like a Parisian. Less is more. Keep products and everyday items in chic trays for easy access. Plus, the fewer items on display in your bathroom, the bigger it will look.
Go All-White
A trick used by designers to give any area of your home look more spacious as white reflects light better than any other color, but it's especially effective in a bathroom. An all-white bathroom never goes out of style. Plus, it makes the space appear as airy.
If you're planning to go for an all-white style, Houzz recommends using different textural elements such as molding, pale stone or tile, and fabric accents, as well as the occasional touch of metallics or wood. It will maintain a seamless look while still giving the eye lots of richness to take in.
Go Big With Your Mirror
Using an oversized mirror is a great trick to double the size of your bathroom, add endless depth, and make the area look brighter and bigger. You can either change one of the walls of your room into a whole mirror or maybe a large portion of it, or you can invest in a large mirror with a beautiful frame.
An oversized mirror can be very effective in small powder rooms since the walls don't take much glass to cover. A hanging mirror with a chunky strap is also perfect to add a more dramatic look into your bathroom.
Uniform Walls
According to interior designer Mia Hannom, the number one trick to create space in a room is to make its walls feel as if they stretch on for ever. Non-uniform walls—where the paint color is in contrast with the tile color on the walls, for example —draws our attention to the differences and brings the wall forward. To get the walls to recede, choose a wall paint color that matches the color of the tiles.
Let the Sunshine in
A dark bathroom feels small, while a well-lit room looks brighter and larger. Do not cover windows with dark curtains or blinds. It's best to use sheer curtains that let in natural light while providing privacy. However, if you only have a small window, experts recommend installing a skylight or solar tunnel to bring more natural light into the room.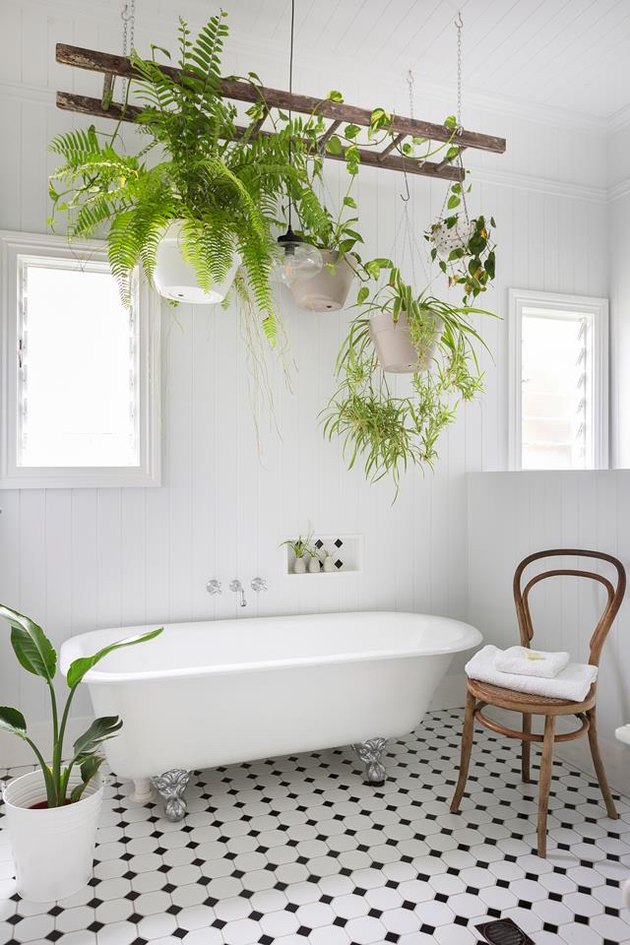 Add Plants
Adding plants to your bathroom is beneficial in so many ways. Not only does it bring life and color to a space, but it also does the dirty labor of cleaning toxins from the air. A Monstera plant is the perfect plant to put in your bathroom since it requires warmth, moisture, and some indirect light to survive. You can also add pots of snake plants. It's easy to care, and it acts as an air purifier.
Transition Seamlessly Between Materials
Since our goal is is to make your bathroom feel more spacious, Mia Hannome advised not to get too creative with accent tiles because the more different materials you use, the more divided the bathroom will look. Hannome explained that contrasting strips and blotches carve up the walls and only emphasize the boundaries. The point is really to get the backdrop of the room to fade away into the distance. It's better to draw attention to an eye-catching vanity unit than a colorful strip of tiles on the wall.
Use a Floating Vanity
One of the trickiest parts in designing a small bathroom is to balance the storage area without looking crowded. A floating vanity is a solution to such a dilemma. This creates the illusion of more space in a room since it opens up the floor space beneath it. Plus, it also provides lots of room to store items like large towels, washcloths, and other daily essentials. A tip by Hay Needle is to pair your floating vanity with an oversized statement mirror. This tricks the eye into thinking your bathroom feels more spacious.
Use a Glass Panel
Ditch shower curtains, and use a glass panel or door to make your bathroom feel bigger. Shower curtains act as a wall and make the room feel smaller. Using a glass panel or door shows the entire square footage of the room. Plus, clear glass also acts as a mirror and bounces light in the room. If you want to make your bathroom look more spacious, Hannome suggested taking the glass as high as you can afford to go.
Of course, not everyone is keen on the idea of having a glass door. If you prefer more privacy, you can opt for the frosted or tinted glass panel.
Go for Bright Lighting
We can't emphasize this enough, but good lighting is crucial to make your bathroom look bigger and open. How will you even shave or apply makeup properly if your room lacks good lighting? Houzz suggested having a rich lighting scheme, preferably with multiple light sources at different locations. This will make the space feel bright and open. For small bathrooms, you can opt for ceiling light with multiple bulbs like in the photo. This will provide light from several directions, and it'll make the space lighter.
We hope these clever tricks will help you redesign your bathroom into a stylish and functional space. Also, a lot of these tricks will also work in any room of your home. Specifically, the lighting and mirrors. If you're looking for more interior design inspo, you can check out Omysa's blog. Happy decorating!