Transform your bathroom in a weekend with these creative and eye-catchy bathroom accent wall examples.
Planning to redesign your home but scared to ruin your place? Then, start by designing your bathroom. Your bathroom is a safe space to experiment with a new color, pattern, or new trend. Give your bathroom a mini-makeover by creating a dazzling bathroom accent wall. Plus, the good news is you can finish this in just a weekend. Sounds easy and fast, huh? So, put down your cleaning supplies and grab a paintbrush or a roll of wallpaper and get inspired by these creative and eye-catchy bathroom accent wall examples.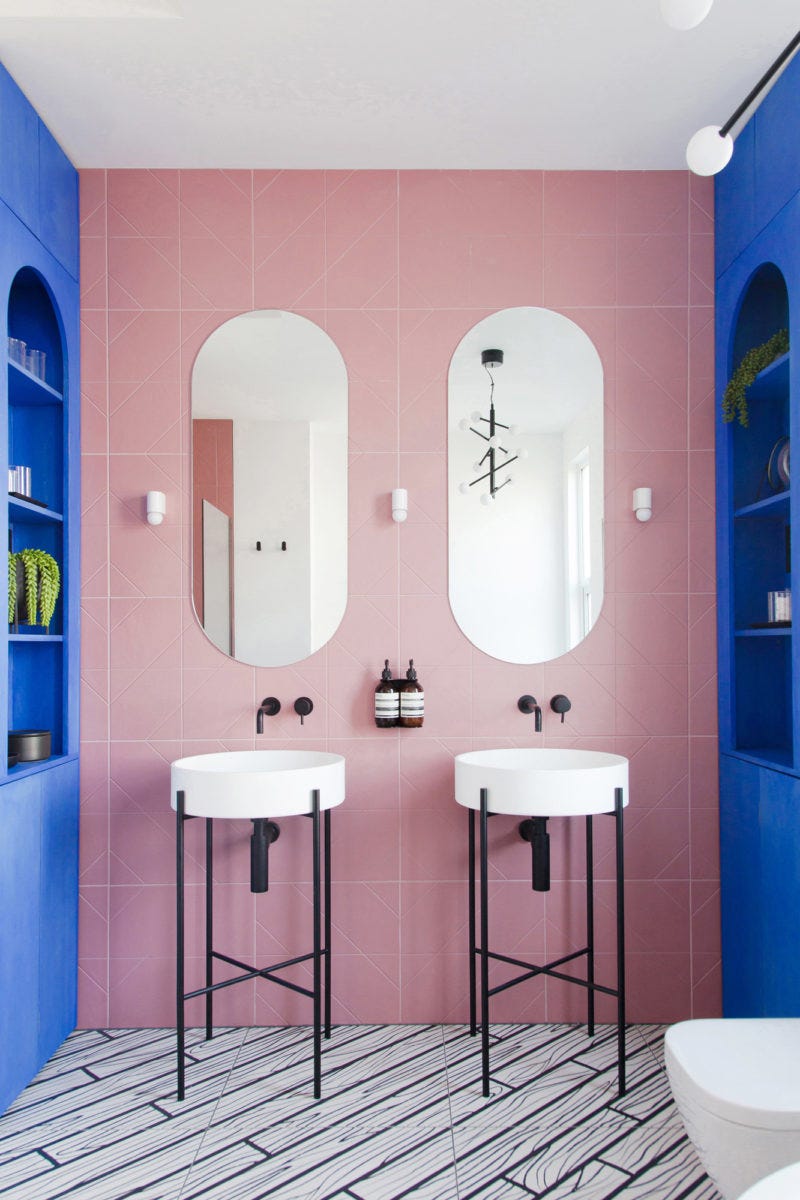 Pretty in Pink
This pink bathroom accent wall by 2LG Studio's portfolio is a fun bathroom inspiration. 2LG Studio designed a strong sense of symmetry with double sinks in this refined bathroom space. Plus, they also featured round vanity and linear frame. Instead of using bathroom tiles, you can paint your bathroom with pink paint. We suggest Valspar's Sweet Sixteen since it gives off a bright accent wall, or you can go for a chic pink wallpaper.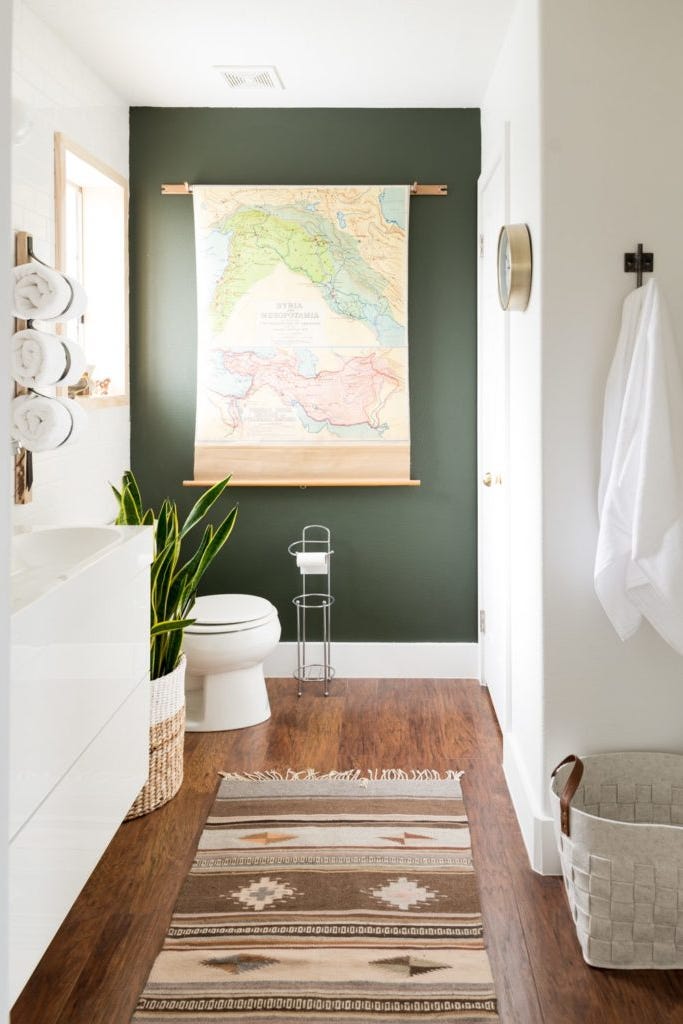 Boho Green
This simple yet classy bathroom accent wall in emerald green was designed by Mandi Gubler. She transformed this featureless bathroom into a chic boho oasis. Bring in snake plants and a colorful boho rug to add life to your bathroom space.
Deep Navy
The bolder the color, the better. Plus, a can of paint can instantly transform your bathroom from drab to fab, just like this deep navy blue bathroom accent wall combined with brass materials.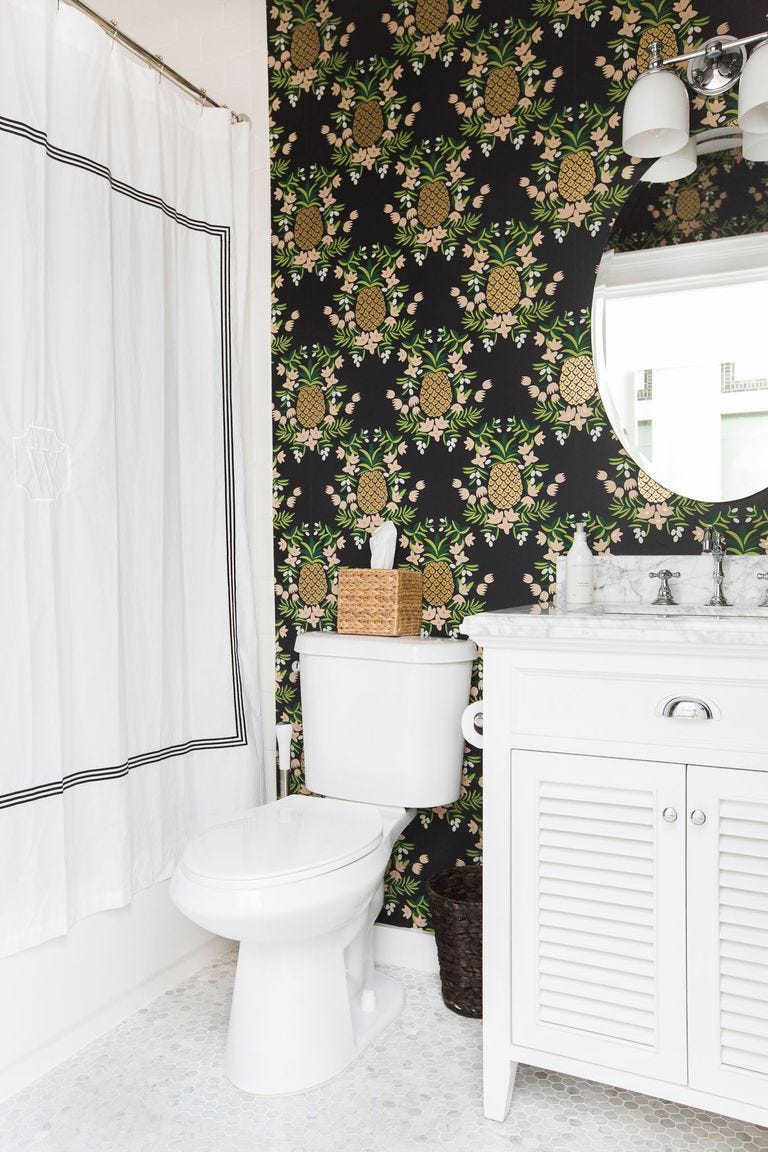 Fruity and Edgy
Choosing the right wallpaper can easily brighten a space, just like this chic pineapple bathroom accent wall. It also adds a youthful edge to the bathroom area.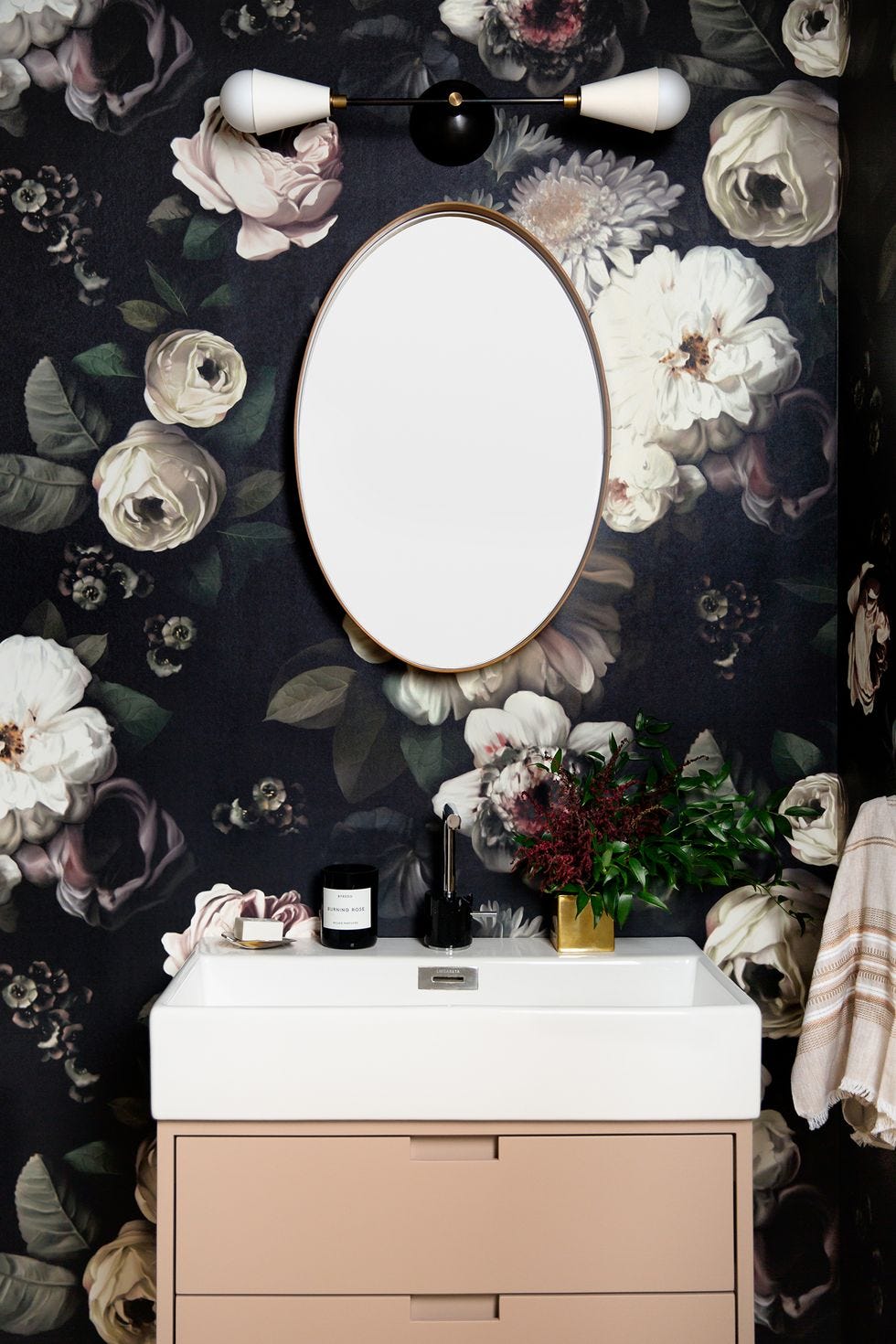 Classy Floral
This floral wallpaper bathroom accent wall designed by Bella Mancini is chic, classy, yet cozy. Plus, it pairs well with the brass oval mirror and tan drawers.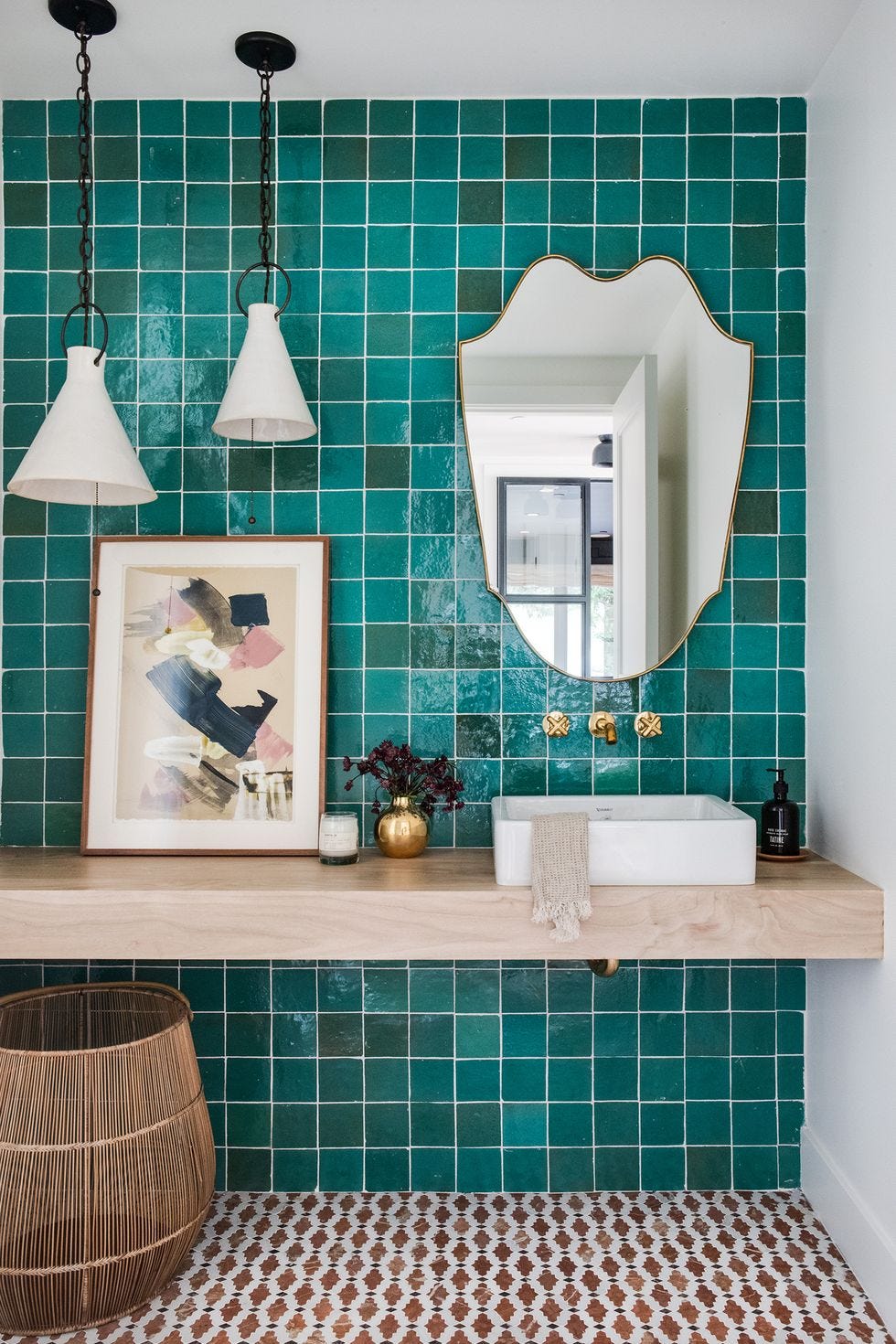 Make It Blue
If you're willing to exert more effort and time, try to tile up your bathroom space, just like how interior designer Shannon McLaren Wilkins designed this oceanic oasis bathroom accent wall. It features glossy aqua blue and green tiles. Plus, she added artwork and chic statement lights to complete the bathroom look.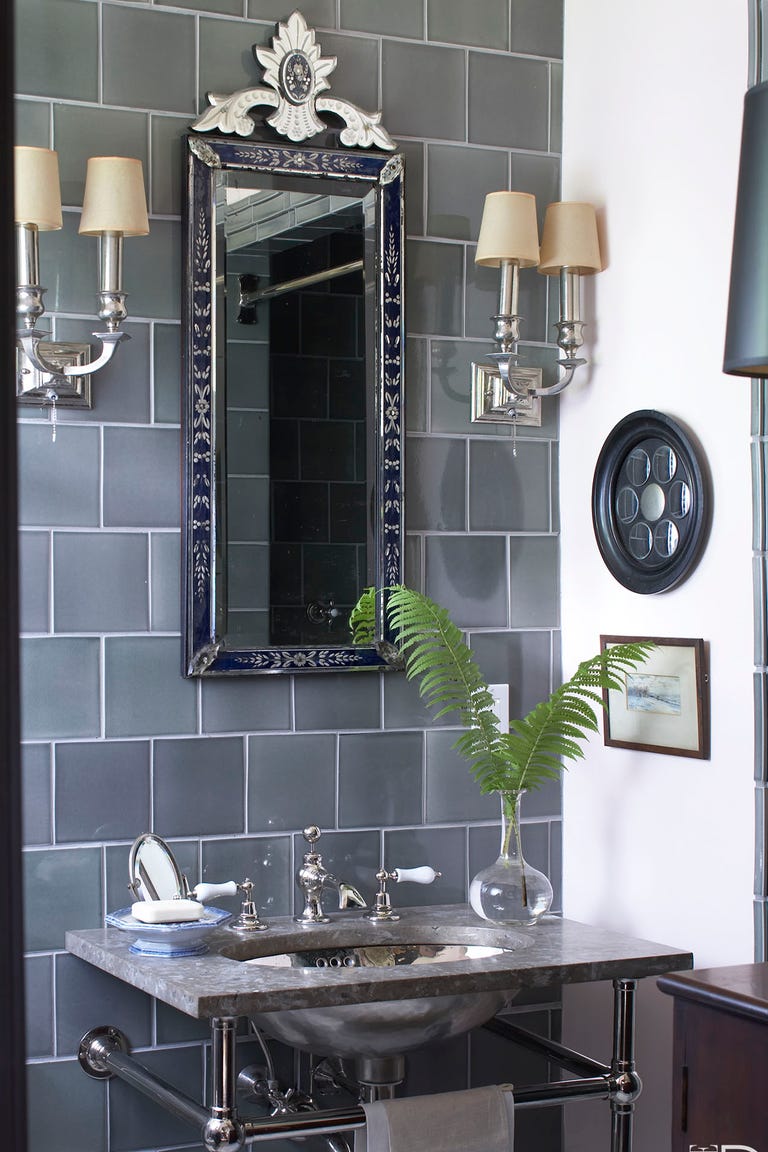 Shades of Gray
This moody bathroom accent wall is giving us different shades of gray. Plus, the silver mirror and open bathroom sink are giving off vintage vibes.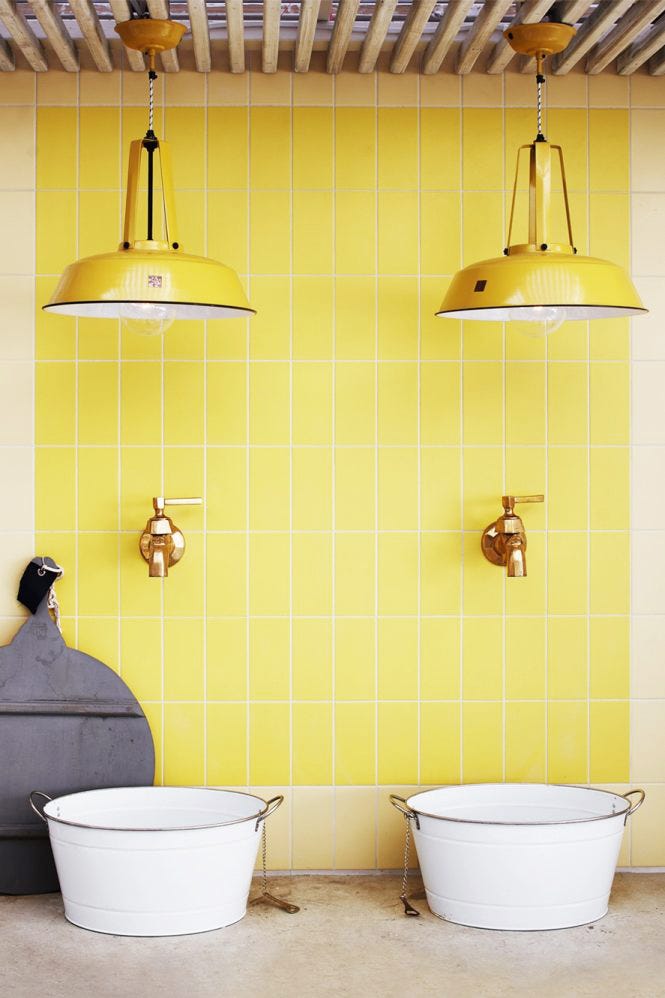 Warm and Cheerful
If a color could be a hug, it would be yellow. Design your bathroom accent wall with a cheerful color, just like this sunny yellow farmhouse chic bathroom space by Hecker Guthrie.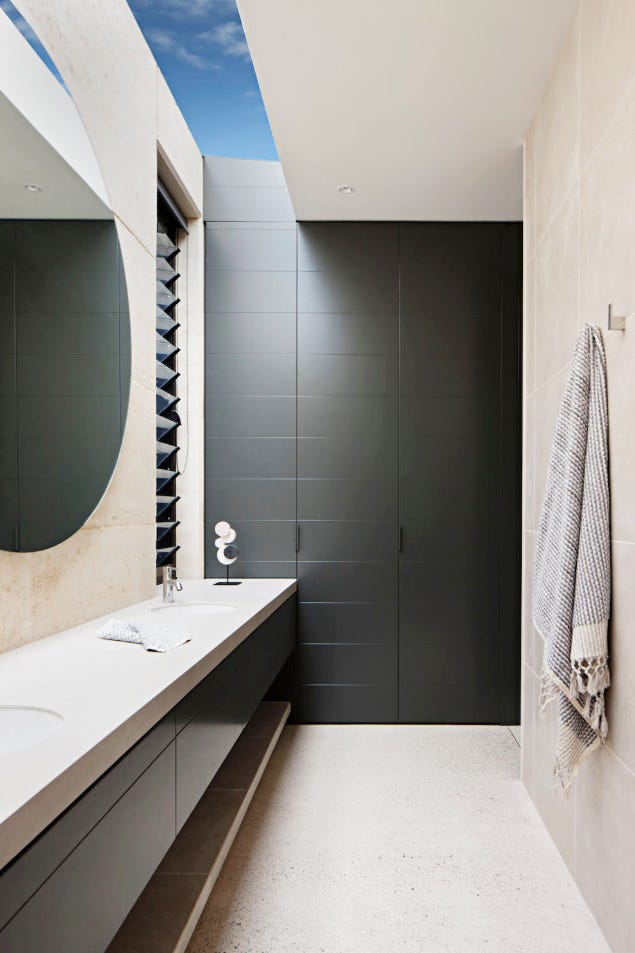 Go for Black
We know that dark colors can make a space feel smaller, but not with this bathroom designed by Robson Rak. Although the space is narrow, he was able to make it feel more spacious with an oversized mirror and a black glossy bathroom accent wall.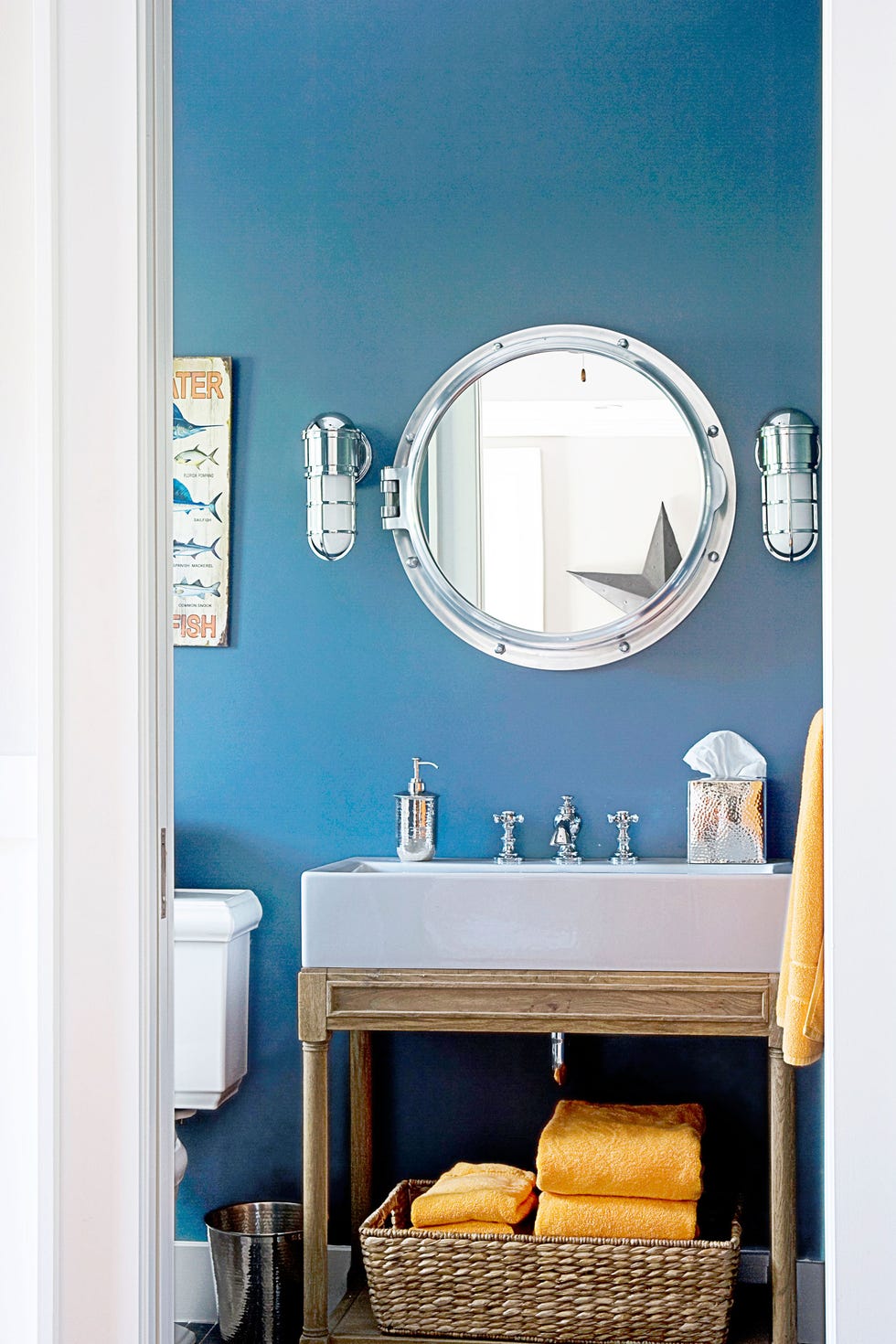 Coastal Style
This cerulean bathroom accent wall will instantly take you on a vacation where you can hear the beach waves and tan under the sun.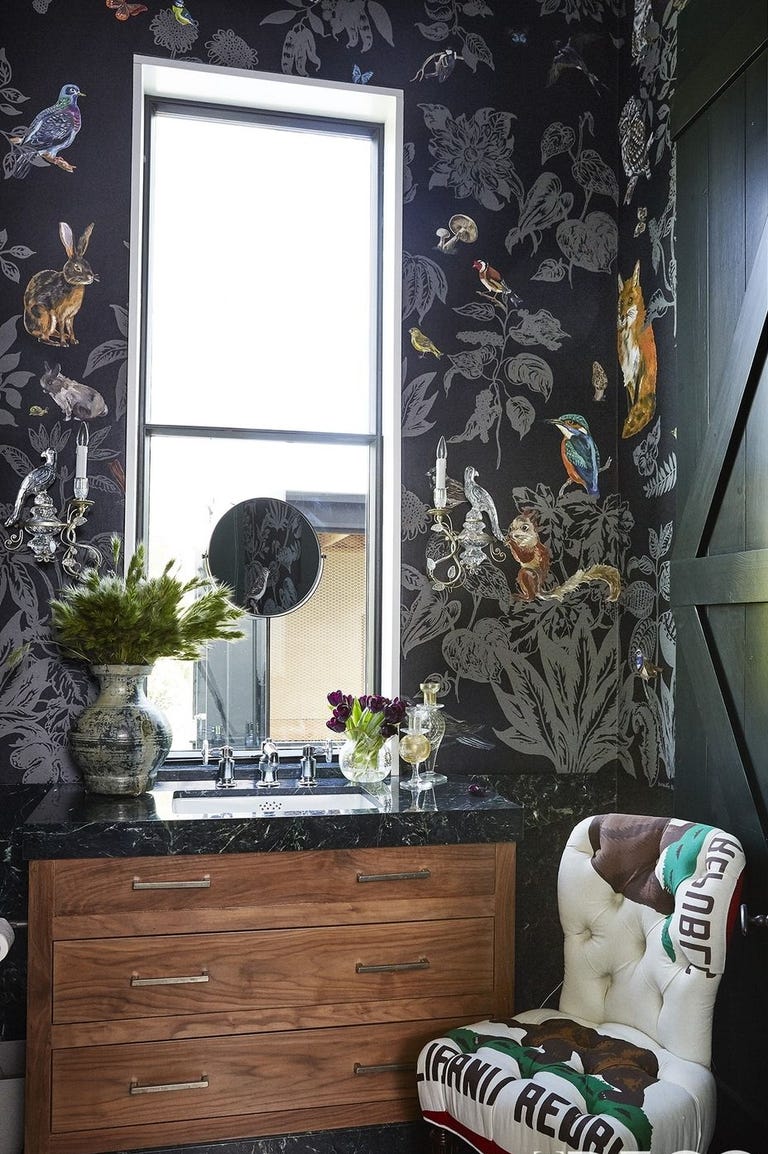 Dashing Wallpaper
This dashing bathroom accent wall was designed by William Abranowicz. The bathroom space is filled with dark colors from the door to the wall, but it still looks bright and stylish because of the wide window, mirror, wooden bathroom sink drawers, and creative chair covered with the California state flag.
Bathroom Accent Walls Tips: Do's and Don'ts
OK, before you paint your bathroom wall, here are some tips on how to properly create an accent wall by The Spruce.
DO think outside of the box when you are thinking of your new bathroom accent wall.
DO consider an accent wall even if you're keeping your room neutral. Accent walls can work just as well in a neutral color, as a bright one.
DO think about other ways to use an accent wall. Have you considered the ceiling? A chic decorating trend this 2020 is to add color to the ceiling. This ceiling color can be your accent wall.
DO choose the right wall for your accent.
DON'T shy away from using a bold color for your bathroom accent wall. As long as you have the right accents around the room to coordinate with your new color, you can choose whatever color makes you happy.
DON'T forget that there is more to accent walls than just paint. Have you considered stone or tile or wallpaper for your accent wall?
DON'T forget that wallpaper is a gorgeous choice for your bathroom accent wall.
That's a wrap for our bathroom accent wall examples. We hope that these examples inspired you to create and design your own bathroom accent wall. So, free up your schedule this weekend and start decorating! Learn more interior design tips and ideas on Omysa's blog.