Stretch your DIY muscle by giving your bedroom walls a makeover with these creative bedroom wall decor ideas.
Your bedroom is one of the most important areas in your home because it's where you spend most of your time, especially during this quarantine period. However, an empty white plain bedroom wall can make the space feel unfinished, boring, and impersonal.
If you're planning to give your bedroom walls a makeover, now is the best time. Create a restful and cozy space with these easy and fun bedroom wall decor ideas. Trust us, you'll smile the moment you wake up.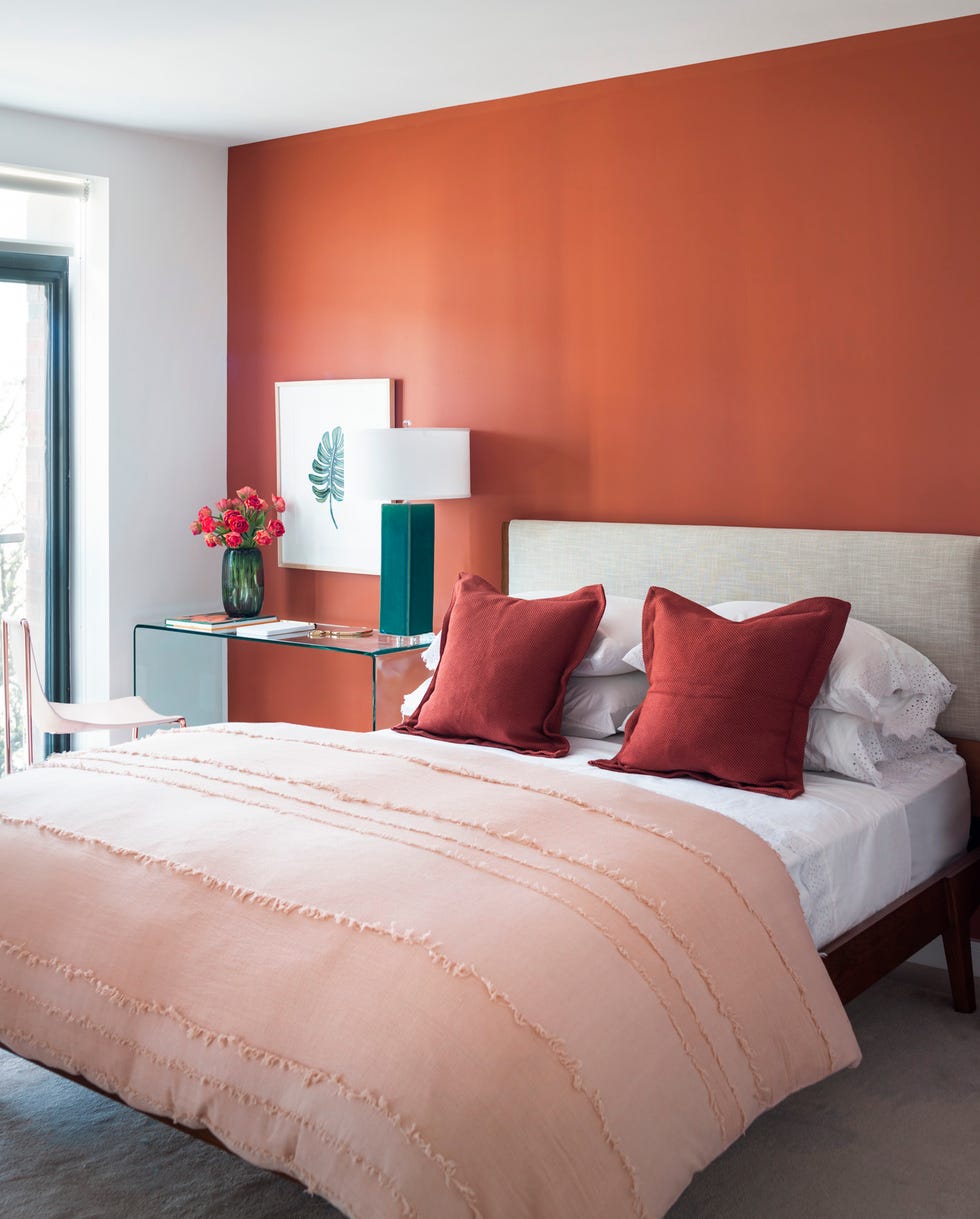 Paint Your Walls
The easiest and fastest way to transform a boring bedroom is to paint your walls with a bold color to liven the space, like this orange-red accent wall. If you want to feel like fresh air when you walk into the room, then a soft blue paint will be the perfect color. Don't forget to paint the fifth wall of your bedroom: the ceiling, to really transform the space.
You can also create a faux shiplap with just a Sharpie marker and ruler. You can recreate the look in just an hour with this easy tutorial made by Repurpose and Upcycle.
Don't know how much paint you need for your bedroom walls? The Spruce created a wall calculator to make things easier.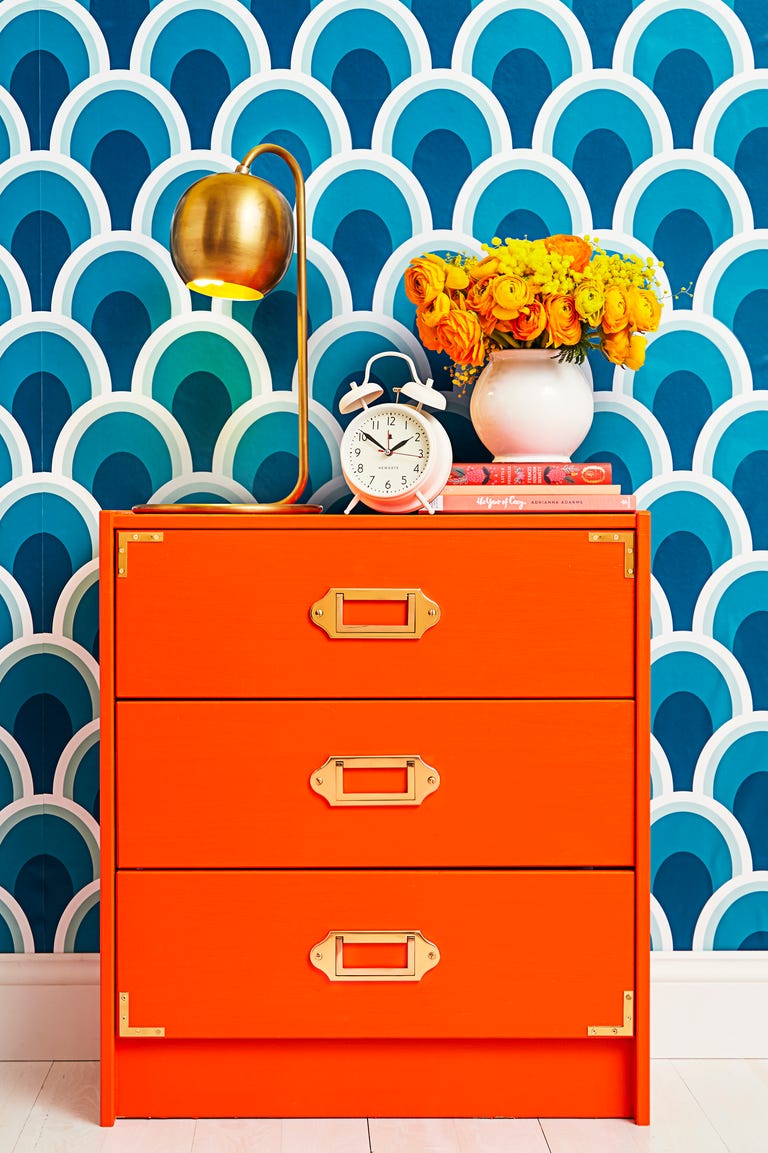 Hand-Painted Design
If you're a bit creative, you can hand-paint your bedroom wall by choosing playful patterns and vibrant colors.
Tip: If you want to create a hint of texture on your walls, then choose subtle hues in the same color family.
Bring in Texture
Add character to your bedroom walls by creating your own plank wall. This goes perfectly with bold linens and a farmhouse rustic interior.
Book Pages Wall
A simple bedroom wall decor that you can do within minutes is to display your favorite book pages on your walls. Make sure to use double-sided tape for a clean look.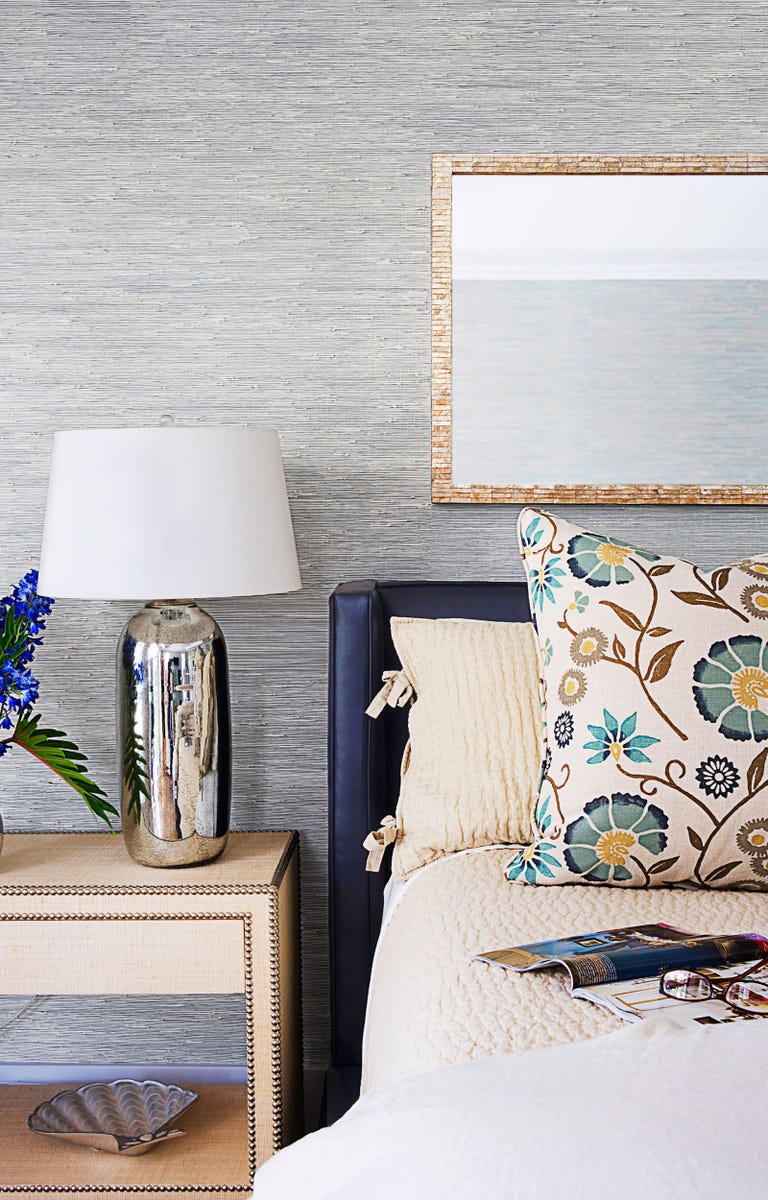 Mirror, Mirror on the Wall
Hang a mirror or different mirror designs as your bedroom wall decor. This is perfect if you have a small bedroom because the mirror reflects light, which makes the space look bigger and brighter.
Hang One Statement Piece
Another simple bedroom wall decor idea is to hang your favorite piece. It could be a single, medium-to-large-sized piece above the bed, like this big, bold seascape artwork.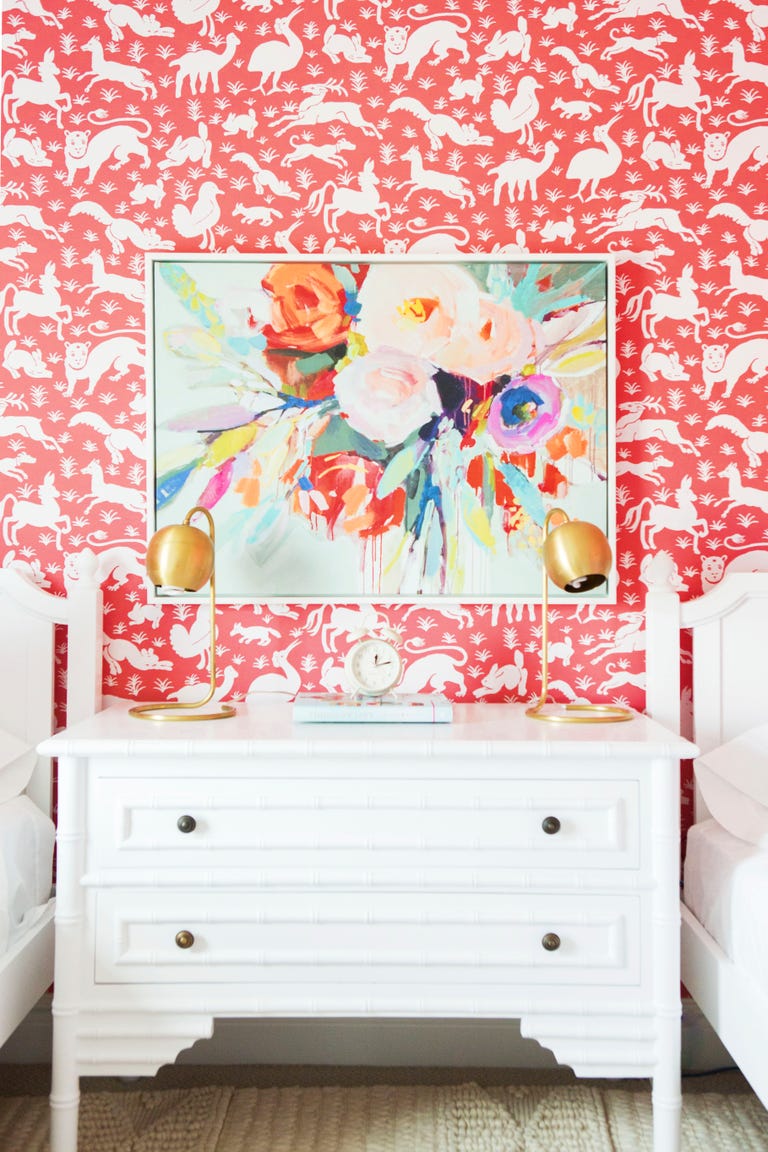 Install Wallpaper
If you want to make your bedroom feel more personal and stylish, install wallpaper. Go for whimsical and vibrant wallpaper to brighten the space.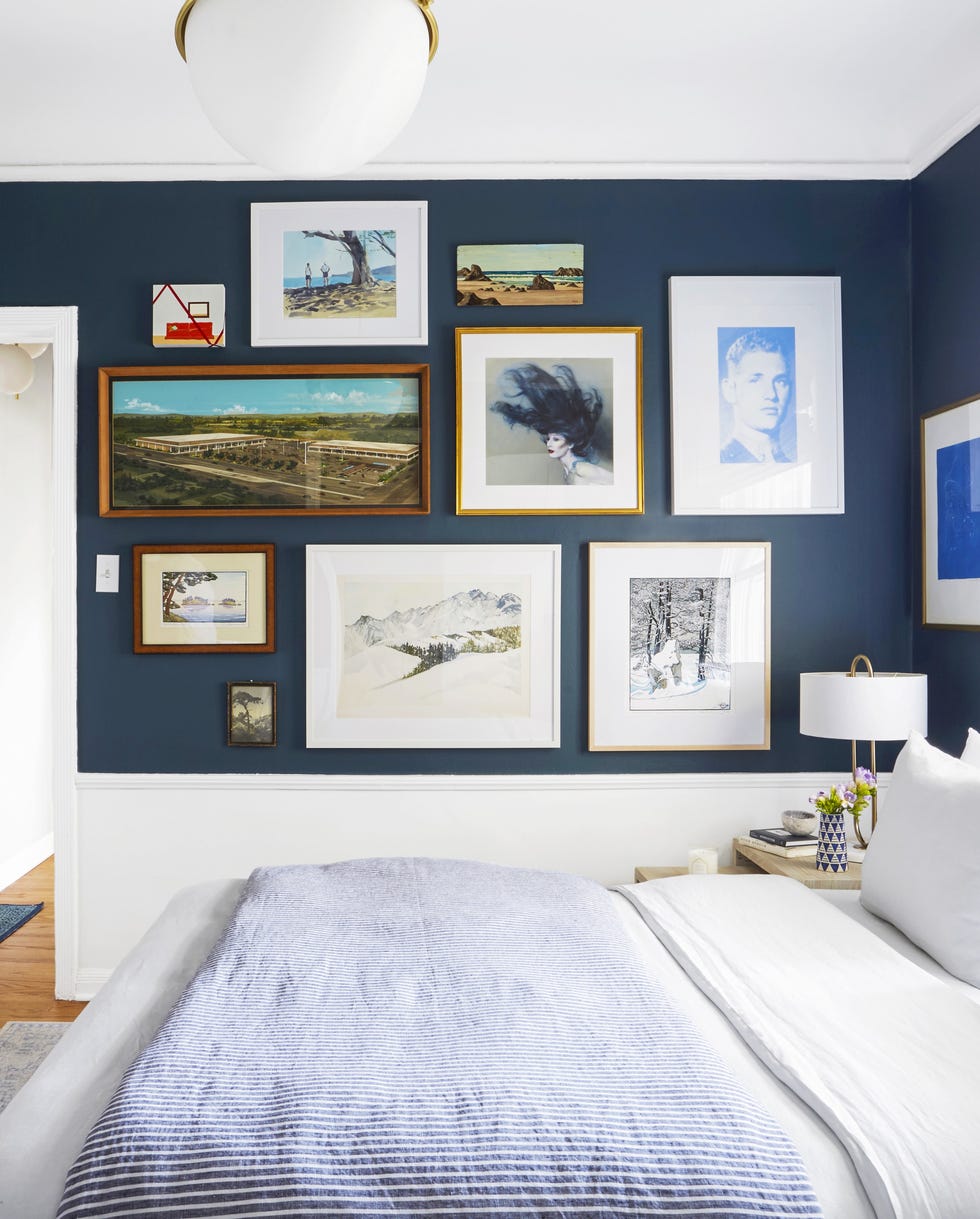 Arrange a Gallery Wall
Display your favorite pieces by creating a gallery wall in your bedroom. This makes the space feel more personal and lived-in. You can go for a mix of framed pieces with taped up vintage finds or even highlight your artwork.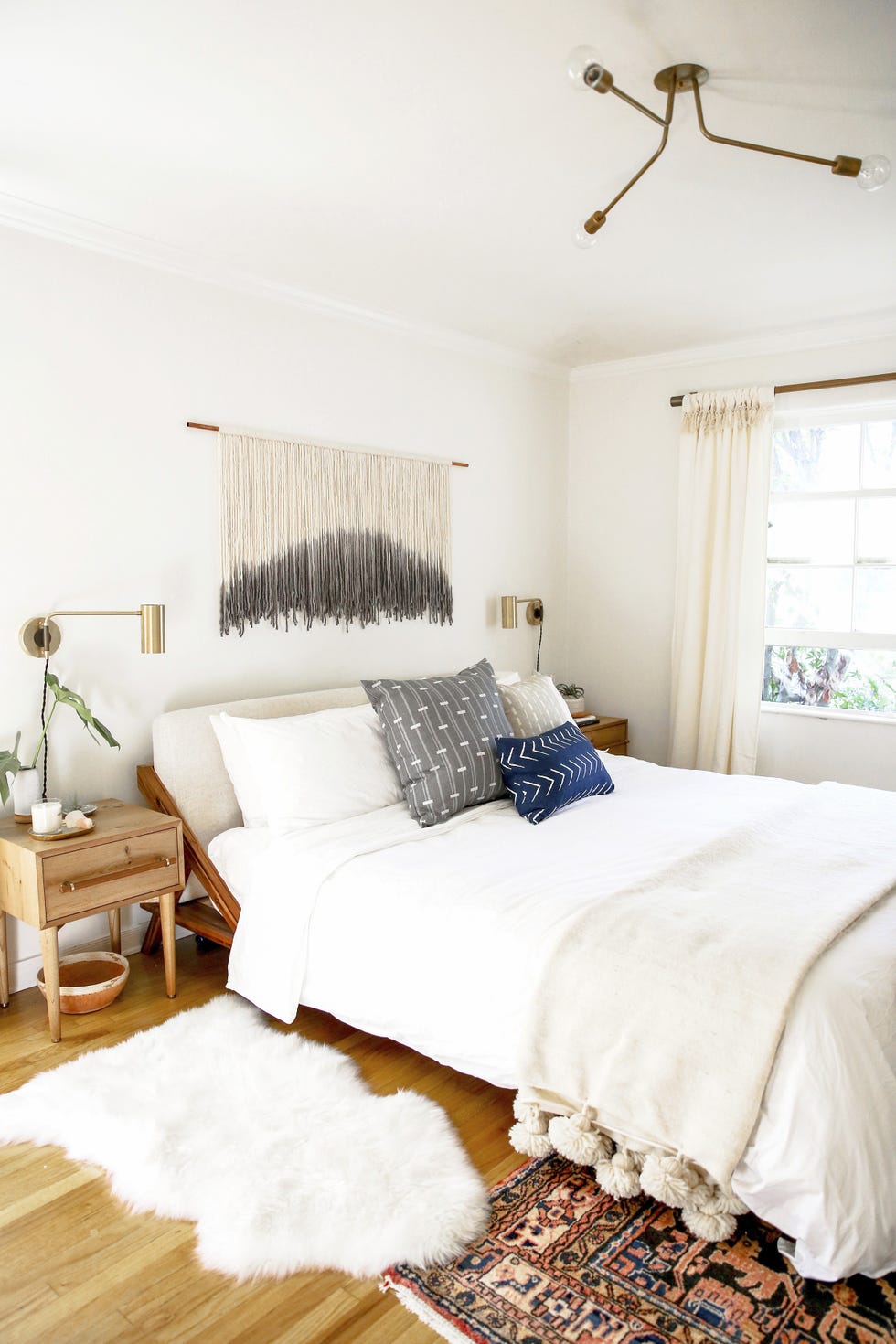 Get Crafty
Be creative with your bedroom wall decor by creating your own string wall art. This also adds texture and character to your bedroom wall. Check out this simple, easy, and budget-friendly DIY string wall art video tutorial.
Create a Trio
Follow the rule of threes to fill up your bedroom walls when you can't afford big pieces of art. To do this bedroom wall decor, hang multiple, uniform-sized picture frames above your bed.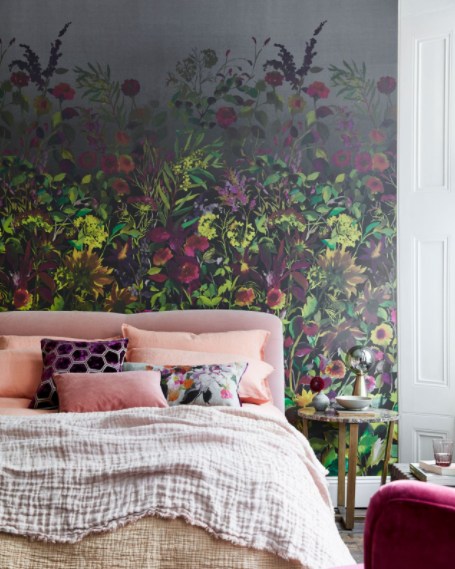 Paint a Mural
Okay, if you have all the time in the world and you think there's a hidden Vincent van Gogh inside of you, then this bedroom wall decor idea is perfect for you. Well, I guess? Paint a mural on your walls. It could be your favorite floral or create an ombre mural.
Mesa Mural | 2. Floral Wall Mural | 3. Fade Away Wall Mural
That's a wrap for our fun and easy bedroom wall decor ideas that you can do this quarantine period. Learn more interior design tips and ideas on Omysa'sblog. Happy decorating!