Your baby's room should be more than just pink or blue. Design a cozy and functional room for your little bundle of joy with these cute and chic nursery ideas.
Decorating your baby's nursery is certainly tricky. It should be the perfect combination of style and playfulness since it's your baby's first home. Of course, it also has to be child-friendly, but at the same time, it has to be comfortable and functional for parents like you since you'll be spending a lot of time in there.
So, we've collected these super cute nursery ideas to create the perfect room for your baby and you.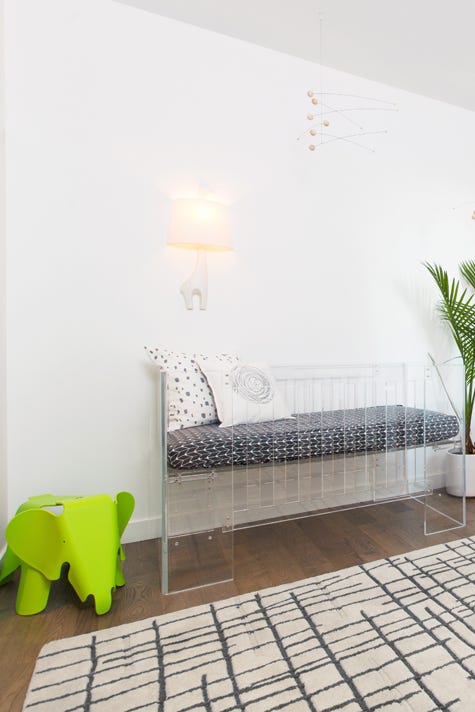 Mini Minimalist
First on our nursery ideas list is to create a chic baby nursery with a minimalist interior style. Choose a simple budget-friendly, but artistic crib, just like this see-through acrylic crib. We know that parents want the best for their baby, but you also need to be practical. Keep in mind that your baby won't stay in the crib forever. Plus, don't over-accessorize the room. It's best to hang a cute wall art, create a cozy reading corner, a good nursery chair, and layer lighting to brighten up the place.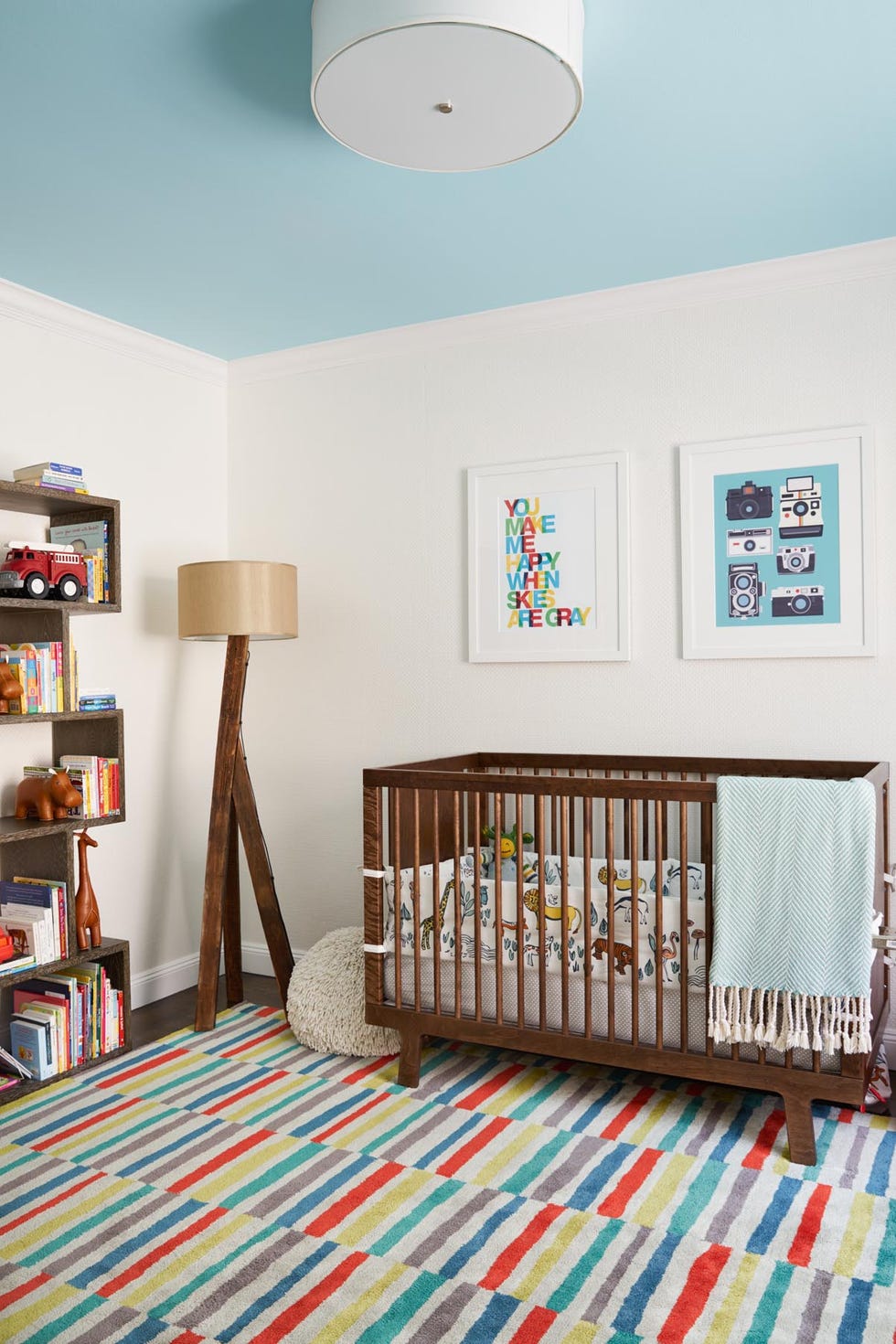 Jazz It Up
Your baby's nursery is the perfect place to add eye-catching colors. If you want the keep the walls simple and clean, you can paint the ceiling to give the space a soft glow. Plus, add colorful accessories to make the room bright and sunny.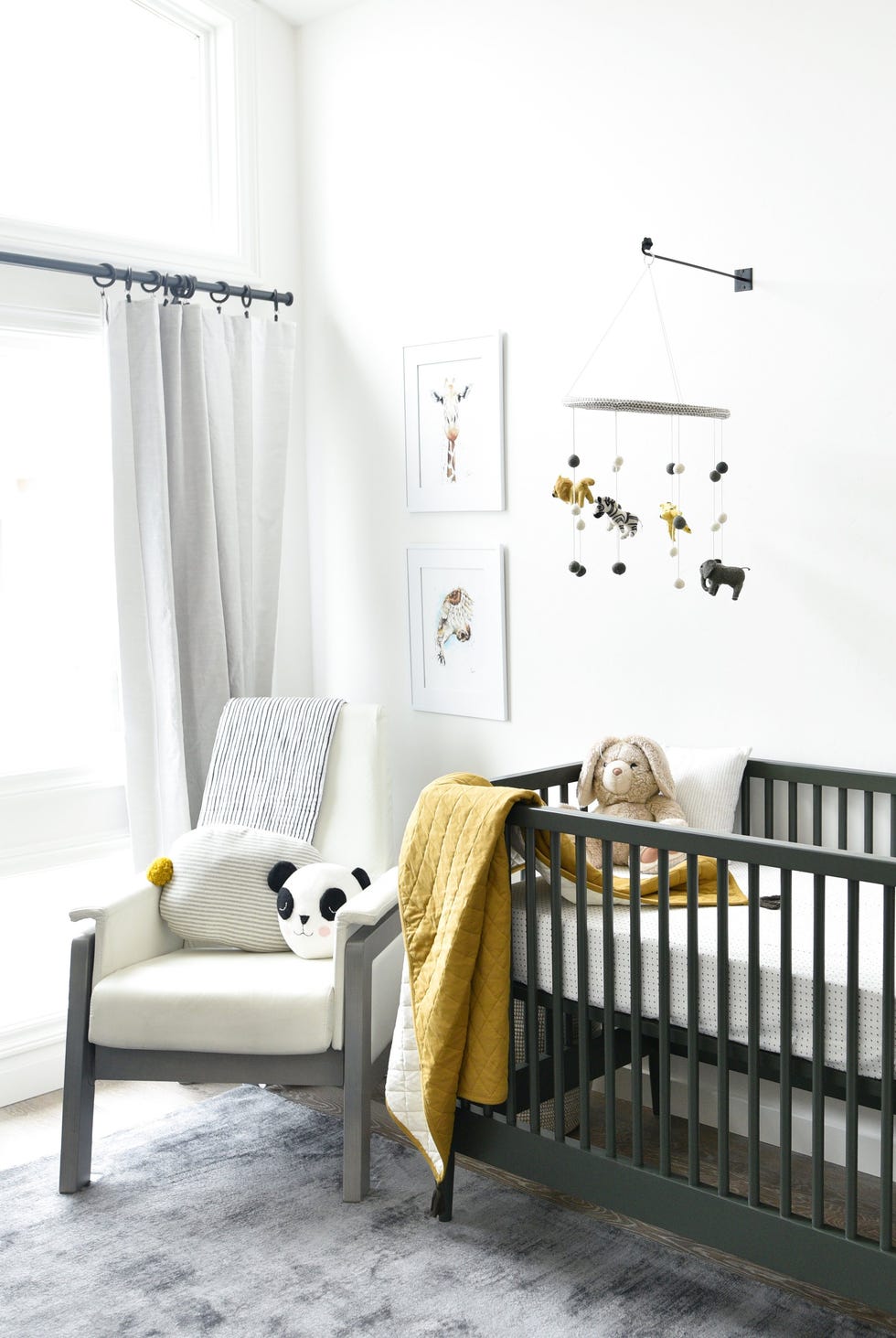 Make It Modern
Added on our nursery ideas list is to design a stunning modern gray and yellow baby nursery. Add cute stuffed toys and accessories to make the space child-friendly but stylish.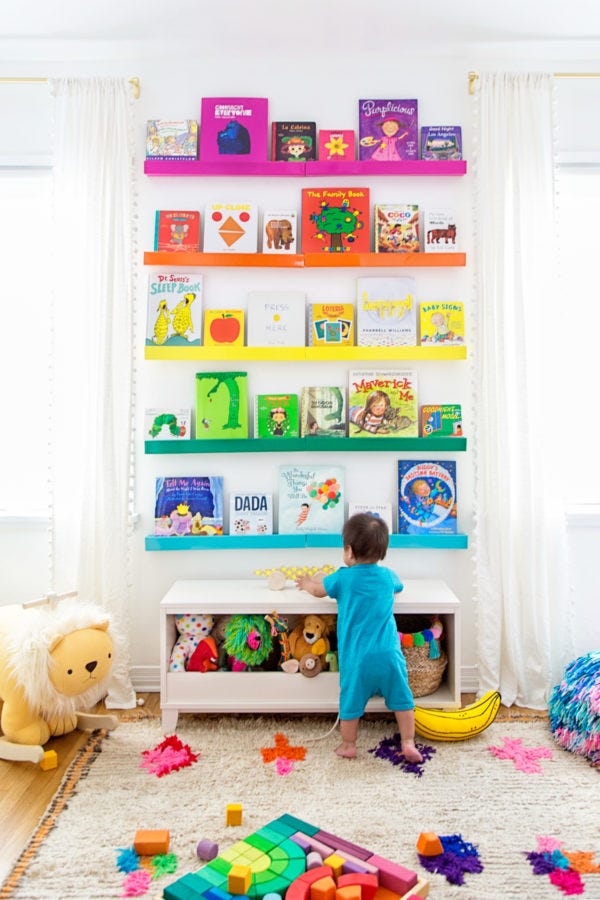 Colorful Mini Library
One of my favorite nursery ideas is to create a colorful and cozy mini library. Also, this is your chance to step storytime up. Install floating shelves and display all their favorite books by color to create a rainbow effect. Plus, you can also use this space to store their toys.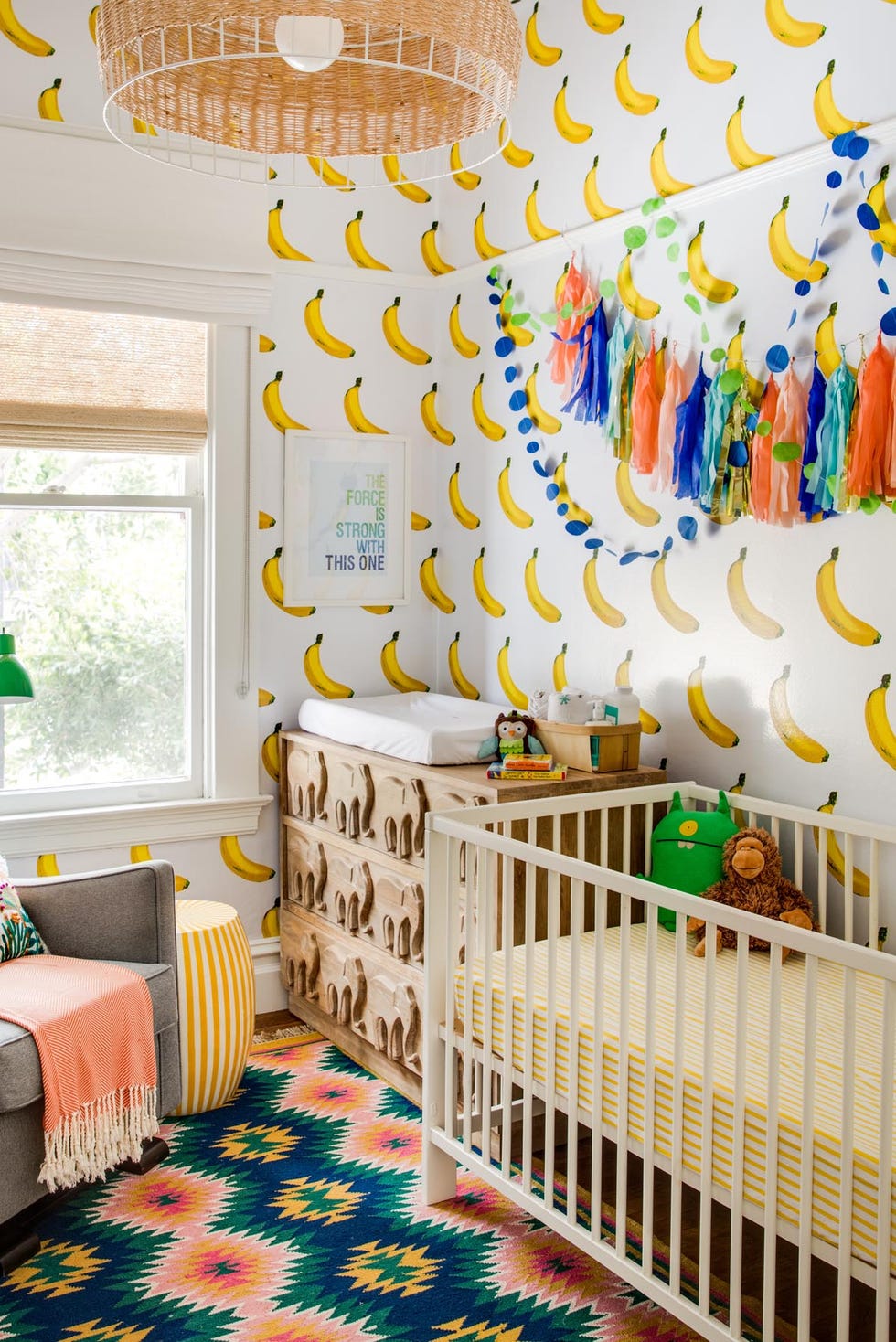 Go Bananas
Pick a bright and colorful wallpaper for your baby's nursery, just like this banana wallpaper. You can also choose a wallpaper with geometric patterns or a stylish floral wallpaper.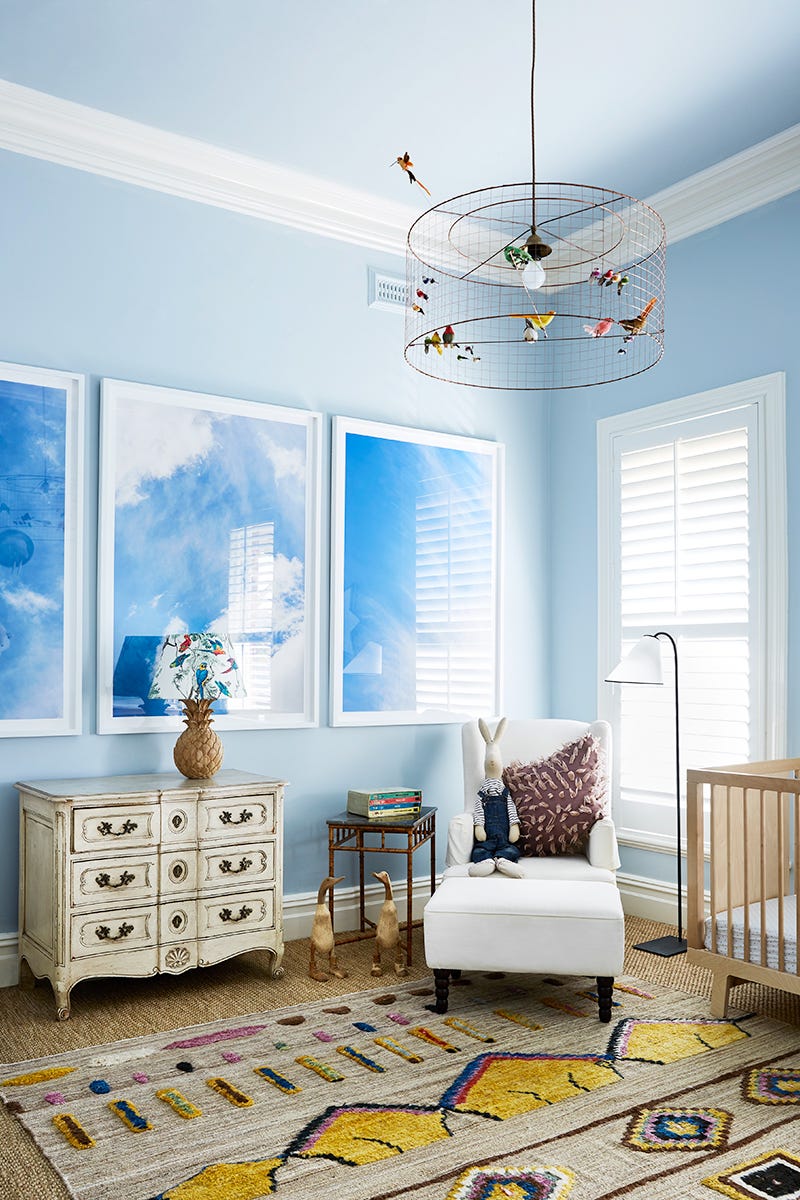 Whimsical Pendant Light
Your baby's room is a great place to build a fun and unique theme, so why not install a fun pendant light in your baby's nursery, just like this room designed by Tasmin Johnson. It will surely be the focal point of the space.
DIY the Walls
Another on our nursery ideas list is incorporating personal touches like DIY your baby's nursery walls. You don't have to be 100% artistic to achieve this style. You can use stenciled wallpaper or paint them yourself.
Repurpose a Dresser
A budget-friendly nursery idea is to repurpose old items like how Emily Henderson turned this dresser into a changing table by simply placing a changing pad on it. Plus, the drawers are useful because you can stash away essentials and other baby needs. You can make the space attractive by adding a lively gallery wall and floating shelves with stuffed toys.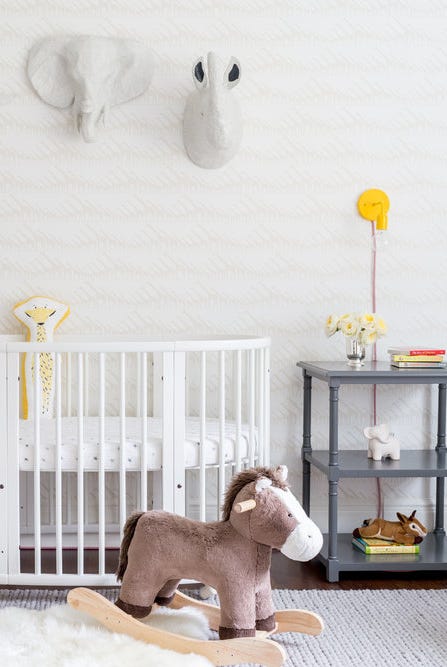 Install Sconces
Instead of using table lamps, it's best to install sconces to free up tabletops. Also, do not use floor lamps on your baby's nursery since it may cause an accident, especially once your baby starts to crawl and walk. Keep the cords hidden or where it can't be reached.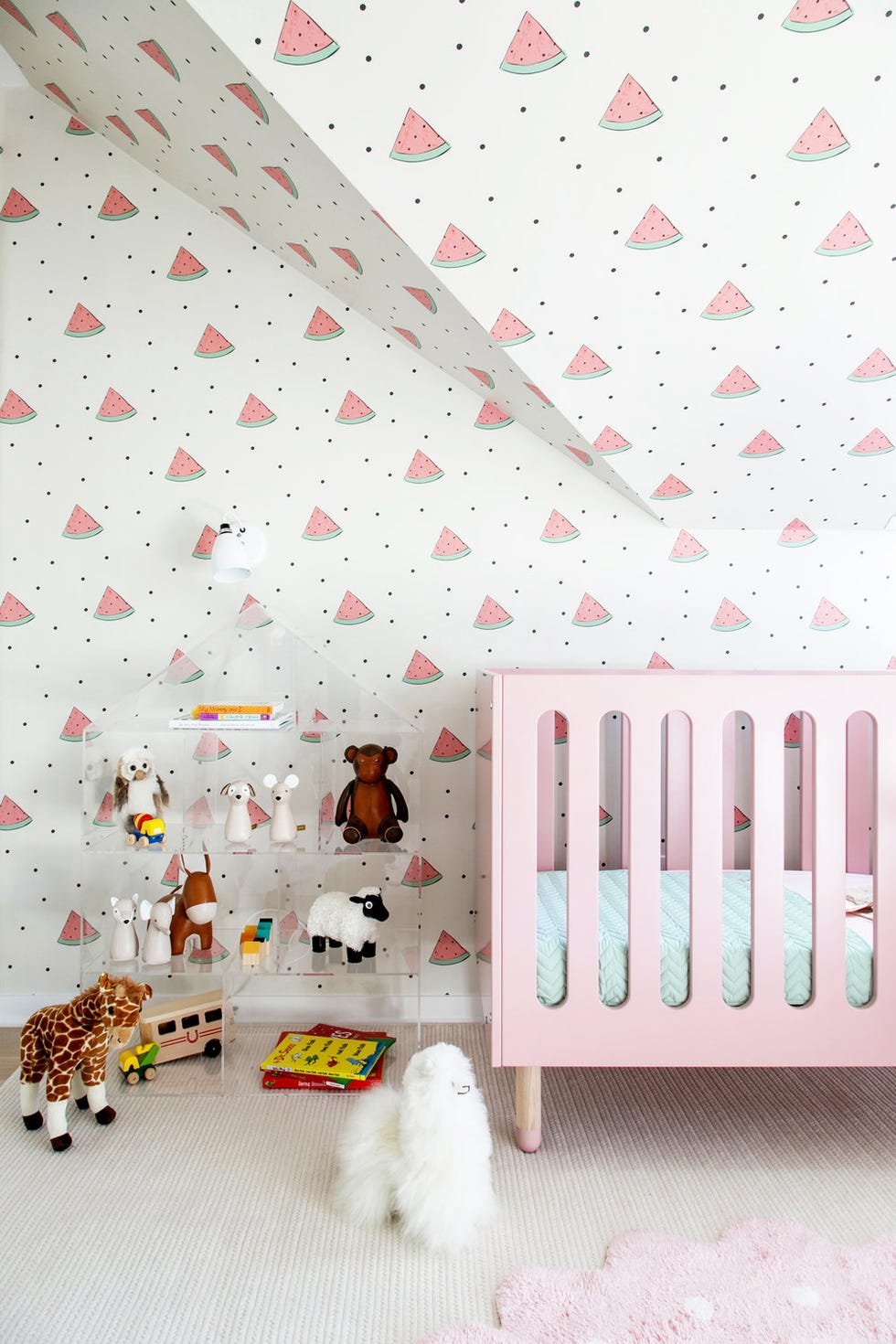 Choose Fun Furniture
Next on our nursery ideas list is to choose an exciting, fun, and interesting furniture, just like this acrylic shelving piece shaped like a dollhouse by Change & Co. There are a lot of fun ways to design your baby's nursery. You just need to be creative and look at it from a baby's perspective.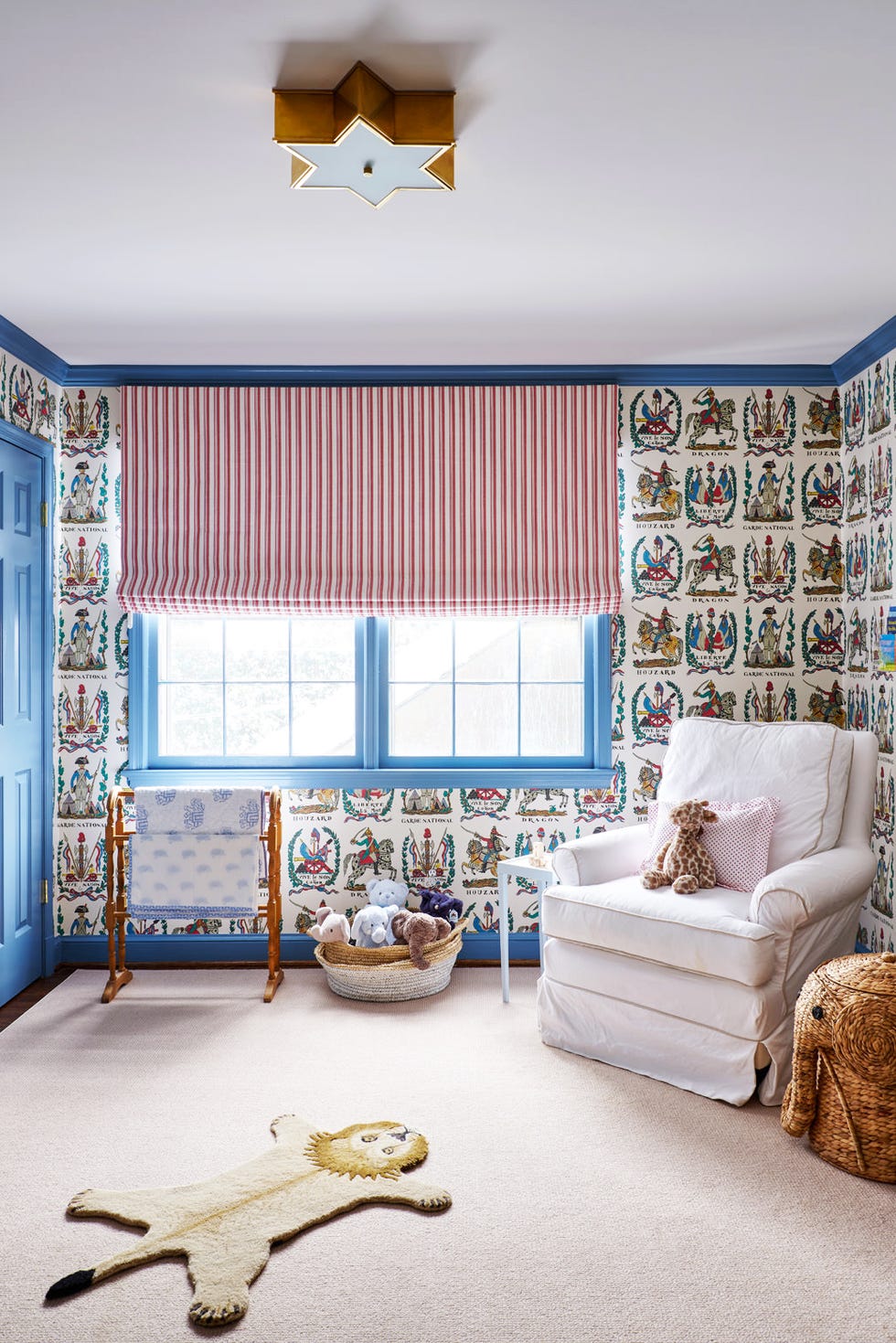 Add Cute Storage Pieces
Your baby's nursery needs a LOT of storage for their toys, diapers, clothes, and other baby stuff. Add cute storage pieces for your baby's blankets and towels, just like this storage ladder designed by Cameron Ruppert Interiors. Plus, you can also bring in baskets for toys.
Choose a Sturdy Chair
Lastly, on our nursery ideas list is to add a nursery chair. This is going to be one of the most important purchases in your baby's nursery, a comfy chair to sit on for hours. Choose a durable rocking chair or glider to rock your baby to sleep. Plus, it's ideal to upholster your chairs in outdoor fabric or spill-proof material, so it's easier to clean. You can also add a throw pillow for additional lumbar support.
That's a wrap for our cute nursery ideas. We hope that this guide will help you create your little angel's first home. Learn more interior design tips and ideas on Omysa's blog. Happy decorating!