Get inspired with these practical and fun kids bedroom ideas your little pumpkin would love!
Kids have very specific and sometimes a bit out of this world's ideas of how they want to design their bedrooms. I remember I wanted a Disney Princess bedroom just like Princess Jasmine's. However, some ideas are quite impossible to be achieved except if they hit the lottery. So, we've collected practical but pretty incredible and stylish kids' bedroom ideas to guide you.
Super Cool Bunk Beds
Question: how old is too old for a slide? Answer: None. There's no age limit. Even a grown-up will play on a slide and have a blast again like a 7-year-old. Create an epic kid's bedroom by putting a super cool bunk bed with a slide. It would feel like a fort. Imagine, sleepovers would be so fun! We'd never leave this place. Ever. Add a nice neutral splash of color in the background or choose a cool wallpaper design and add curtains for privacy.
Paint With Vibrant Colors
Let your kid's bedroom walls do the talking by painting it with bold and vibrant colors or their favorite color like blue and green. Interior designer Emily C. Butler says, "Less conventional than your typical navy, this striking green plays well with blue, red, gray, black, and even wood tones, making it the perfect accent color for a bedroom that can easily grow with its inhabitant."
Bring in a Favorite Hobby
One of my favorite kids bedroom ideas is to add your kid's favorite activity or hobby in their bedroom. This will encourage and inspire their creativity, just like this kid's bedroom, wherein interior designer Emily Henderson added an actual climbing wall. It doubles as a playroom. You can also add a basketball hoop, darts, or a mini-golf course.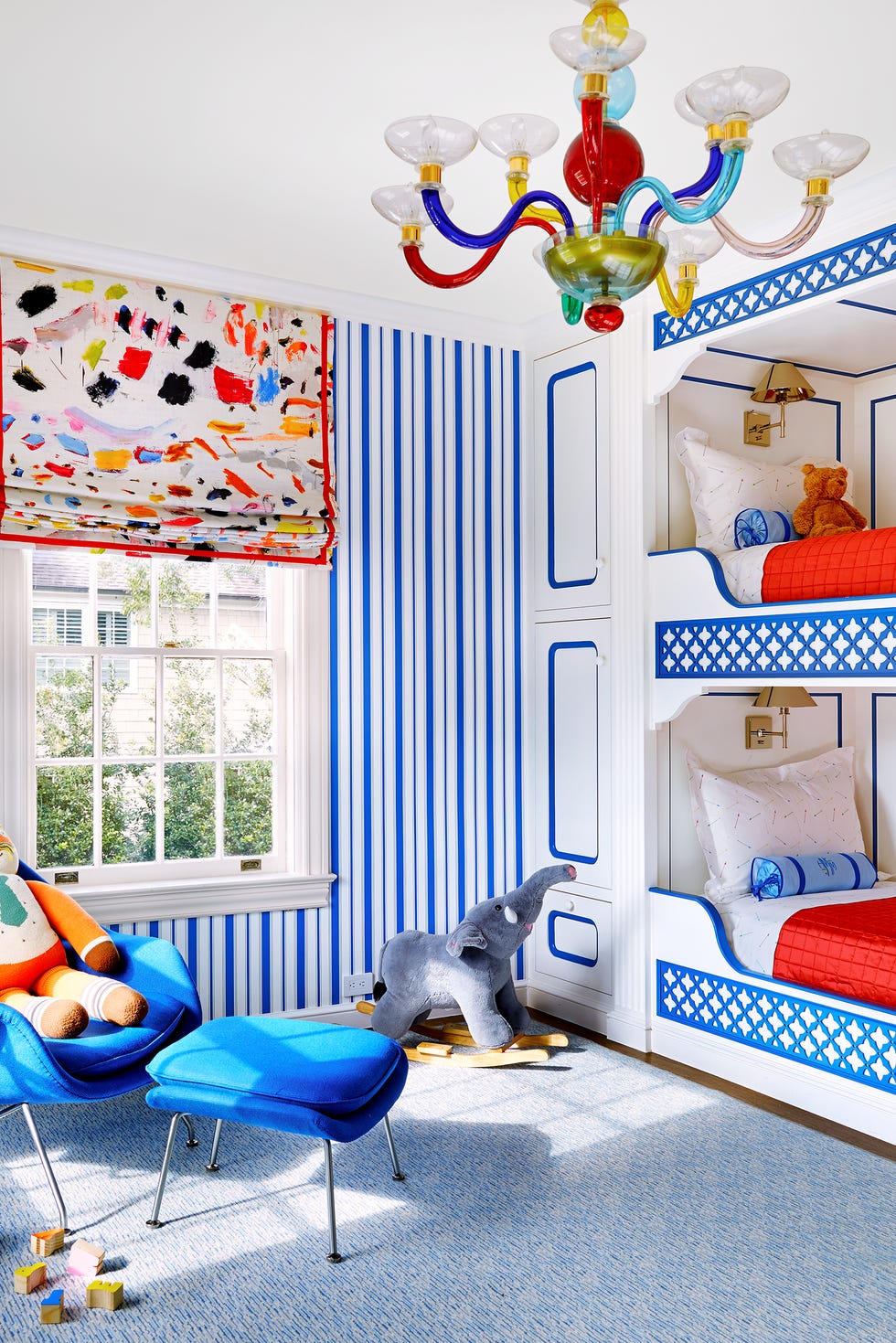 Let The Sunshine In
Spread some cheer by letting the natural light flow in your kid's bedroom. You can also choose to paint the space a cheerful yellow hue or use a yellow gingham wallpaper to cover the entire room. This will completely create a bright and positive bedroom vibe.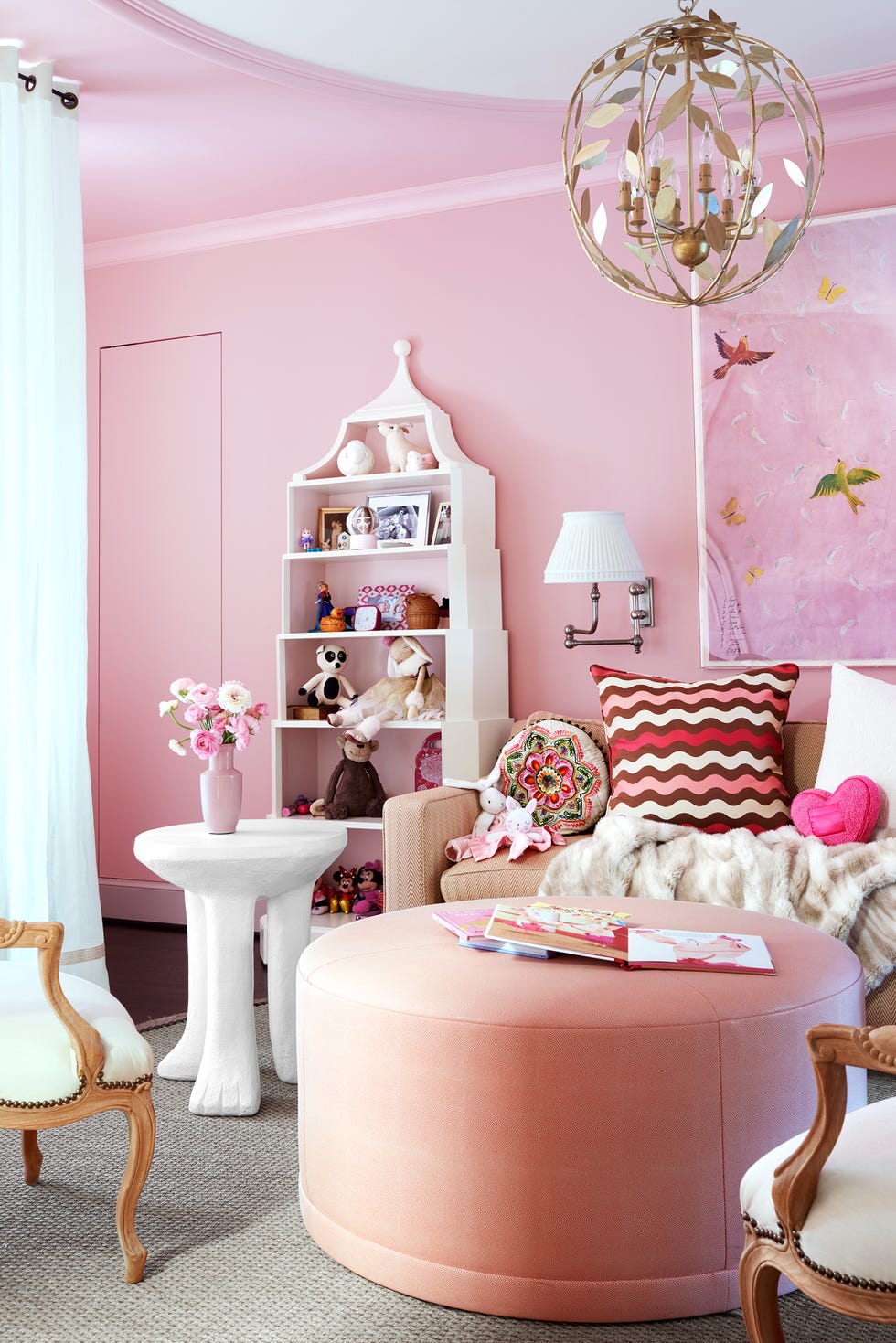 Display Toys and Collections
Another on our list of kids bedroom ideas that your little pumpkin would love is to create a display for their toys. Your kid's toys are precious to them, so it would be nice to display their toys and collections to appreciate their objects' value, just like this little girl's pink bedroom. It's filled with beautiful pieces she treasures the most and for years to come.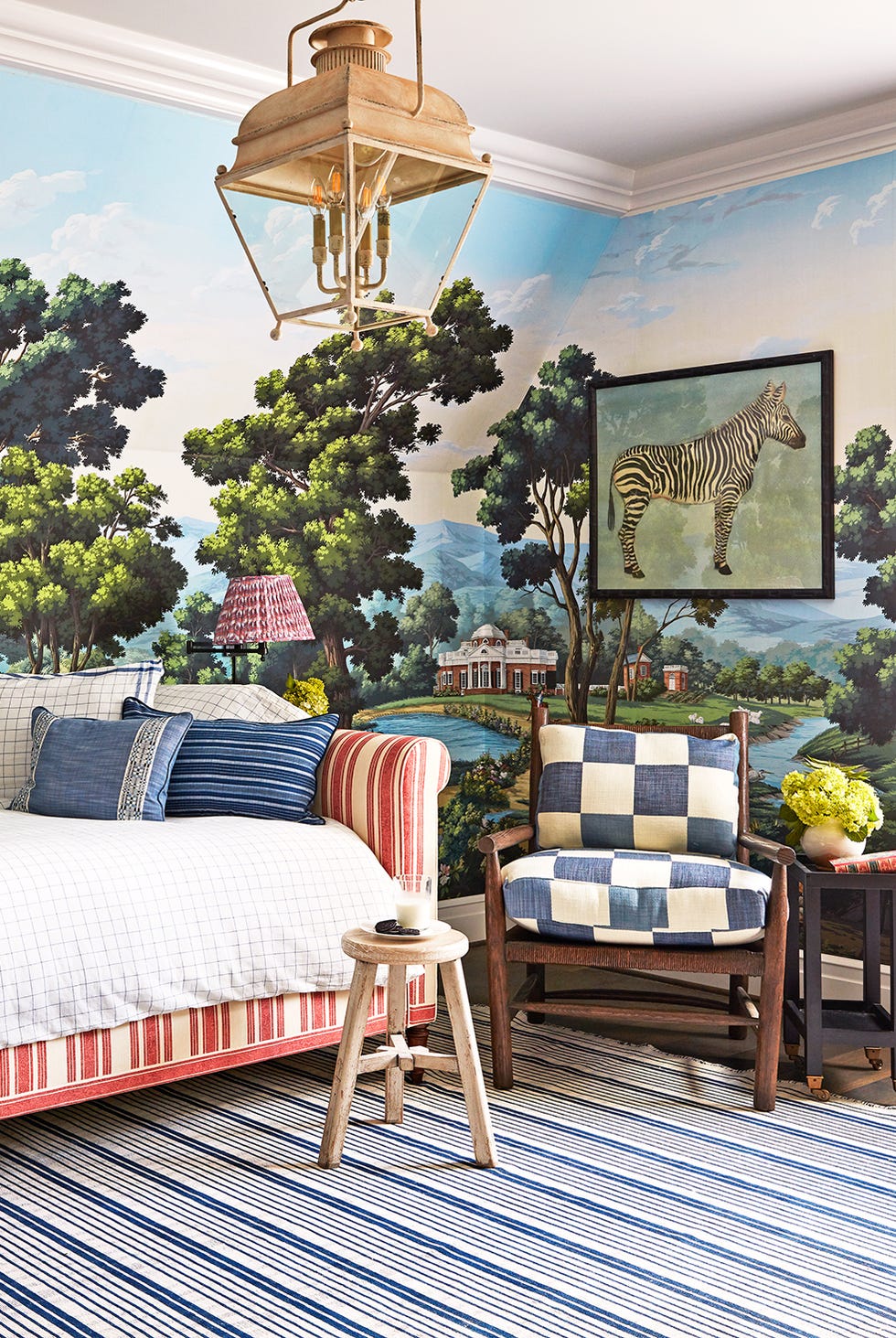 Encourage Their Imagination
I guess we all know that kids have a wild imagination like Spongebob Squarepants. It's best to design your kid's bedroom that will help their imagination, just like how interior designer Amy Berry decorated this boy's bedroom in a beautiful mural of the Virginia countryside.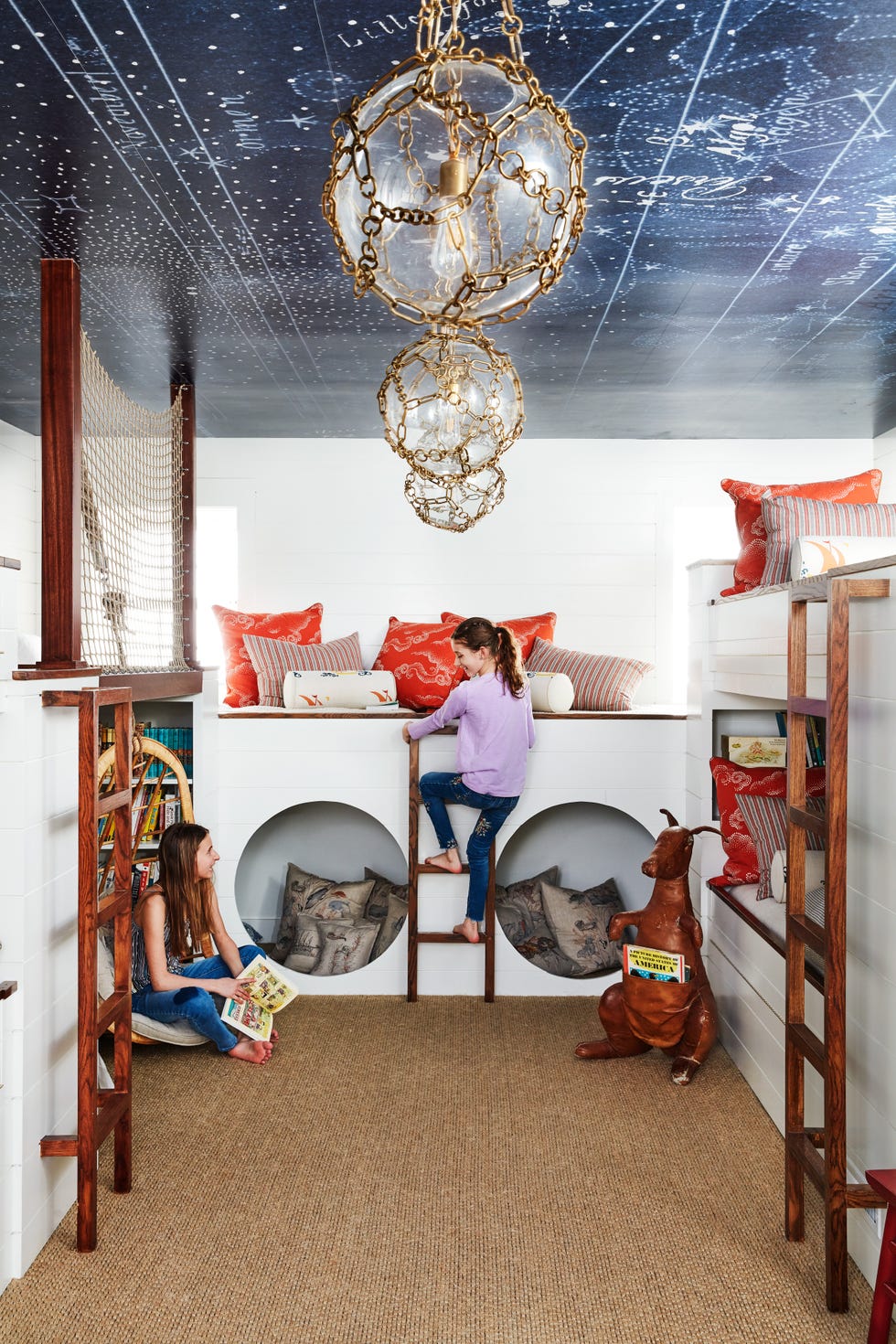 Go All Out
Adding to our list of kids bedroom ideas is to go all out. Not financially, but to take your kid's bedroom to outer space because who didn't dream of being an astronaut when they were a kid? It would be such a cool kid's bedroom to look at the stars on your ceiling every single night. Bonus tip: Make the stars glow in the dark to give off a realistic feel.
Make It Multi-Purpose
Seriously, we all wish we had a bedroom this cool to hang out with our friends after school. We bet we might be part of the cool kids. I mean, it has everything your teenager needs, from an organized study area to a comfy hanging chair, and a cozy bed and area rug. It's a perfect loft-type bedroom design because it leaves an extra space for your kid's other stuff.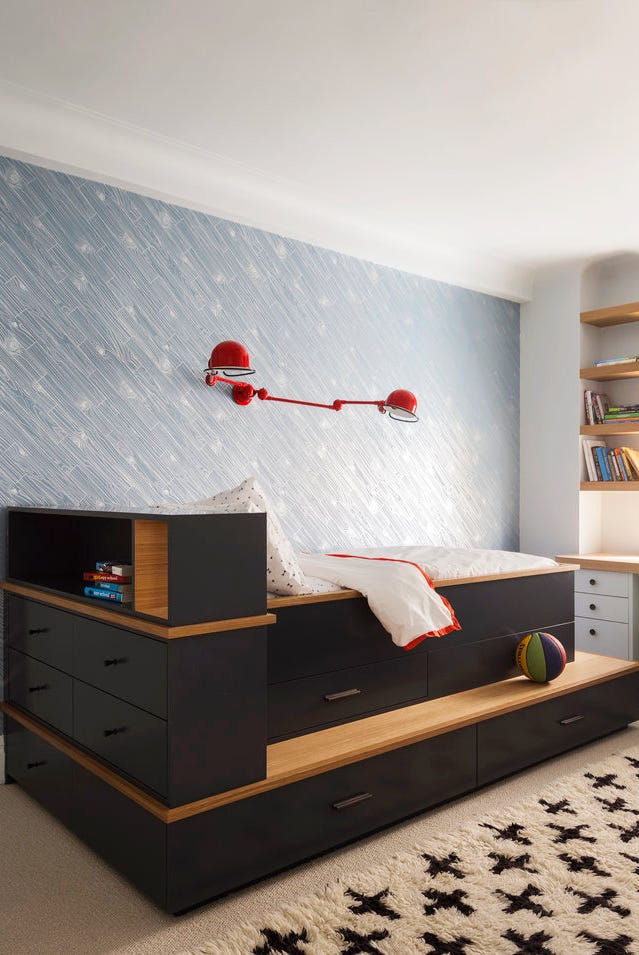 Get Creative With Storage Space
If you're designing a small kid's bedroom, then it's best to go for built-in wall storage for your kid's stuff since it maximizes space. However, you can also create a platform bed with built-in drawers and install shelves on the wall to display his favorite books, stuff toys, and collections.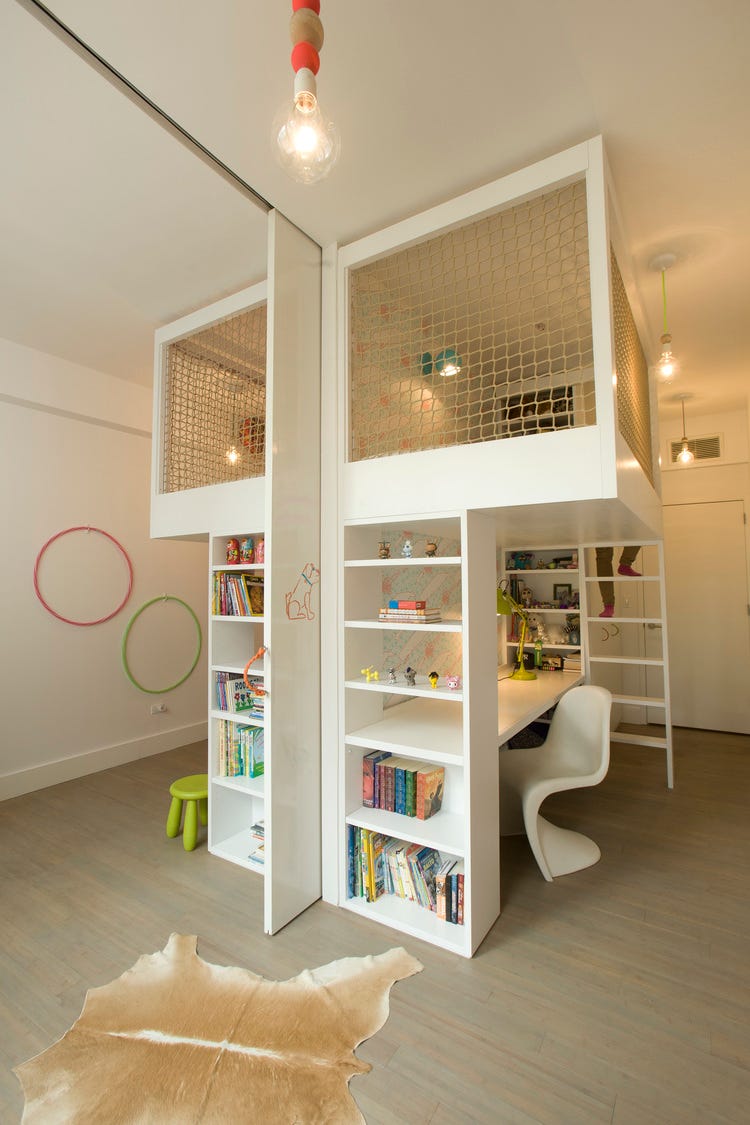 Design a Strategic Layout
We know that you want the best space for your kid. A space where your kid can play, learn, sleep well, and hang out with friends. However, if you're dealing with a small bedroom, then you don't have to lose hope. The solution? Create a layout that will maximize the space and perfectly work on your kid's bedroom area. You can create a loft-type bedroom, just like in the photo above. It has everything your kid needs. A reading nook, a study area, a playroom beside the bed, and a lot of extra space for your kid's friends to hang out.
Let Them Get Involved
Just because your designing your kid's bedroom doesn't mean that it should be stressful. It's actually a chance to bond with your kid on what paint color they prefer or what type of bed they'd want or how do they want to display their toys. It's a way to encourage them to get involved, so their personality shine through since it's their bedroom, it's a place where they will learn and grow, just like this cool striped bedroom with a really epic headboard that the kid can use as he grows up.
Aim for Longevity
Last but not least, on our list of kids bedroom ideas is to design a kid's bedroom that your child can use continuously. Designed by Amber Interiors, this kid's bedroom is perfect to be used in the coming years, even when your kid grows up. It's important to focus on the kid's age, but you should also consider your kid's bedroom design in the future or as well as the years ahead of her, just like this full-size bottom bunk bed. It's practical because your kid can grow into as they get older. Plus, the beautiful wallpaper and soft palette create a youthful feeling.
That's the end of our kids bedroom ideas guide. We hope that these ideas and tips will be able to help you create a magical, cute, and a fun bedroom space for your kid. Learn more interior design tips and ideas on Omysa's blog. Happy decorating!