It's time for a major closet makeover with these tips on how to effectively organize your closet by style and budget.
Raise your hand if you have a jam-packed closet, yet you have nothing to wear (because same). A clean, organized closet is simply the best because it saves you a lot of space, time, and morning become stress-free. However, let's face it, we're not all blessed with a glamorous and spacious closet like Heather Dubrow with see-through glass doors, fab chandeliers, and a champagne doorbell. Most of us only have a disorganized small closet space full of dust bunnies.
So, if you're tired of looking at your messy closet space, if you can't even close the door anymore, or if you can't find the other pair of your shoe, then it's finally time to declutter and organize your closet with our cheap, easy, and smart tips. Trust us, even Marie Kondo would approve.
Organize Your Closet by Season
Cary Prince, a certified professional organizer in Los Angeles, said on an interview with Real Simple to organize your closet on a seasonal basis. This will give you a chance to think about what you've worn and the clothes you've ignored that season. Plus, it will help you decide on the clothes you should keep from the clothes you should donate or sell.
To organize your closet by season, check out Real Simple's 7 simple steps that you can do under 30 minutes.
Organize Your Closet by Category
Organize your clothes into categories like tops, pants, dresses, undergarments, and accessories. Doing this will help you compare similar clothes and get rid of the things you don't want or have too much. Plus, remember Marie Kondo's golden advice: keep the items that only sparks joy in your life.
Use a Clothing Rack
If your tiny closet is already packed or for anyone who doesn't even have a closet to begin with, use a clothing rack to organize your clothes and accessories.
BUY NOW: IRIS USA Metal Garment Rack with Wood Shelves, $62.32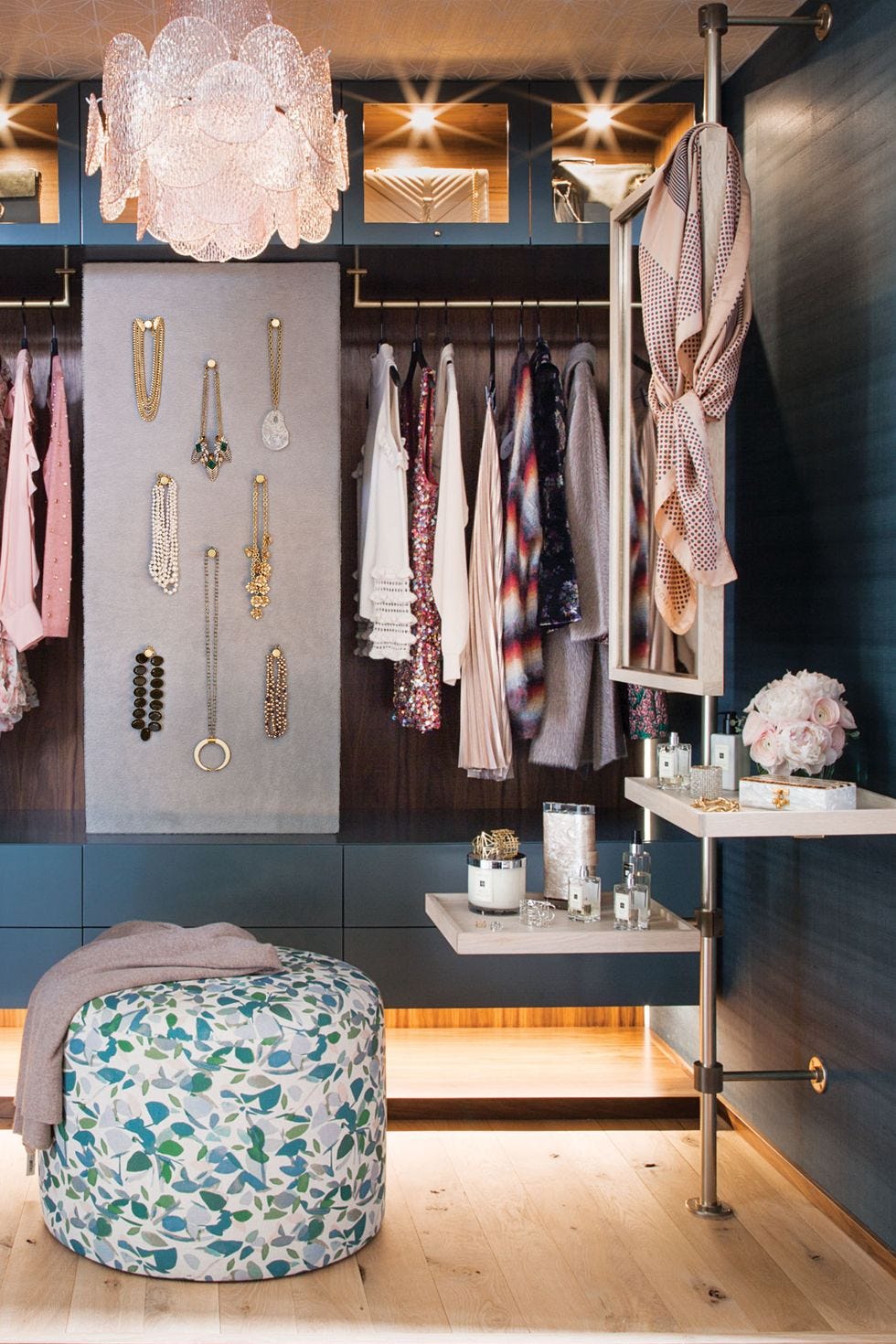 Jewelry Wall
Organize your accessories and pieces of jewelry by hanging them on the wall by covering your closet wall with a velvet flock contact paper or by using a pegboard.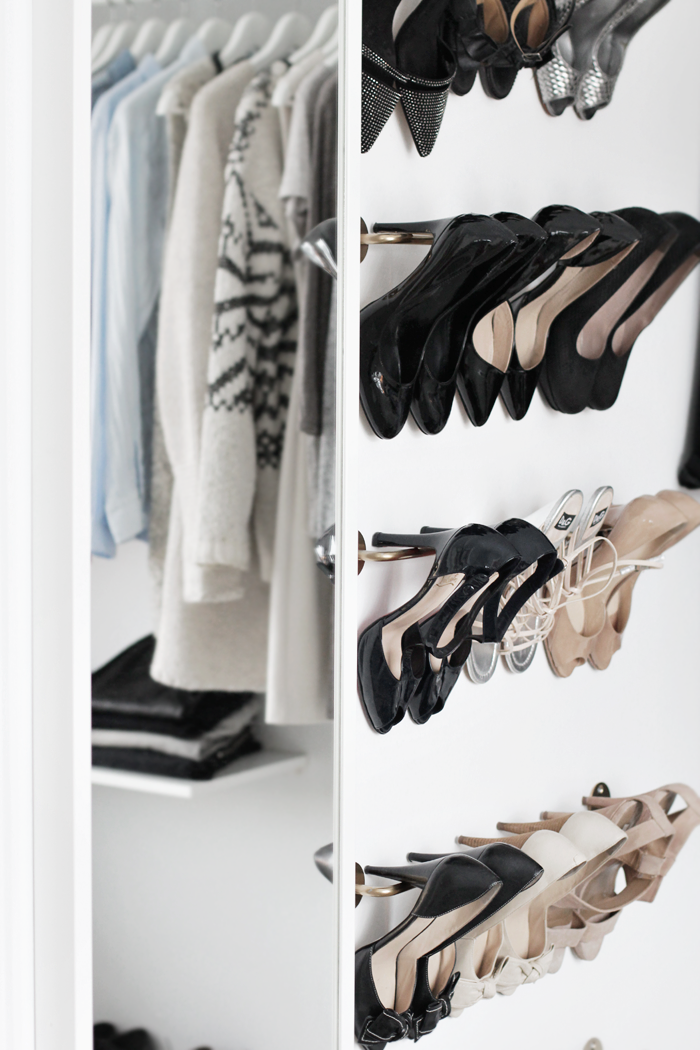 Put Shoes on the Door
A genius way to organize your high heels collection is to hang rails on the inside of your door to create an extra storage space, just like what Stylizmo did in this closet.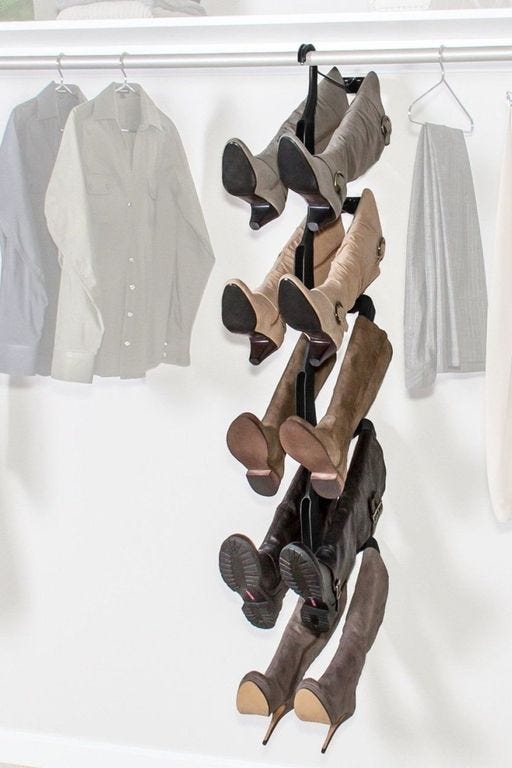 Use a Boot Rack
If you're having a difficult time organizing your boots, try a booth organizer as seen on Rachael Ray. This boot rack can hold up to five pairs of boots. Saving you a lot of space for your other clothes, shoes, and accessories.
BUY NOW: Boot Butler Boot Storage Rack, $69.99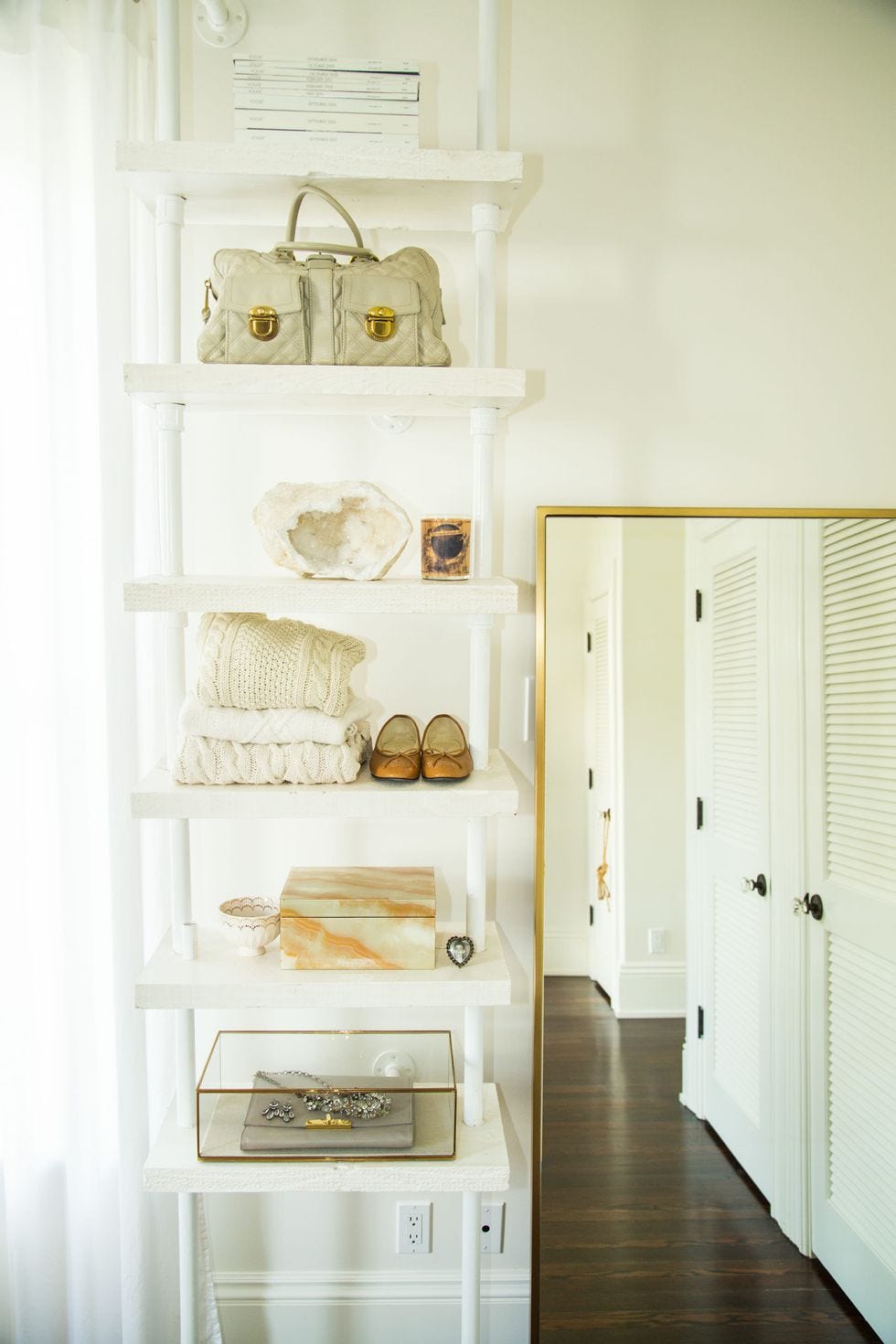 Install a Wall Shelf
Install a wall shelf for your Instagrammable bags, decors, clothes, shoes, and accessories, just like what Leanne Ford did in this bright and chic bedroom space. You can also try using acrylic shelf dividers to keep your clothes and bags organized.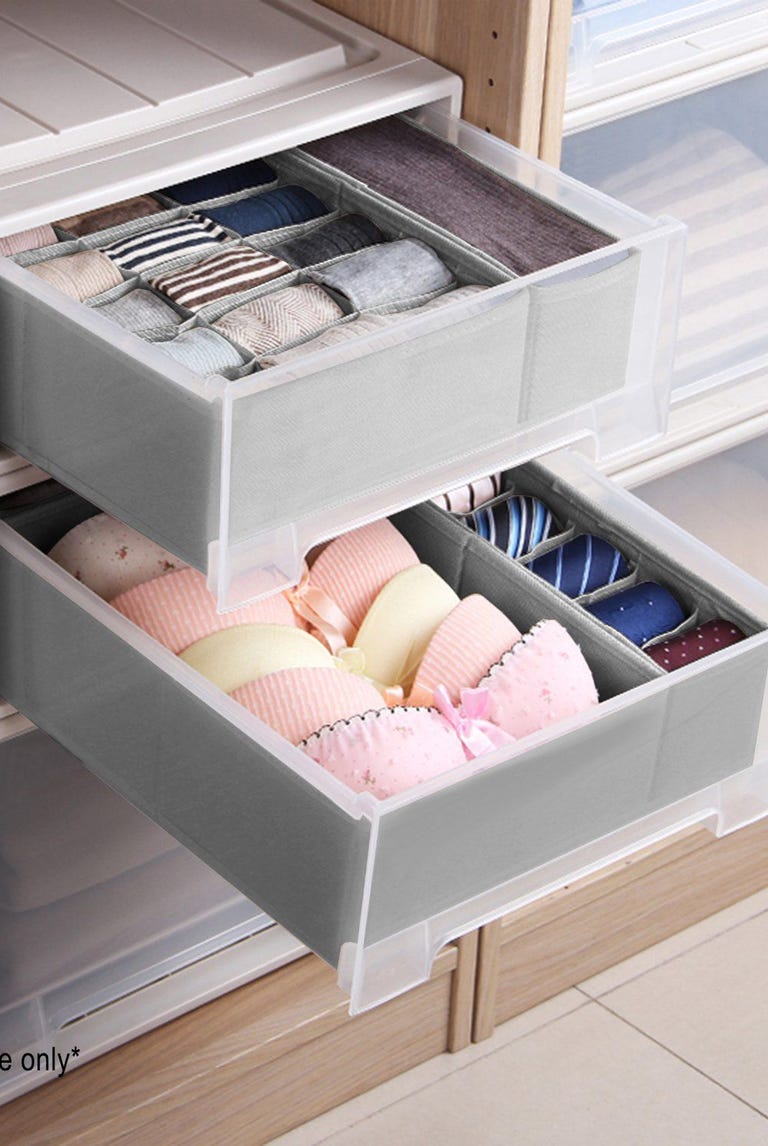 Marie Kondo Fold
Organize your closet by folding your clothes the Marie Kondo way. Plus, use storage boxes to organize everything by category.
BUY NOW: Simple Houseware Foldable Cloth Storage Box, $14.67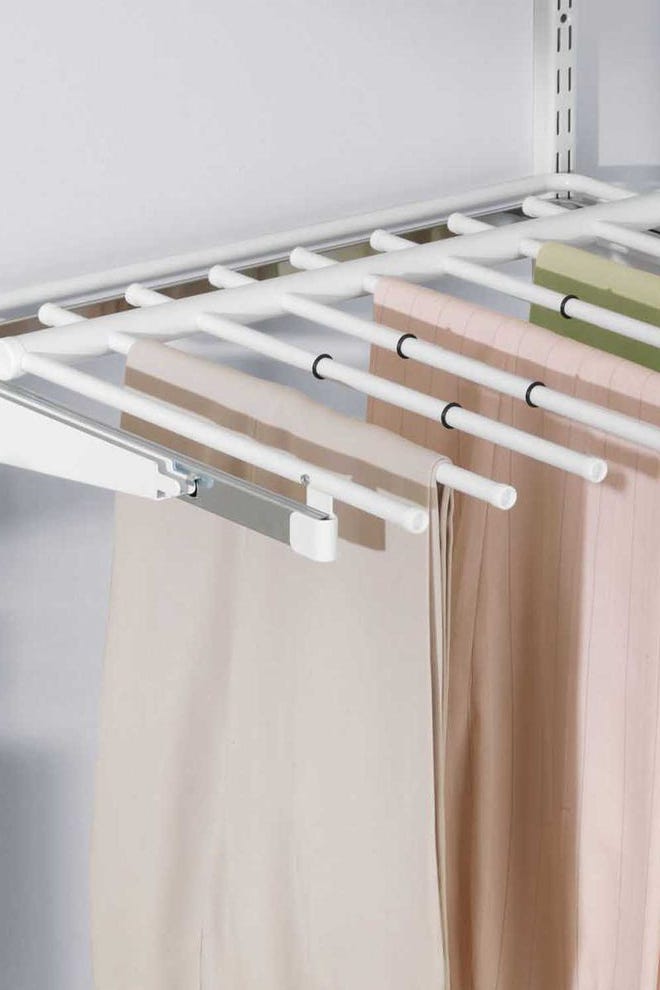 Use a Pants Organizer
Give your pants their own dedicated space in your closet by using a pants organizer. Not only does it save space, but it also preserves your pant's pleats.
BUY NOW: Devesanter Pants Hangers, $18.99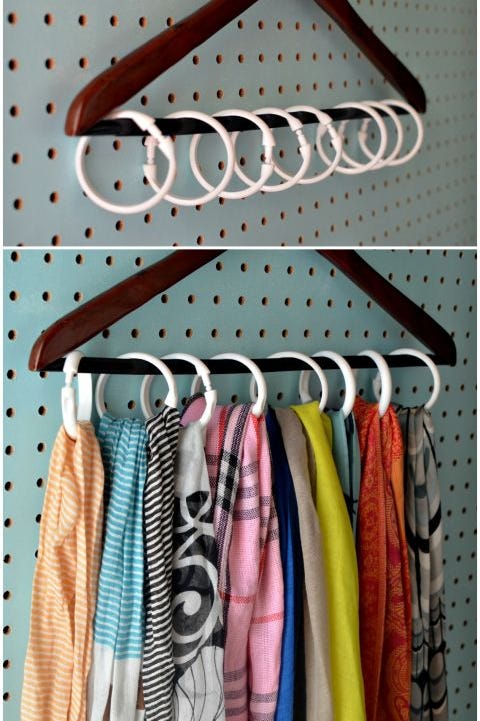 Use Shower Rings
Organize your scarves or ties by using shower rings. Simply attach multiple shower rings in a hanger, then hang your scarves or ties. Plus, it will be much easier to find the scarf design you want to use since this holder can showcase all of your scarves or ties.
Organize Your Belts
Keep your belts organized by using a belt organizer. You can also be creative and use a pegboard wall to keep your belts in line.
BUY NOW: iDesign Axis Metal Hanger, $8.57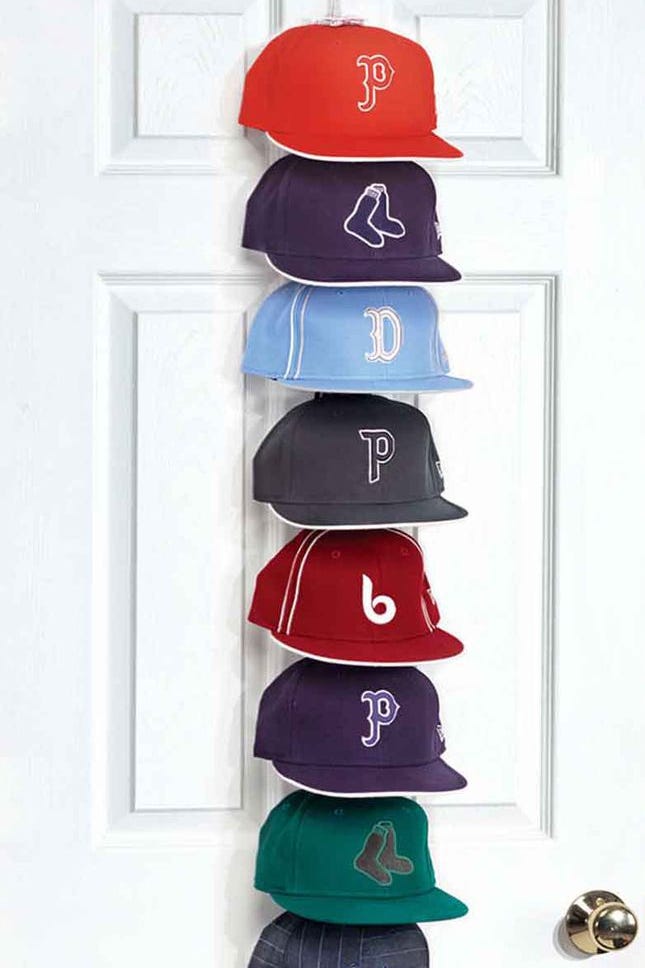 Organize Your Hats (or Caps)
Organize your hats while displaying them in your space by using a hat organizer. This organizer can hold up to 18 caps. Plus, it will keep your hats from getting crushed in your closet.
BUY NOW: Perfect Curve CapRack18, $9.99
That's a wrap for our easy, cheap, and smart ways to organize your closet space. Remember to give every item in your closet its own space to keep everything in order. Learn more interior design tips and ideas on Omysa's blog. Happy decorating!