Interior designers share their tips for designing a functional and stylish dining room to share with your family and friends.
OK, we think that the dining room is one of the most underrated rooms in a home. Yes, homeowners go crazy about designing their living room, kitchen, bathroom, and bedroom. However, only a few people would pay attention to designing their dining room.
We know that most small apartments don't have an entire room for dining, but it's important to create a dining space where you can enjoy your meal with family and friends. Check out these 8 expert tips on how to give your dining room the makeover it deserves. Let's get started!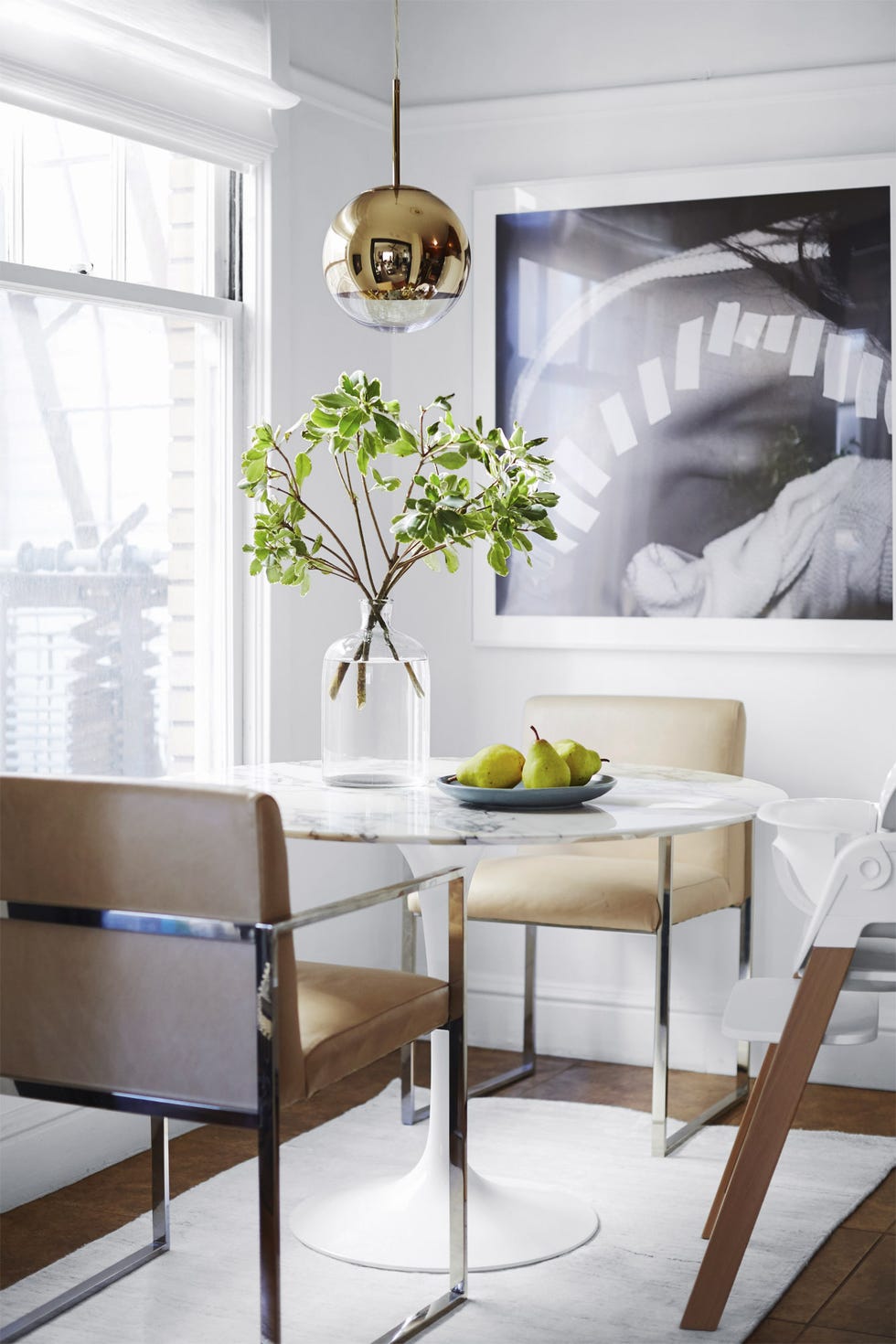 Round Table for Flow
Of course, we'll start off with a dining room table. Imagine a dining area full of boxy pieces. It feels cramped and difficult to move around. Interior stylist Louella Tuckey explained that a round table can work best if you have an open room, but not huge, and other rooms lead off it. She also added that a round dining table lends itself to a space that also acts as a thoroughfare. No sharp corners and soft edges for the flow of traffic .May we also add that it's easier to walk around in tight spaces if you have a round dining table, and it's great for having conversations with your guests because nobody gets left out.
In addition, Justine Hugh-Jones of Justine Hugh-Jones Design recommended that 1100mm is the perfect width for a dining table, which allows for perfect table settings. Plus, it still encourages great conversation across the table.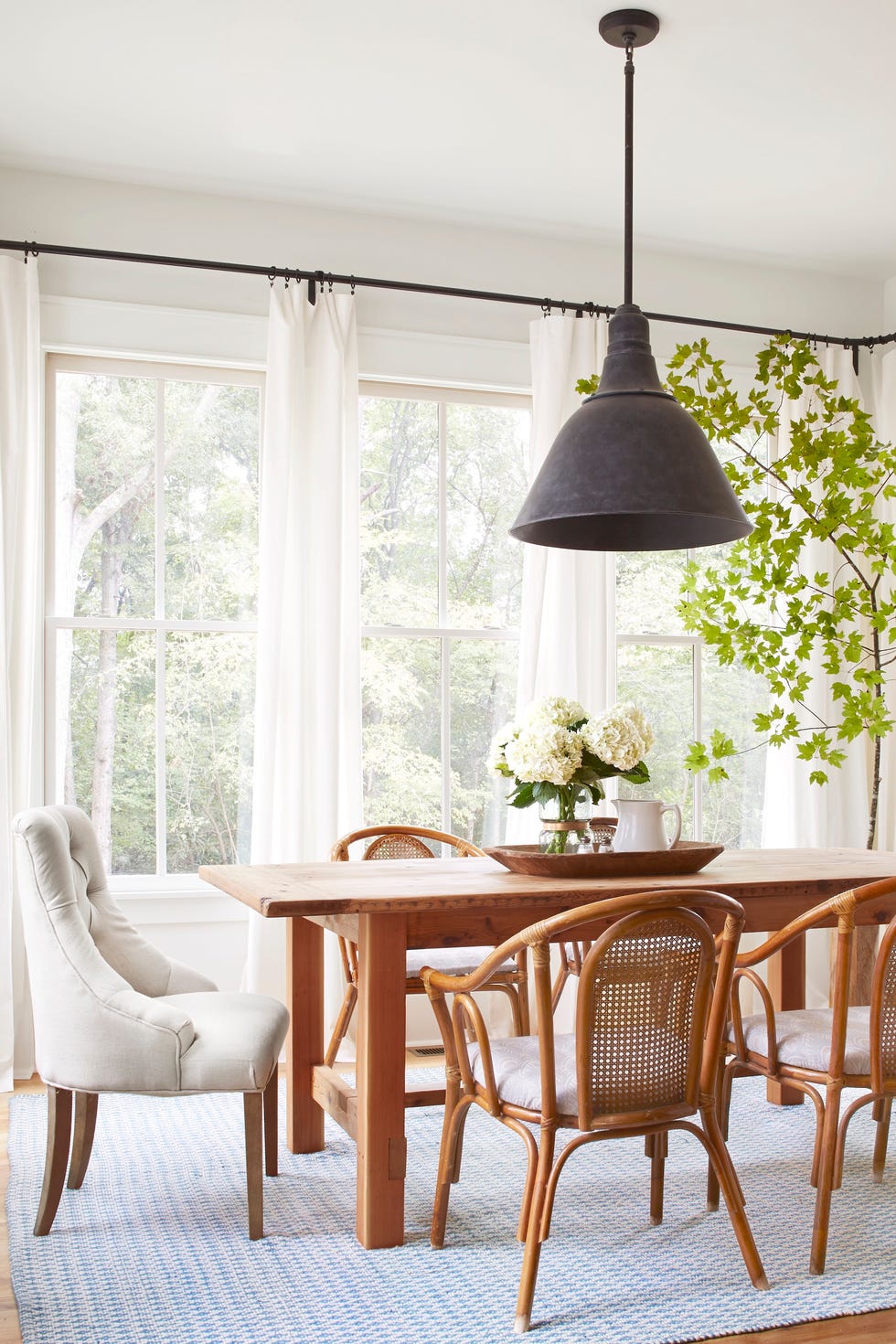 Use Comfy Chairs
No doubt, you'll enjoy your meal while sitting in a comfortable chair. Laurie Blumenfeld-Russo of Laurie Blumenfeld Design said that the chairs of your dining room depend on your aesthetic. It can be neutral, or they can have the 'wow' factor. You can choose a set of dining room chairs in an unexpected color like bright yellow, or you can mix and match. However, keep in mind that it's important to choose a chair with enough cushion in the seat so that your guests will be comfortable.
Sonia Simpfendorfer of Nexus Designs also added to check the dining chair and table heights together before you buy them. Old tables can look great with sleek, modern chairs, but if you get the heights wrong, it is very uncomfortable, and your guests might leave before dinner.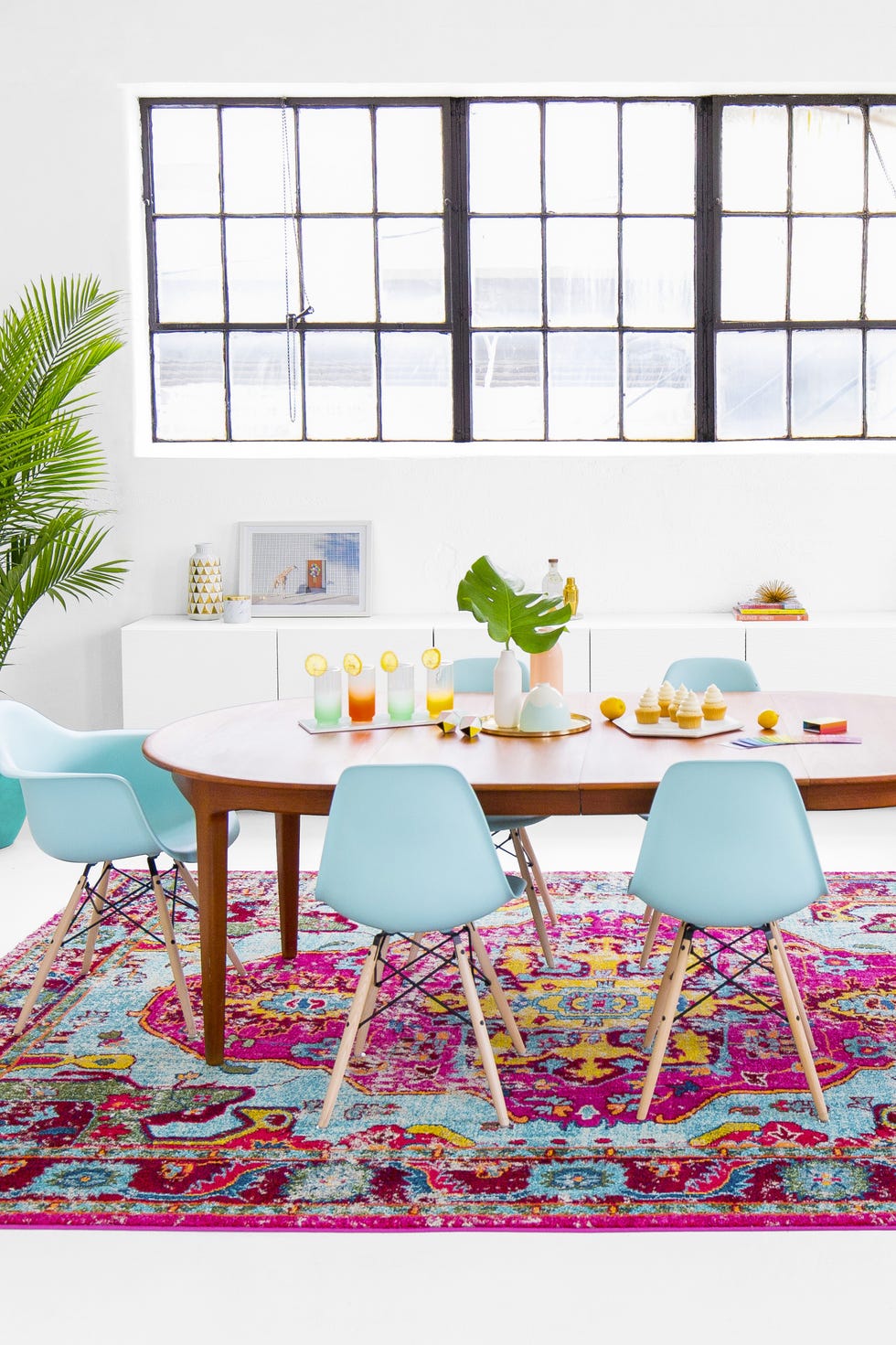 Define the Space
We can't emphasize this enough, but an area rug can define any space of a home. If your dining space is part of another room, usually your living room or kitchen, you need to make it clear that your dining space has its own purpose with an area rug. Virginia Toledo and Jessica Geller, the duo behind design firm Toledo Geller shared that grounding the space with a floor covering is essential in a dining room. If you're prone to spilling food and drinks, then you can paint the floors or tile it in a way that looks like an area rug.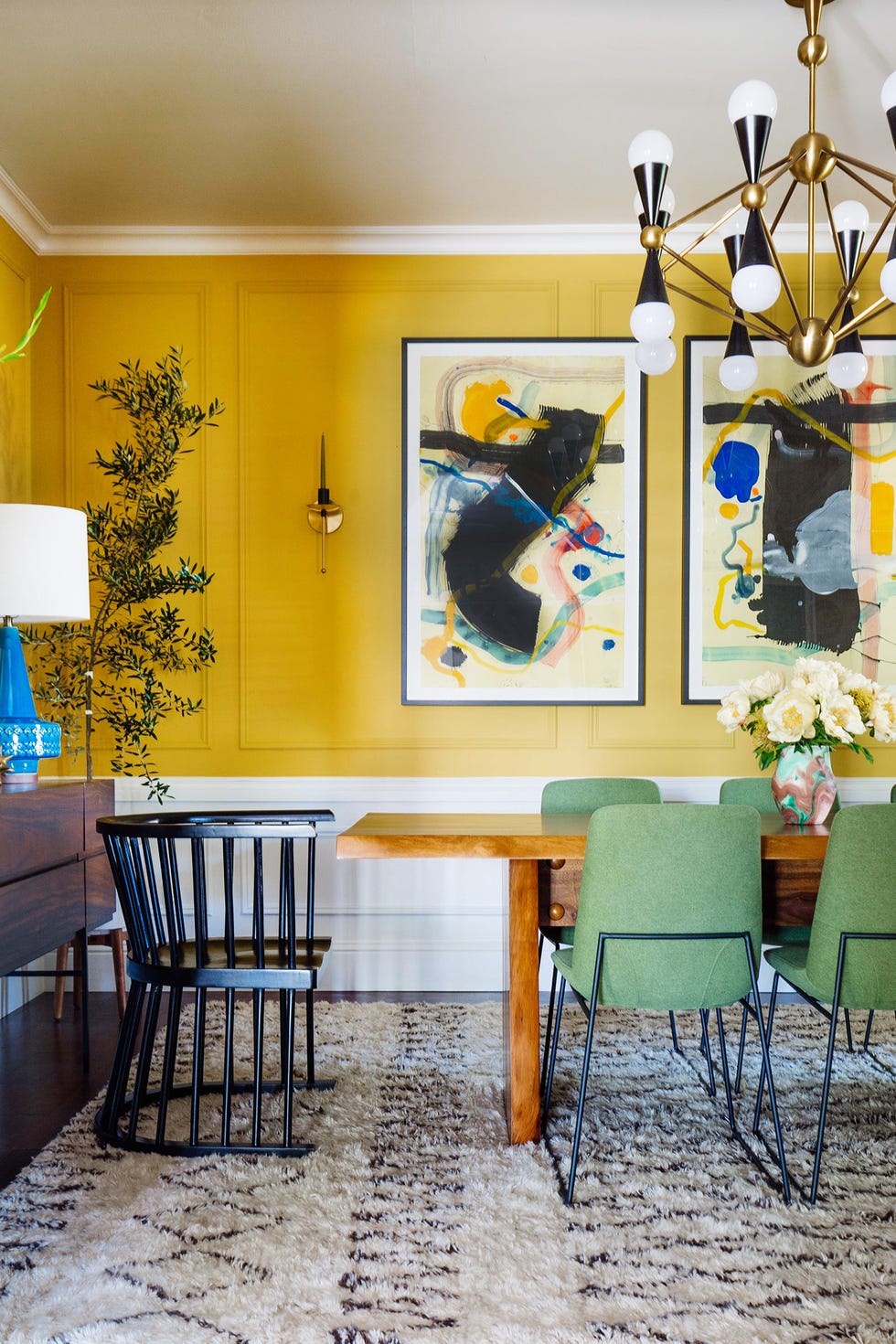 Statement Wall
Your dining room is a space for entertaining your guests. So, make it fun by painting the room with bold colors like this vibrant yellow dining room with geometric chandelier and abstract art. The dining space looks gorgeous and lively. You can also use floral wallpaper to cover up the walls of your dining area.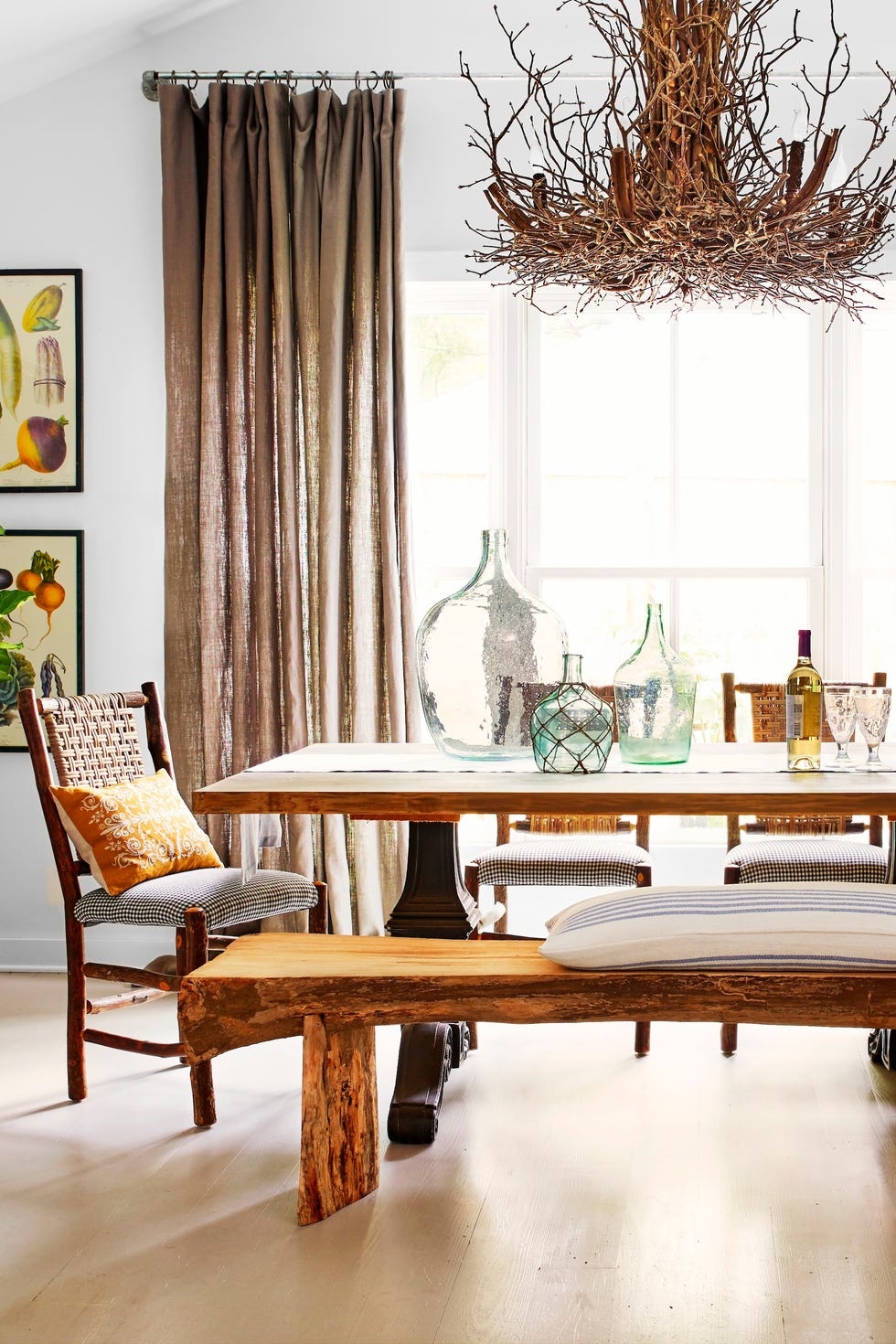 Essential Lighting
Trust us, no dining room is complete without great lighting. Mardi Doherty of Doherty Design Studio shared that the pendant lighting adds a focal point and a decorative design element to the room. It helps define the space and means downlights are not needed. Plus, make sure the size is a good fit for the table.
In addition, Transition State gave a tip on which type of lighting you should choose for your dining area. "Ambient lighting and artful sconces are a must needed layer in a dining room, especially if you don't have the ceiling height for a chandelier. Sconces are a way to create that sense of intimacy for any dinner party."
Storage Space
It's always a good idea to have extra storage for your dining space. Grant Fenning and Glenn Lawson, co-founders of Lawson-Fenning, recommended finding a cohesive credenza, cabinet, or hutch where you can store tableware to avoid any time lost in the back and forth from the kitchen. However, if you have a small dining space, you can use a console table, buffet, or a corner bar cart if a buffet is impossible to fit in your space.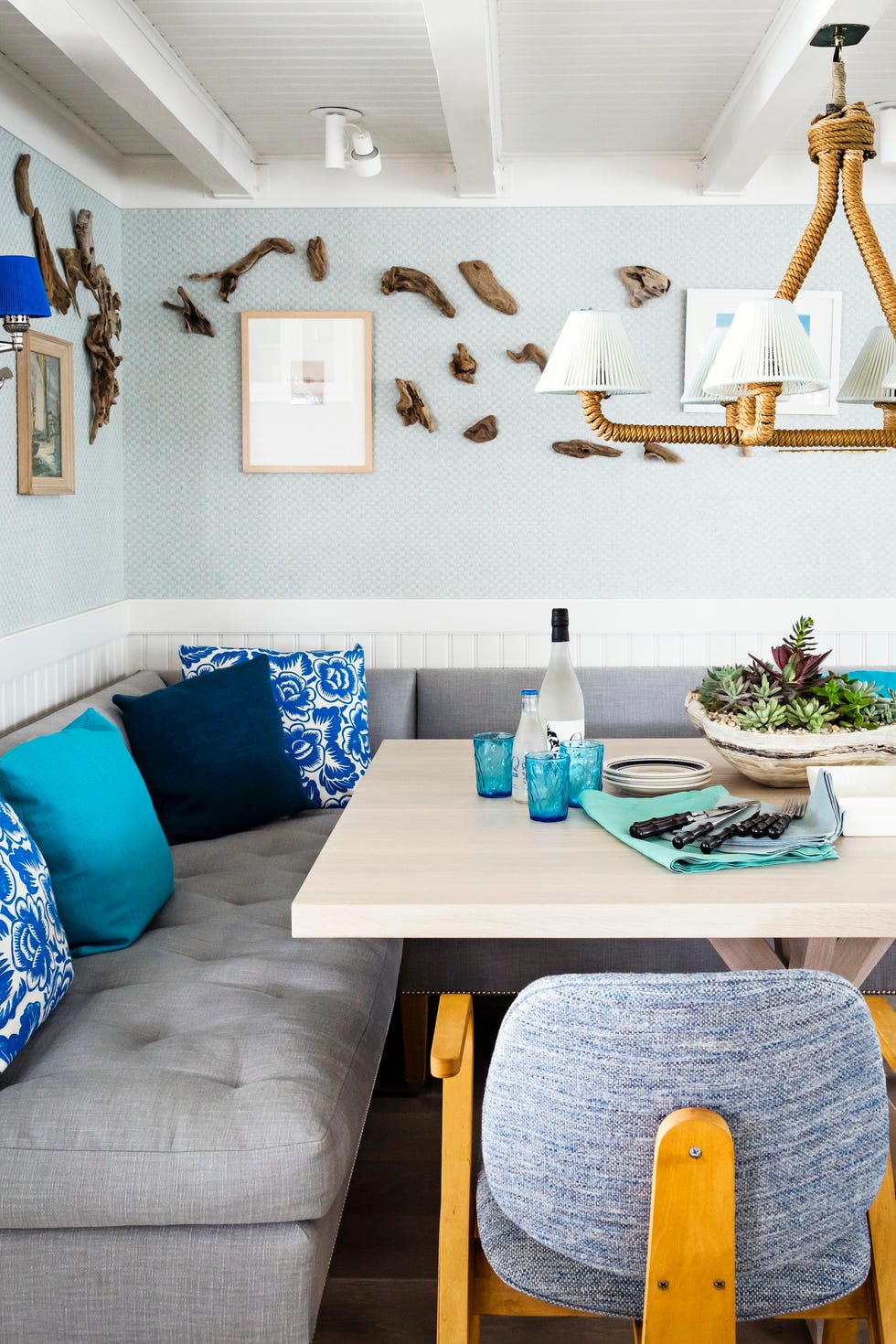 Make It Interesting
Since your dining room is a space to entertain guests, it's better to be more creative when designing the area by mixing and matching different chairs, painting your ceiling a bold color that contrasts the walls, adding throw pillows on your dining chairs, a colorful runner on your table, using an animal printed area rug, or accessorizing your dining table with fresh flowers or scented candles.
You can also add indoor plants like Bird of Paradise, Monstera, or fiddle leaf fig to bring life to your dining room. Also, to create a more spacious dining space, choose a variety of mirrors, and hang it on your dining wall. You can also display your family photos, or hang an oversized art.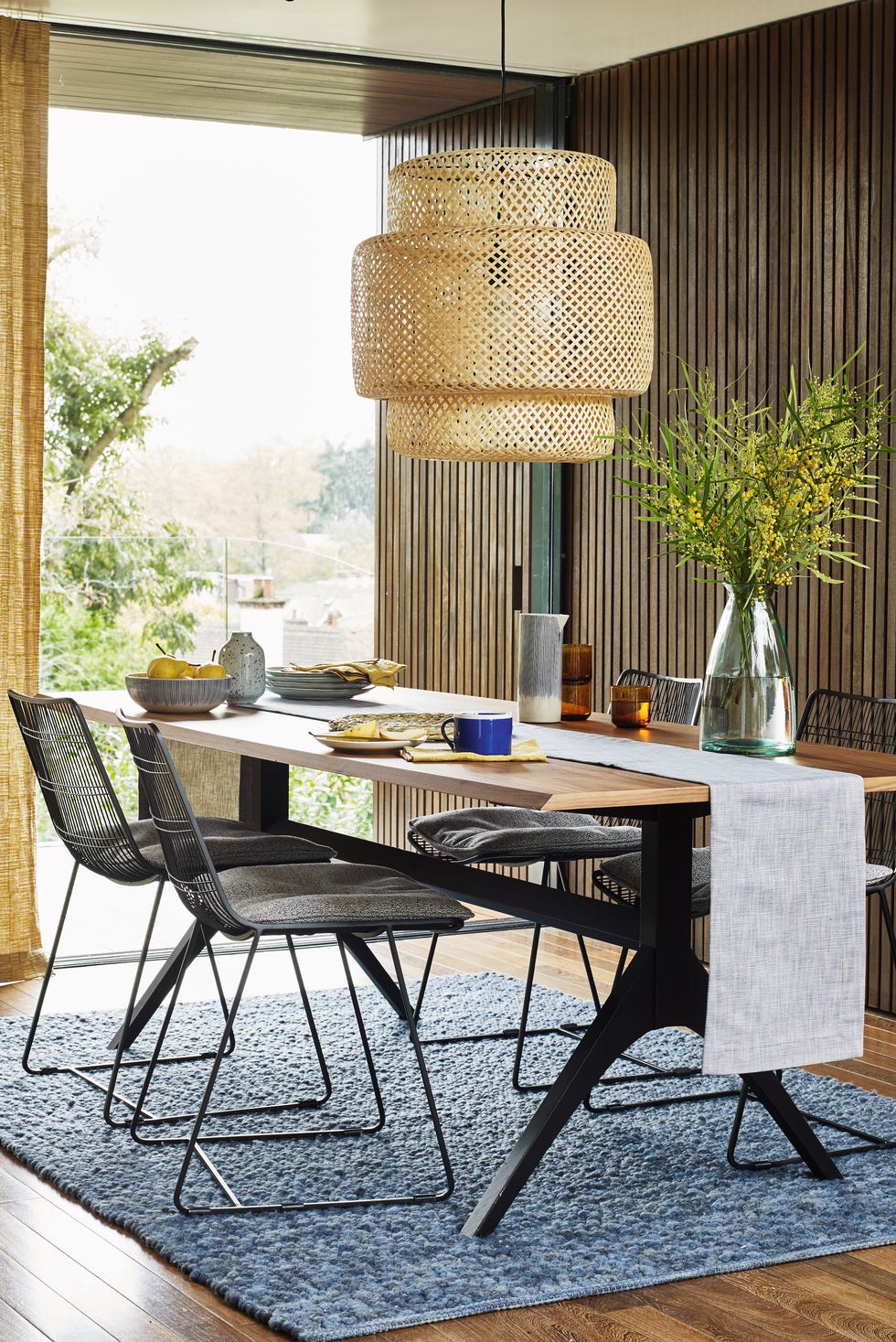 Texture and Warmth
Interior stylist Sarah Ellison advised having fun designing your dining area. Mix up the colors, textures, and levels of shininess. You can also layer in various textures like a rattan pendant and woven rug, as seen in the photo, to add excitement. Amber Lewis added that neutrals like grays and natural materials like leather and stone are foolproof together, and it will make your dining decor flow seamlessly.
There you have it, folks! We hope that these tips will inspire you to create a functional and stylish dining room where you can sit down with your family and friends for more memorable dinners. Learn more about interior design trends and tips at Omysa's blog. Happy decorating!