Create a functional and chic mudroom with these easy mudroom ideas. Trust us, it will make your home feel instantly saner.
Your mudroom is the area in your home that's keeping your dirty shoes, your bulky outerwear, and pet accessories organized. However, let's be honest, it's the messiest place in your home because it's the drop-zone for everything that comes in and goes out.
That's why today, we're going to help you create a functional and chic mudroom, no matter what type of space you're dealing with. Trust us, it's possible with these easy and smart mudroom ideas.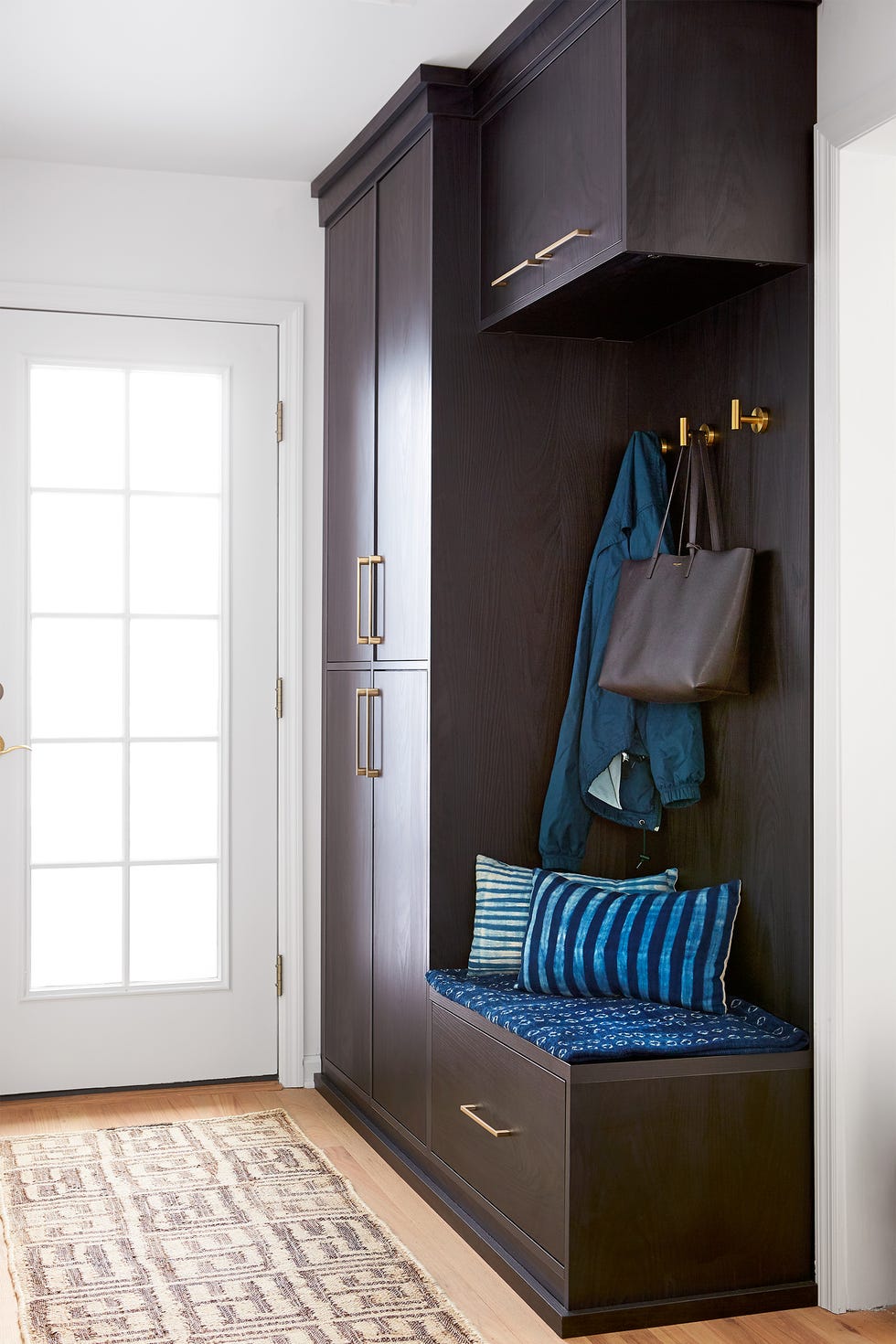 DIY Mudroom
No mudroom? No problem. Create your own mudroom for your shoes, coats, and bags by installing a built-in cabinet and bench, like this mudroom from House Beautiful's editorial director Joanna Saltz.
Keep It Simple
Next on our mudroom ideas is to create a simple yet stylish mudroom by decorating it with vintage items, like a simple bench, light area rug, a vintage clock, and houseplants.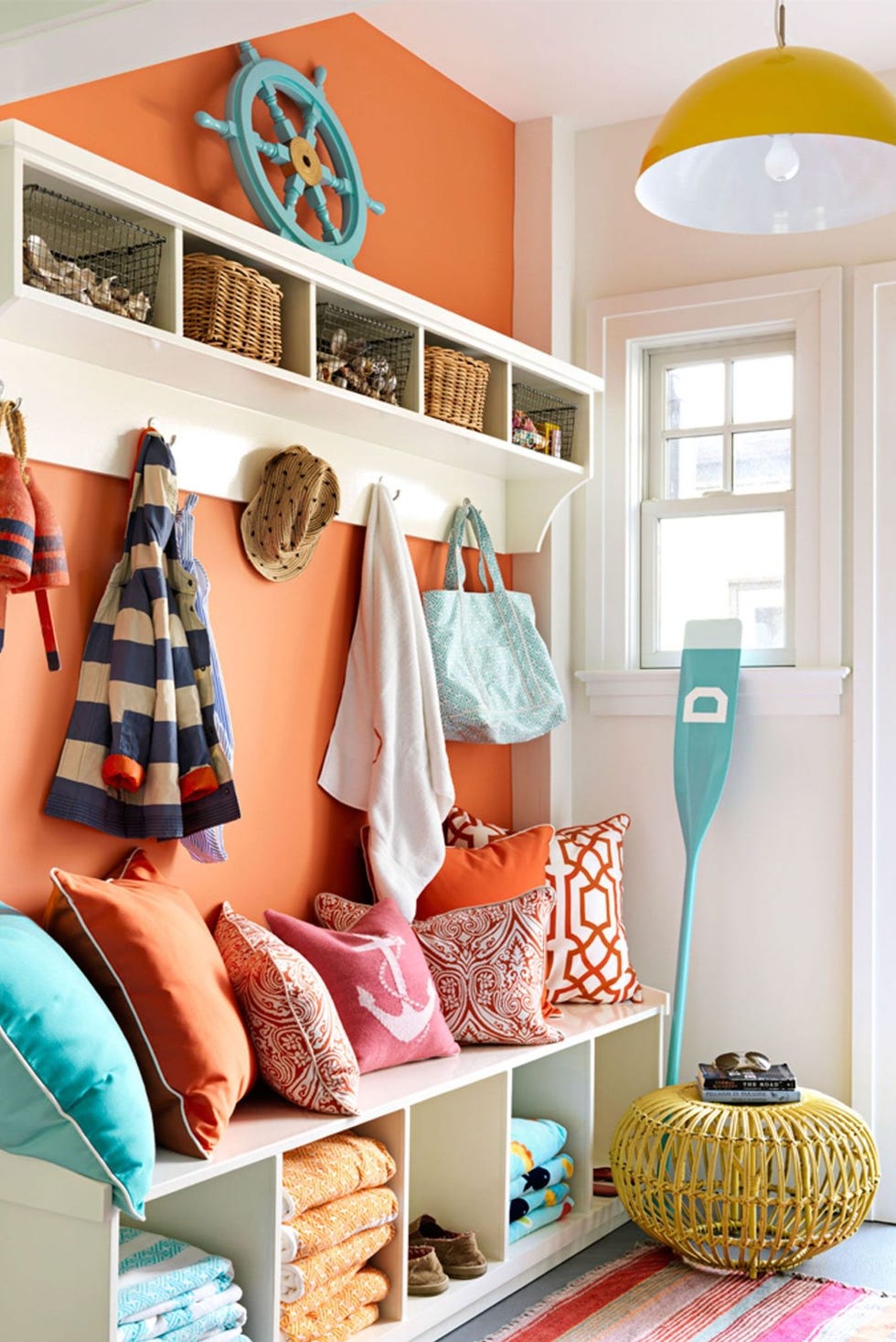 Make It Colorful
Transform a dull mudroom by painting the area with a bold, fun color. Add colorful throw pillows and stool to create a cozy mudroom space.
Think Out of the Box
If you don't have a formal mudroom, then create your own by turning an oversized cabinet into a mini mudroom. Add hooks for coats/bags and place storage baskets for gloves, scarves, and hats.
Tip: You can also maximize the space by hanging a shoe organizer and hat organizer in the cabinet doors.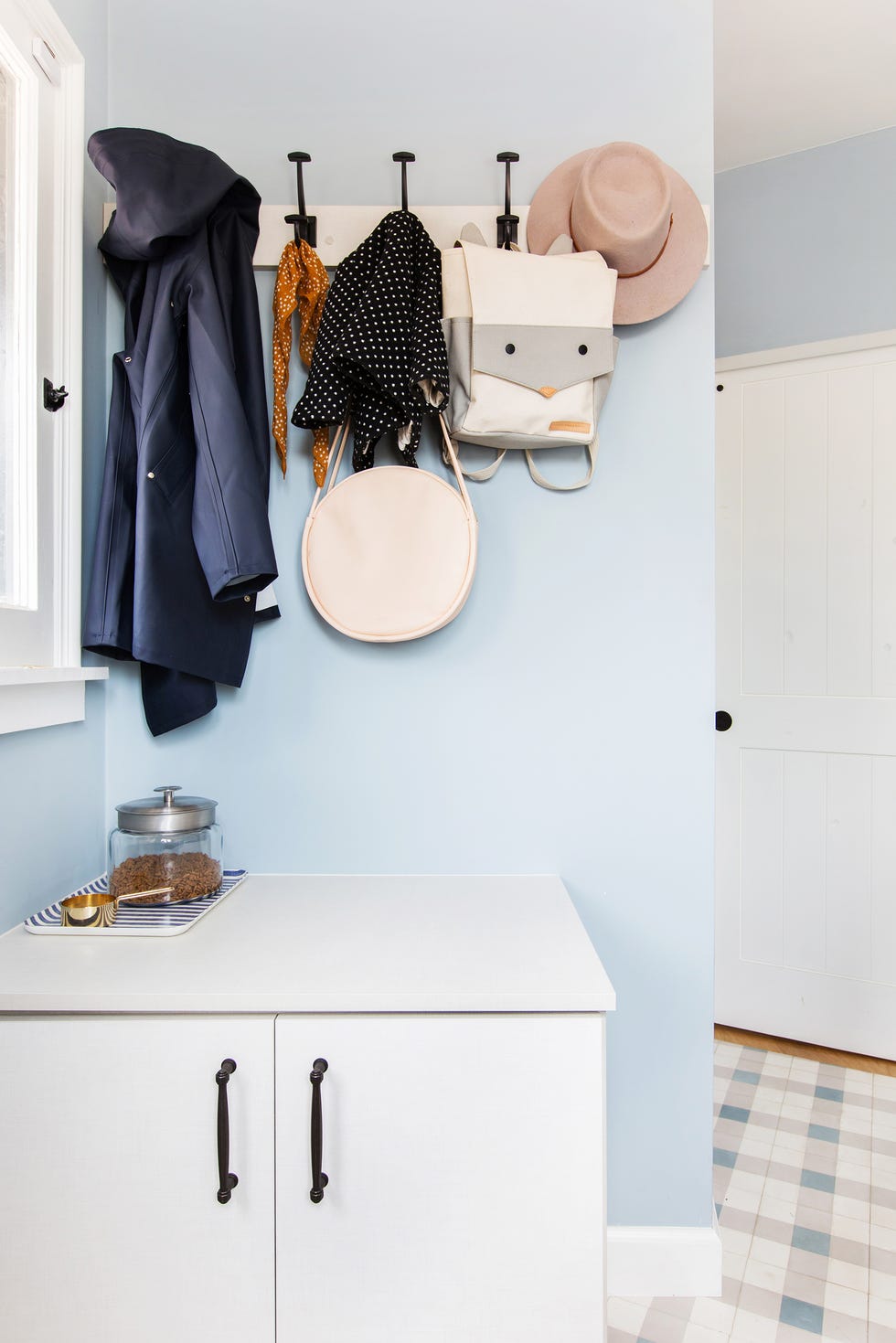 Wall Coat Rack
Next on our mudroom ideas is to create a functional mudroom for your bags, coats, and hats by installing a coat rack on your wall. This will save you floor space for storage furniture.
Pet-friendly Mudroom
Customize your mudroom for your best pal by installing built-in feeding bowls that can be easily stored away when not in use. You can take it to another level by placing a basket for your dog's toys and by designing the walls with an animal-print wallpaper.
Floor-to-Ceiling Storage
Use all available wall space by installing customized floor-to-ceiling storage in your mudroom. Use a rolling library ladder to access top shelves, like this mudroom space by Ken Fulk. The built-in nook with a cushion becomes a spot for wearing shoes and hanging coats, bags, hats, and pet accessories.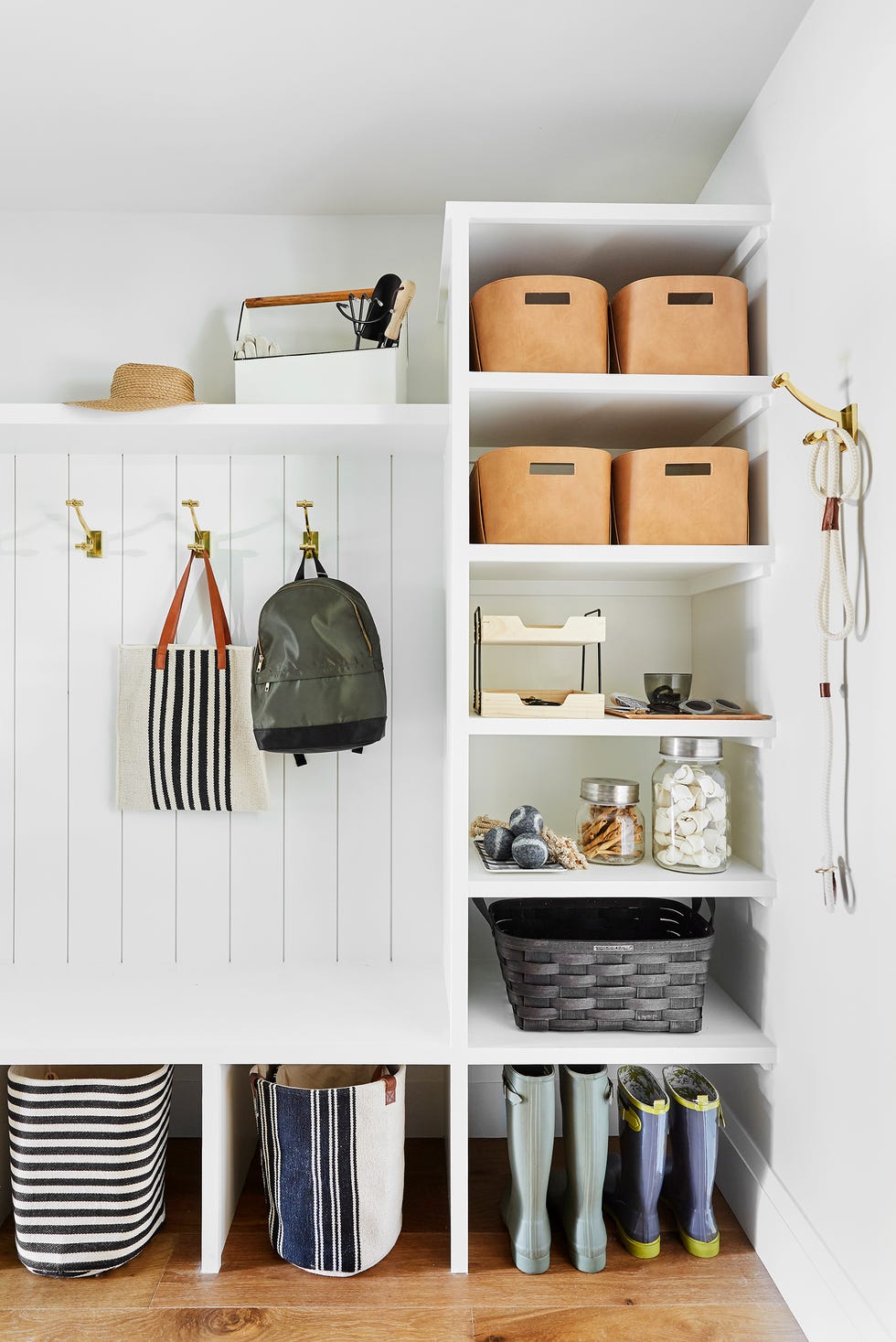 Get Organized
Create an organized mudroom by installing hooks for your bags and coats and your pet's accessories. Use storage boxes and jars to keep other stuff organized. Add tags for each box, so every item has its own place.
Kid-friendly Mudroom
Next on our mudroom ideas is to create a kid-friendly space by adding an upholstered cushion and cozy throw pillows. This makes it more comfortable for your kids to sit and put on or take off your shoes.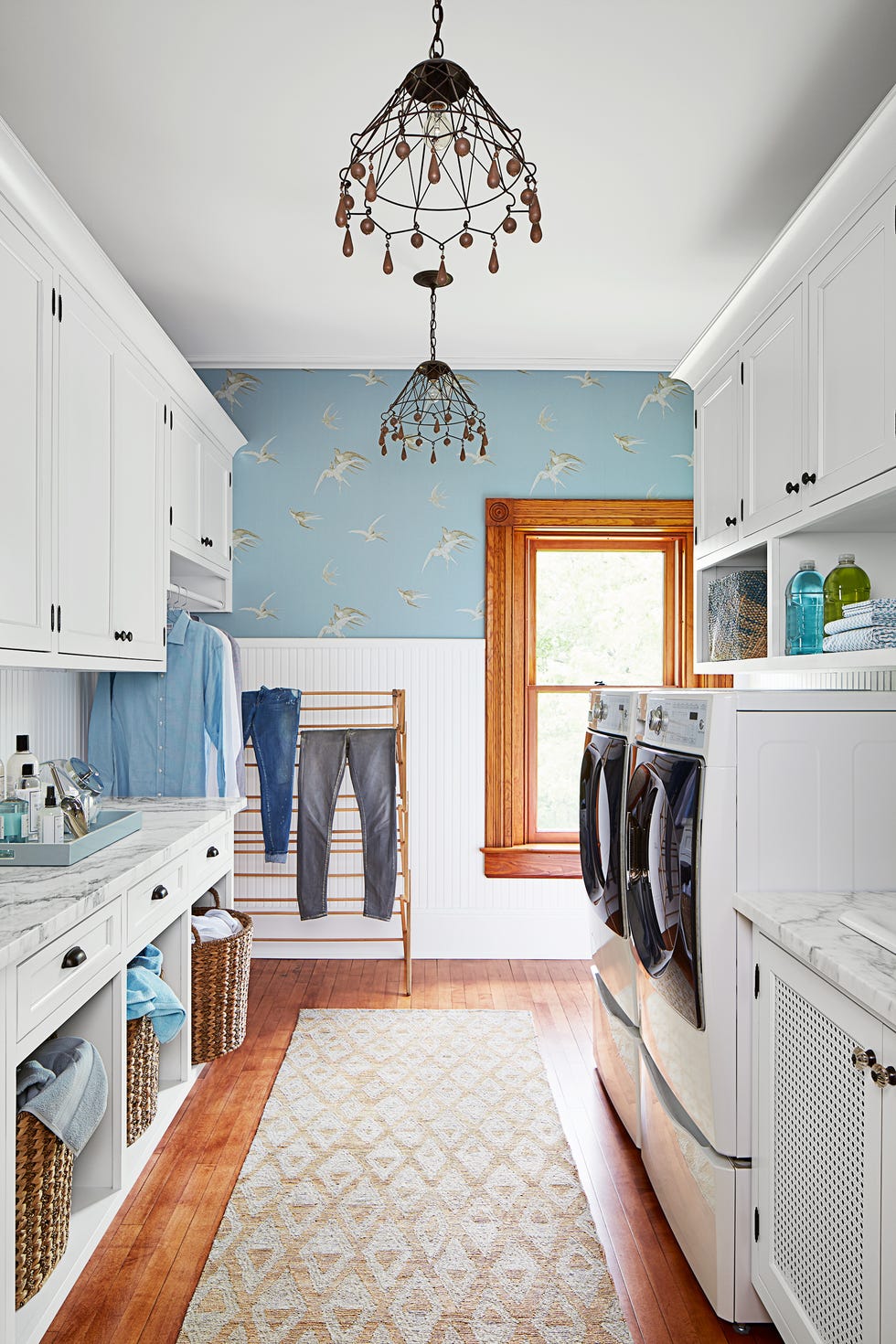 Bright Laundry Room/Mudroom
Combine your laundry room and mudroom into one by creating storage spaces for your shoes, bags, coats, and laundry. To make the space look stylish, design it with bright and calming colors like white and blue. Make sure that the place is well lit to avoid that small and cramped look.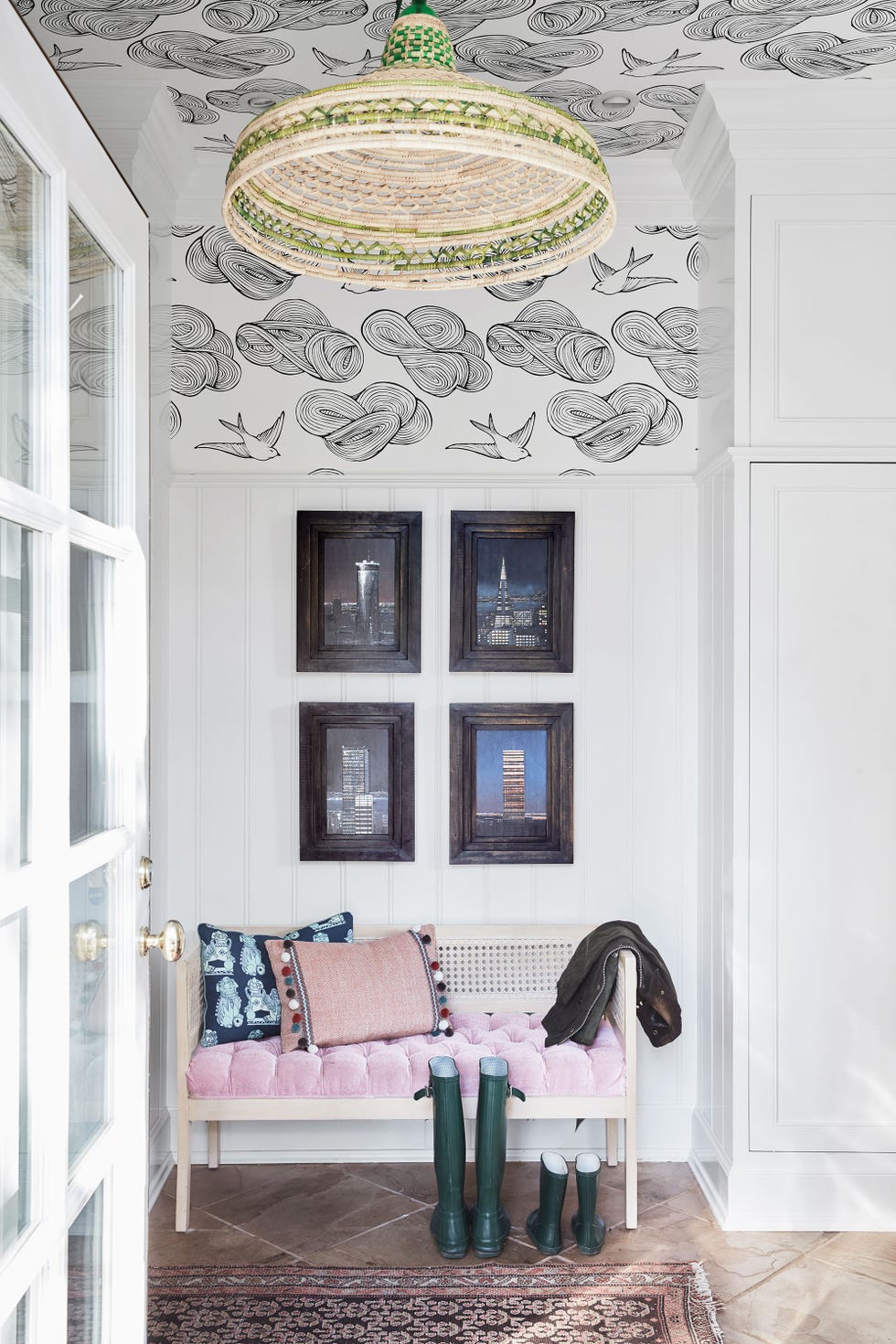 Chic Wallpaper
Next on our mudroom ideas is to create a chic mudroom by designing the space with decorative wallpaper, gallery wall, and chic pendant.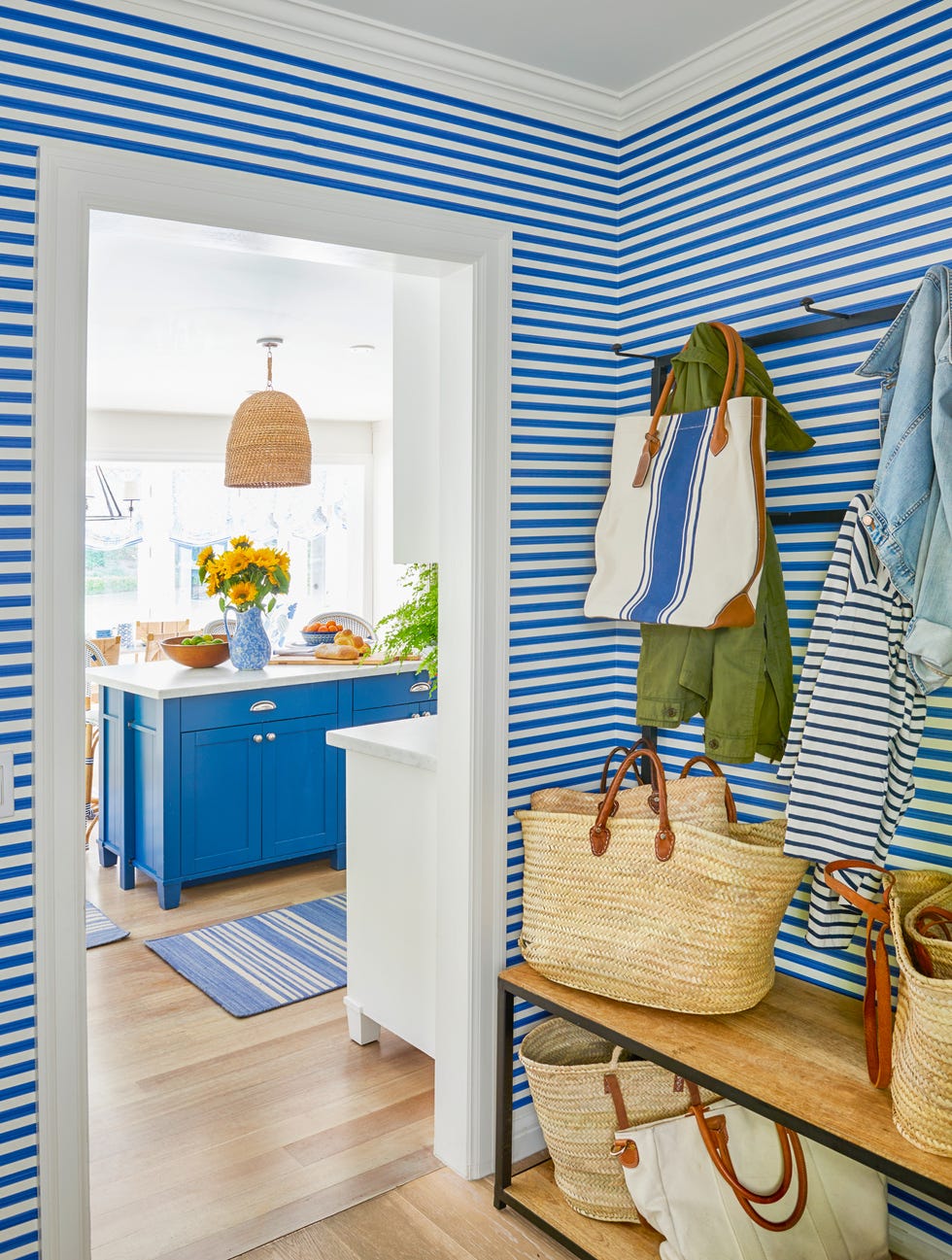 Make It Blue
If you have a doorless mudroom, make sure to color coordinate it with your home's interior, just like this blue-and-white that perfectly blends with the kitchen.
That's a wrap on our chic and functional mudroom ideas. Easy and fun to do, right? Start creating a great first impression with an organized entryway/mudroom space. Learn more interior design tips and ideas on Omysa's blog. Happy decorating!