Calling all work from home employees! Spice up your boring home office desk with these cheap yet creative decor ideas.
To work at home efficiently, you need to be in the right environment to feel inspired and motivated. You need to create your own home office at the right location, you need to have the right pieces of equipment on your home office desk, and how to properly style them to keep everything neat and organized.
Which is why we thought of creating cheap yet fun ideas on how to style your home office desk. Besides, you sit at your desk all day, so why not make it a little bit more interesting. Remember, work's not a chore when your desk's not a bore.
Add a Lamp
Your room's light is perfect to help you find things and to make the space bright, but adding a lamp or task lighting to your home office desk can help you work more properly. According to Bustle, halogen bulbs are ideal to use as your desk's lamp because it renders colors with clarity that other types of lighting often lack.
Bring in Plants
Studies showed that adding indoor plants to your home office desk can actually boost your productivity by cleaning the air you breathe and improving your mood and mental health. Plus, plants can help enliven your workspace. Try adding a pot of air-purifying plants like snake plants or an Instagram-worthy plant like aloe vera.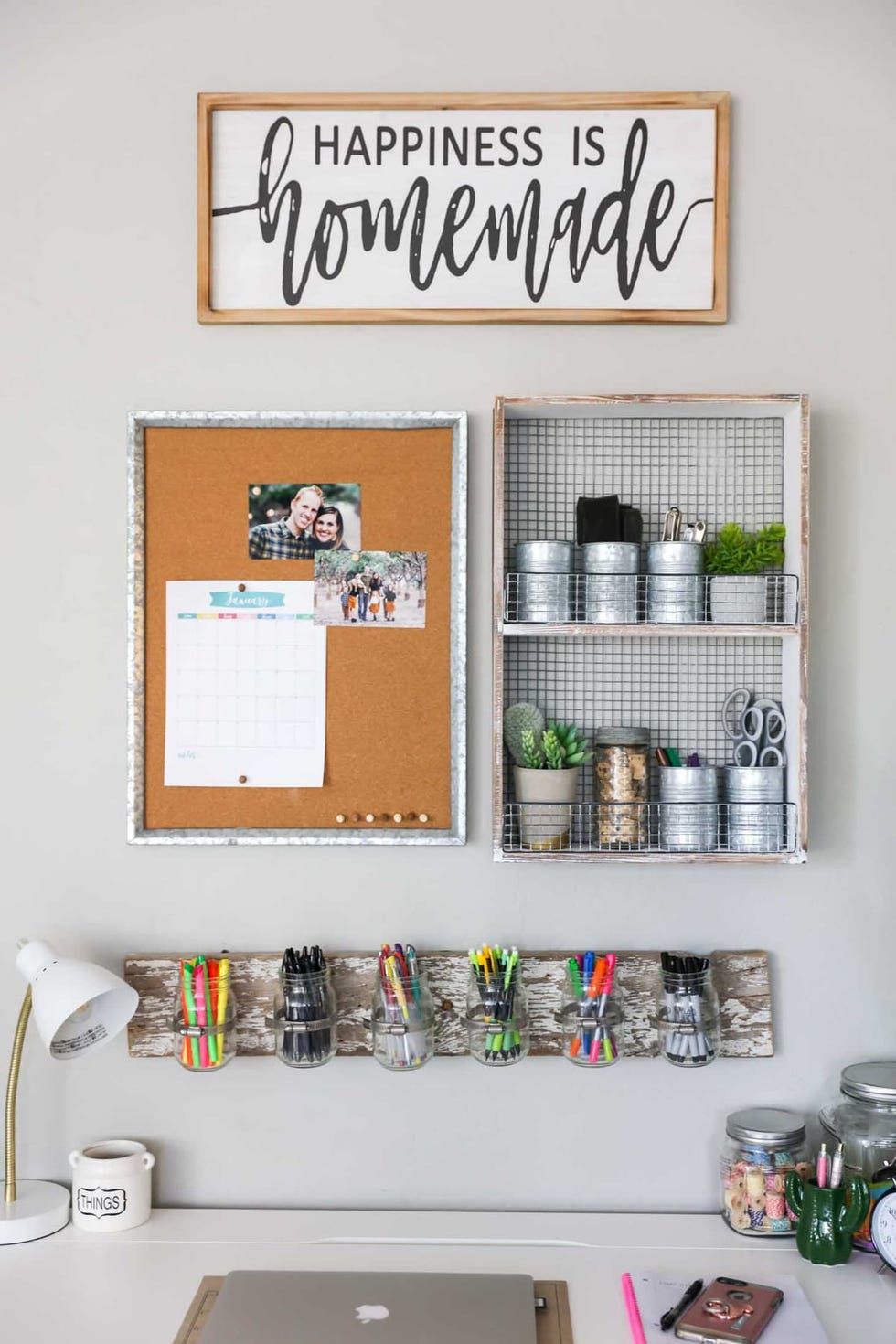 DIY Organization Chart
If you don't have enough space on the top of your desk for your office stuff, you can create your own organization chart by Good Housekeeping. It's really easy and simple. Attach a corkboard to keep your calendar, schedule, or to-do list in clear view, and fill mason jars with all of your office supplies. You can use the space of your home office desk for your laptop, lamp, books, and coffee mug.
Display Artwork
Make your home office desk colorful by displaying different artworks and photos that you love like old postcards and paintings. Tack them on the wall, or you can put them on your desk and make them lean on the wall. Plus, the fun part is you can easily swap in with new frames every week. If you're planning to hang a frame in your workspace, make sure that it's on eye-level.
Use Drawer Dividers
Keep your home office desk neat and organized by using drawer dividers. You can use any acrylic organizers to keep flash drives, pens, business cards, sticky notes, and other office equipment in one place.
DIY Desk Organizer
Not a pro at using hammers and nails? Then you can do this DIY home office desk organizer from carton/cereal boxes to store your to-do list, pens, and notebooks.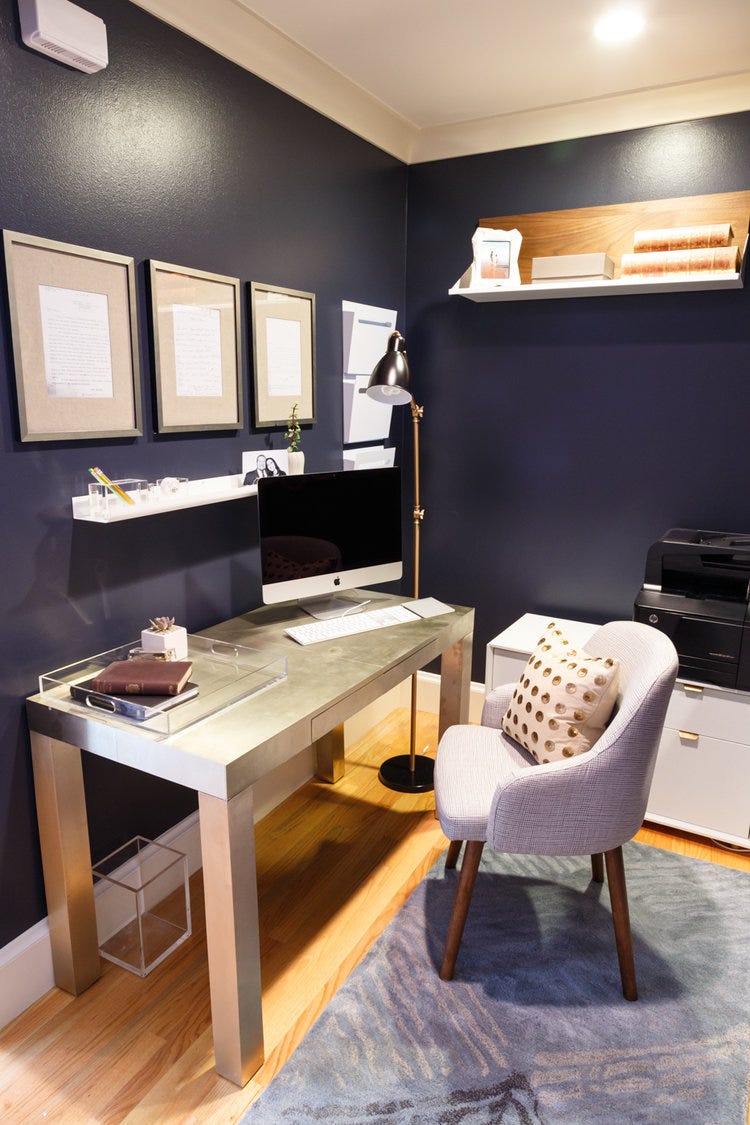 Add Trays
Keep your papers, files, and books organized by adding a stylish tray to your home office desk.
Chic Coffee Mug
Any home office desk will not be complete without a chic coffee mug. Plus, it's convenient to have a nice little refreshment on your desk to keep your brain going on a tiring day.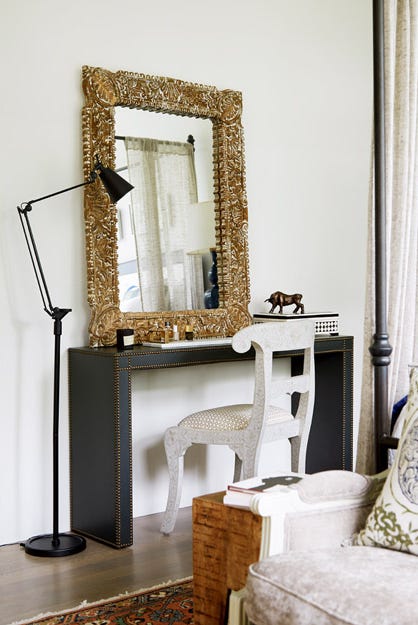 Add a Mirror
Adding a mirror on your home office desk or to any room can make a small space look more spacious. Plus, it's a convenient way to touch up and keep yourself looking fab even though you look stressed since 2010. What? Who said that?
Keep It Simple
Follow Marie Kondo's advice on less is more. Keep your home office desk simple with things that only bring you happiness and joy.
That's a wrap for our fun ideas on how to style to your home office desk. If you are struggling to work from home efficiently, you can check out Omysa's Home Office page to learn more. Happy decorating!