Working in your pajamas sounds like a dream come true, but it's not as easy and fun as you might think. Here are the best tips on how to work from home efficiently.
Working from home sounds too good to be true because you can just roll out of your bed, make yourself a fresh cup of coffee, and get on a meeting in your pajamas with your client or manager. You don't have to wake up early just to get dressed. There's no need to fight and stress about rush hour traffic. No office dramas.
Yes, working from home is awesome, but it also has its drawbacks. Your cat might suddenly throw up on your laptop, the endless barking of your dog with the squirrel outside, your next-door neighbor will start firing up all sorts of power tools and noisy machines, or your kids might start screaming and throwing tantrums. There are a LOT of distractions! Plus, when you work from home, you are your own worst enemy because no one's watching you. You don't feel obligated or pressured to get stuff done.
So, how do you work from home efficiently? I have been working at home for years now and it takes a LOT of discipline to be productive. That's why today, we're going to give you tips on how to work from home efficiently, how to create your home office space, the right equipment and apps to use, and how to be mentally and physically healthy to be more effective because working in your pajamas at your kitchen while eating potato chips isn't optimal. Let's get started!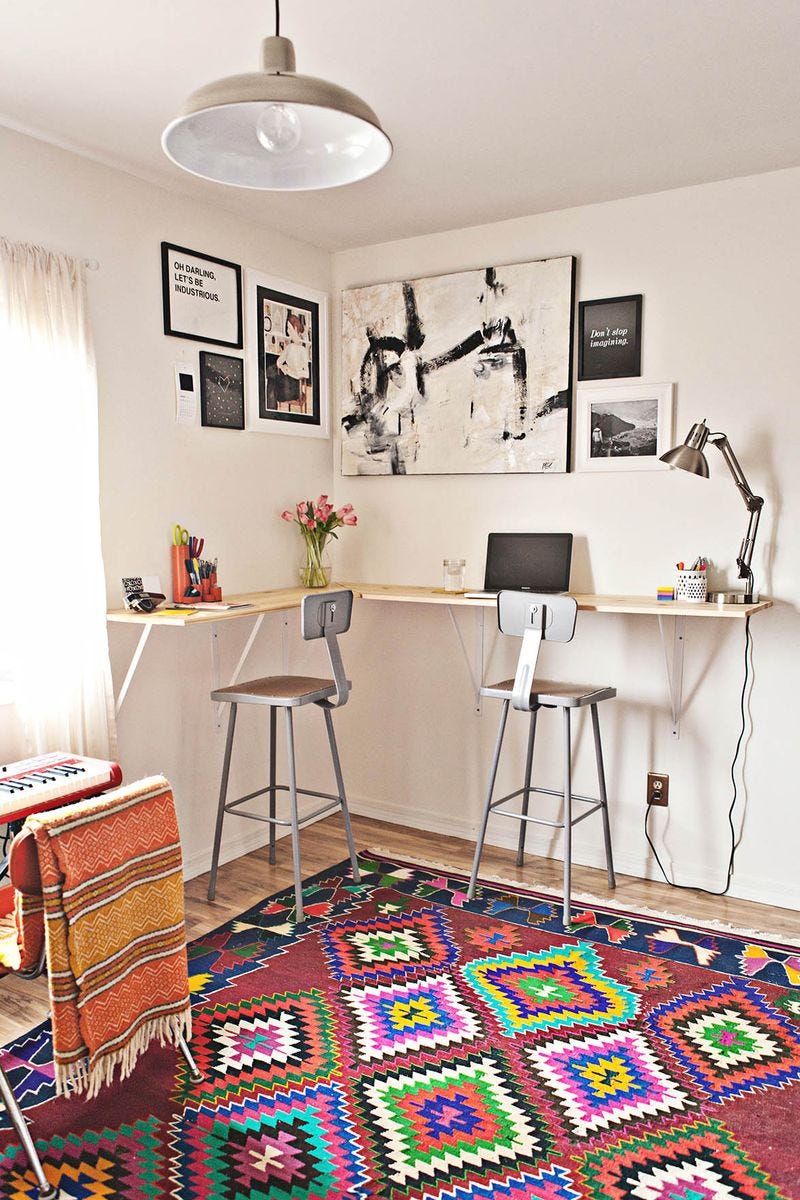 Create Your Own Workspace
For you to be able to work from home efficiently, you need to have a specific area that motivates you to be productive. It doesn't have to be a posh home office like Kourtney Kardashian's. Even a tiny corner of your living room, bedroom, or an empty closet space will be enough as long as it's a proper place wherein you can work (your couch and bed don't count).
Here are some tips on how you can create your own workspace:
1. If you have a small apartment, use a desk with a sleek silhouette. Make sure that it fits everything you need like your laptop, office desk accessories, lamp, indoor plant (if you have one), etc.
2. Use a proper home office chair. Making another cup of coffee won't solve your back and neck pain. If you have the budget, it's best to invest in a comfortable office chair with good support. After all, you'll be sitting most of the time while you work, so it's much better if you have a comfy office chair that will help you work from home efficiently. We recommend Habitat's Ginnie Office Chair or IKEA's Markus Swivel Chair.
3. Keep your papers organized with a file holder and use a small drawer unit to keep office stuff from your desk.
4. If possible, have your home office in a quiet area of your house. For example, if you have a spare closet space, then you can create your own cloffice. All you need is a can of paint and a bit of creativity to transform the space.
5. Use whiteboards to keep track of tasks. We know that there are apps that have a list of your to-do tasks, but you won't be able to check it all the time. In short, it's not going to be visible in your eyes while you work. It's better to use whiteboards where you can see it all the time to check your work progress.
6. Enliven your workspace by adding home office plants. Plus, plants are proven to boost your mood and productivity while working from home.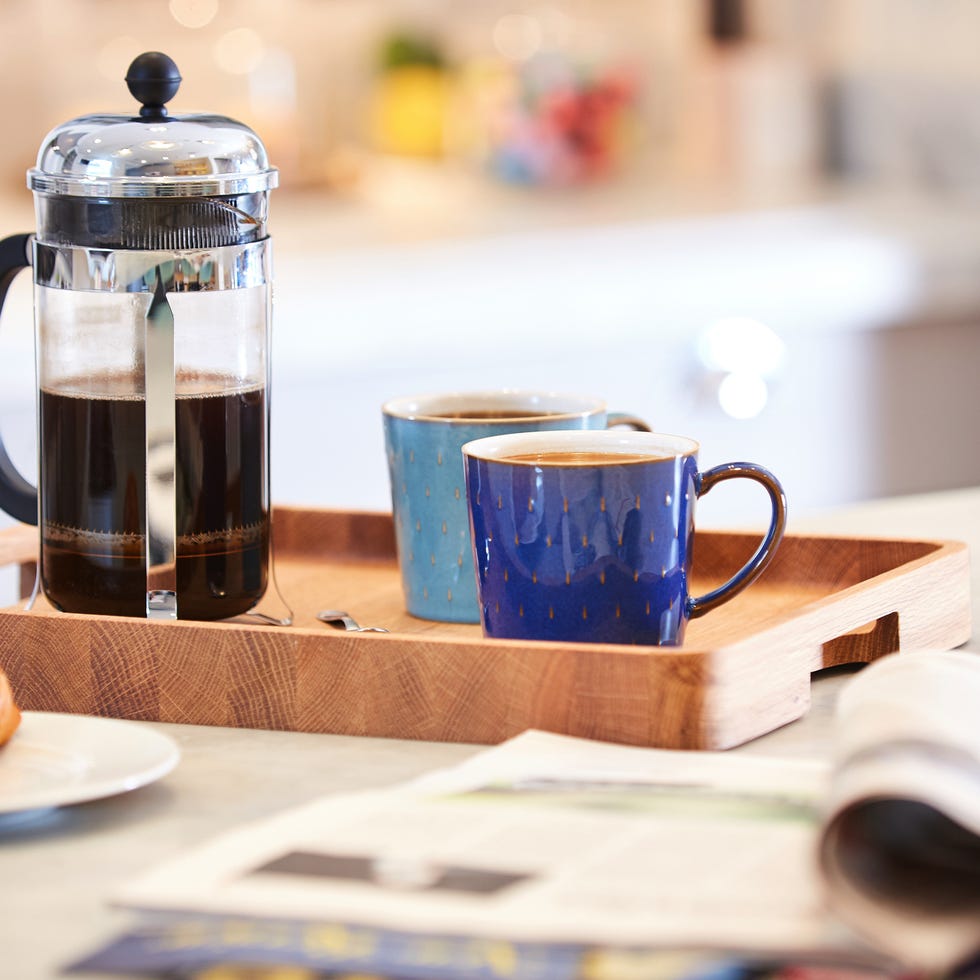 Daily Routine
When you work in an office, your morning commute can help your mind and body to wake up and be ready to work. However, that's not the case when you work from home. It takes a lot more help to push yourself to get out of your bed and to start working. Trust me, I have to set up more than two alarms and have an overflowing feeling of procrastination and pressure just to wake up and get to work.
So, we've collected a few suggestions from experts on how you can create an effective daily routine while working from home.
7. Set a schedule. Yes, just like how you have a 9-5 in your office, but it doesn't have to be 9-5 since most work from home schedules are flexible. Also, planning a schedule around the hours that you're at your most productive can help you work from home efficiently. For example, complete difficult tasks when you know you'll be in the right mindset for them.
Besides, establishing a schedule for your whole workday can also help you keep track of tasks that needs to be done. Stick to it, and you'll finish your tasks by the end of the day.
8. Pretend like you are going into the office, which means take a shower and get dressed. Although you don't need to wear your tie over your shirt or makeup at home, but never ever work in your pajamas. Trust me, you'll be too comfy to work, and you'll always have that feeling to crawl back to bed. Plus, pretending you're actually going to the office helps you mentally to be prepared and be more productive.
9. Take clear breaks. For you to be able to work from home efficiently, it's important to take at least 15-20 minutes to breathe and relax. Also, instead of using your break time to watch YouTube videos or scroll on your Instagram, it's better to spend it away from your desk like to walk outside, play with your pet, or chat with your family.
10. Remove social networks from your browser and put your phone on airplane mode. It's so easy to open and check your Facebook quickly, then you'll realize that you've been scrolling for over an hour, and you haven't started any tasks yet. So, it's best to remove all social networks on your browser shortcuts, log out from all your social media accounts, and put your phone on airplane mode.
11. Choose a finishing time each day. Working from home is similar to being at a casino. You will completely lose track of time. For you not to overwork yourself, set a time that will remind you that the workday is over, and it's finally time to relax.
12. Coffee. Yes, LOTS of coffee, tea, or water. Just be sure that it will help your brain to function and to keep going on a tiring day. Plus, it's important to stay hydrated, so keep a bottle of water in your workspace.
Work From Home Apps
Communication is important when you're working from home, so use apps that will help you communicate with your client, manager, and coworkers any hour of the day.
13. Use Slack to communicate with your client, manager, and coworkers.
14. Use Zoom for video meetings.
15. We have mentioned that it's best to use a whiteboard to keep track of your work progress, but if you don't like the idea of writing your to-do list, you can use apps like Asana or ClickUp to keep on top of things.
16. Always keep your work in sync with your Dropbox, iCloud, OneDrive, and other cloud storage services.
Mental Health
Working from home can be fun, but it can also challenge your mental health like feelings of isolation and loneliness, the pressure to work 24/7, and depression. So, for you to be able to work from home efficiently, you need to learn how to spot these 3 mental health problems and learn how to address them.
17. Working from home can be lonely. You will spend most of your days not talking to anyone. You'll miss chatting and venting about work and life when you work at home. If ever you're feeling this way, don't hesitate to talk to someone close. Interact with your family, friends, neighbor, and even with your pet. You'll feel much better when you see another face during the day and to have a good chat during your break time.
18. Most people who work from home feel pressured to hustle 24/7, which can cause stress and anxiety. Learn how to set boundaries and time management by establishing a work schedule. This way, you'll avoid overworking yourself, and you can take a break and do something that will make you happy and help you relax for a few minutes every day like walking around the neighborhood with your dog.
19. Work from home can also cause depression. According to Mayo Clinic, depression has a lot of symptoms like:
Angry outbursts, irritability or frustration, even over small matters
Loss of interest or pleasure in most or all normal activities, such hobbies or sports
Sleep disturbances, including insomnia or sleeping too much
Tiredness and lack of energy, so even small tasks take extra effort
Anxiety, agitation or restlessness
Slowed thinking, speaking or body movements
Trouble thinking, concentrating, making decisions and remembering things
Unexplained physical problems, such as back pain or headaches
So, if you're feeling one or some of the symptoms, make an appointment to see your doctor or mental health professional as soon as you can. If you're not comfortable with that idea, you can always talk to a friend, loved one, or someone you trust.
Physical Health
You can only work from home efficiently if you're mentally and physically healthy. Here are some tips on how to take care of your body.
20. Be on the move during your break time like walking around the house or while talking on the phone.
21. Eat healthily! Yes, stock your kitchen with healthy snacks and cook healthy meals that will provide you with proper nutrition.
22. Get up and workout. Even a simple workout will do like stretching, squats, jump rope, jogging, or yoga as long as it will help you to be physically active and fit.
23. Get a good amount of sleep. You can only cross off everything on your to-do list if you have a peaceful rest. Try to sleep at least 6-8 hours a day.
24. Sitting for long periods is bad for your health. So, consider getting a standing desk or set an alarm where you'll be reminded to stand from time to time.
25. Adding scented candles in your workspace can help you boost your productivity. For example, lemon can help in concentration and has a calming and clarifying effect. So, the next time you feel that you need to unwind, light up a scented candle, and you'll be able to work from home efficiently.
That's a wrap on how to effectively work from home. Do you work from home? If so, what tips and tricks can you share to stay efficient throughout the day? We'd love to hear from you!