There's a new color in the kitchen that you MUST try: black. It's bold, elegant, and timeless. Trust us, these black kitchen ideas proved that the dark side isn't so bad.
Designing your home black is a big no-no for some people because it makes your place dark and cramped. However, it's not entirely true as long as you mix it with the right decor and furniture, especially in your kitchen. Yes, the heart of your home, and yes, it's easier to pull off than you might think.
From charming farmhouse to small modern kitchen designs, these black kitchen ideas will instantly transform your space into stylish, sophisticated, and undeniably cool. Trust us, you'll love them all.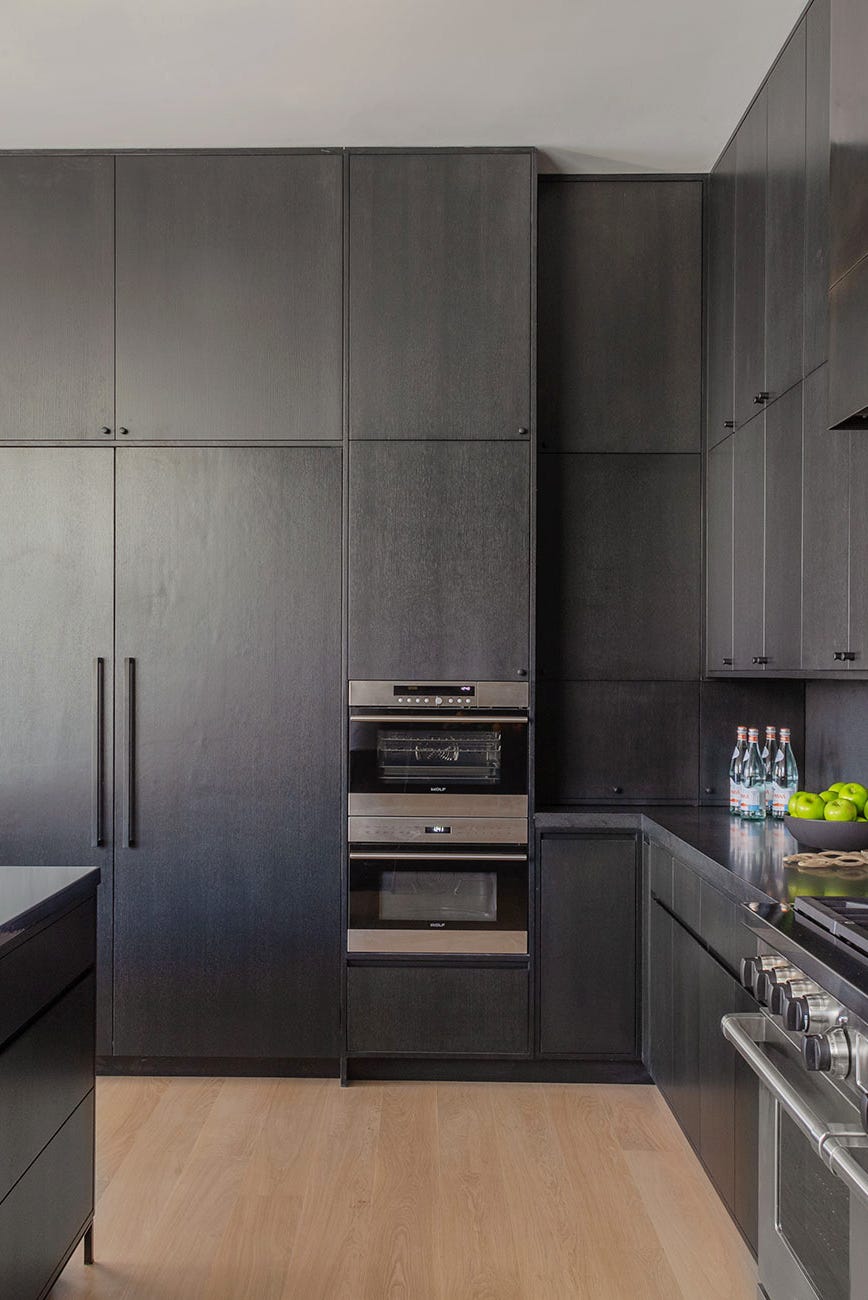 All Black Everything
For the bold and brave souls, if you love the dramatic style, then this all-black kitchen idea is for you. A mix of modern and traditional black kitchen design that will surely make your cooking space sizzle.
Black & Bright
Next on our black kitchen ideas is to create a black and bright kitchen area by letting the natural light flow through the room. Remember that the brighter the room, the more spacious it looks. You can also mix neutral colors like grays, silver, and white to make the space look clean and cohesive.
Clean & Contemporary
It's no doubt that contemporary kitchens are one of the most popular styles because it looks chic, clean, and organized. Create a clean and airy black kitchen by installing a roof window to allow both light and fresh air into the space. Also, opt for open shelves and add houseplants and a vase full of fresh-cut blooms. It will surely make your cooking space feel warm and inviting.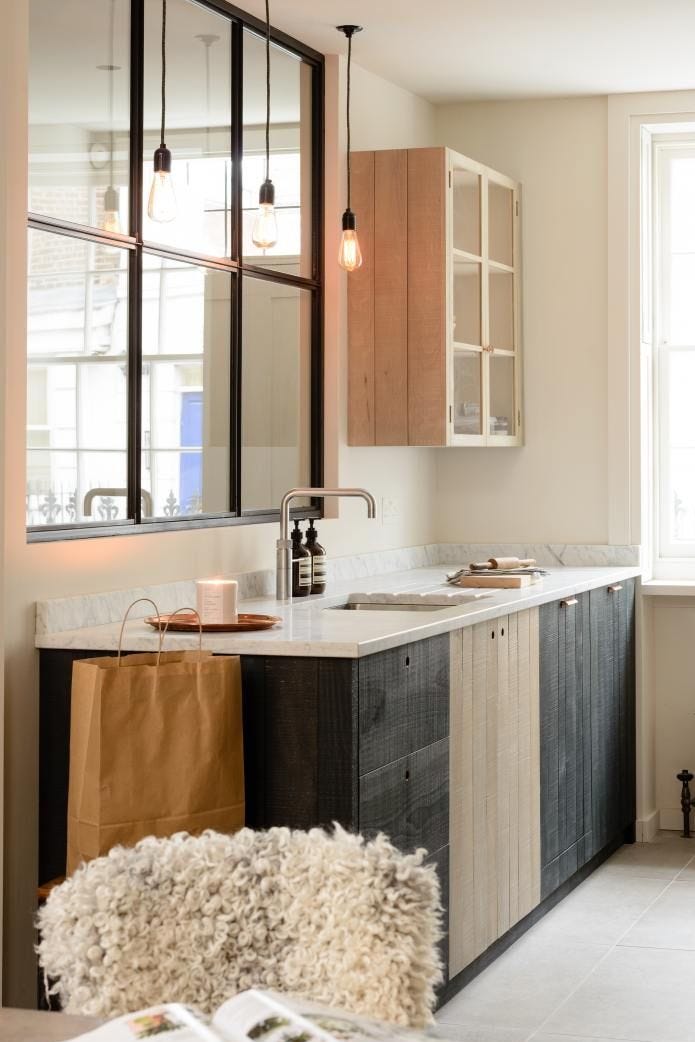 Warm Rustic Industrial Style
Next on our black kitchen ideas that will make you fall in love is the rustic industrial style. It's a mix of materials like marble, metal, and wood. Plus, if you're not a fan of the black kitchen, but you still want to give it a go, you can recreate this look. Alternate finishes of light black and gray stained wood cabinets and a neutral palette to make the space look natural and warm.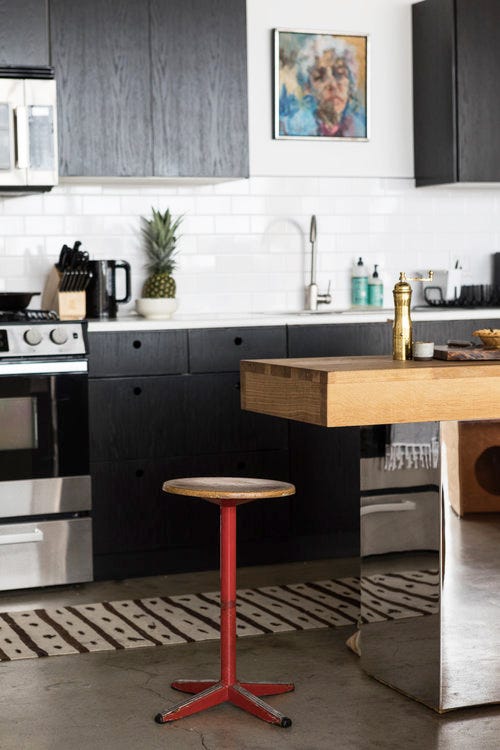 Eclectic Charm
If you can't seem to decide on a specific style for your kitchen, then mix all of your favorite interior styles like this charming eclectic black kitchen. Who would've thought that subway tiles can even blend in with a modern industrial kitchen? Be creative and think out of the box when designing your kitchen. Opt for an edgy concrete floor with an interesting area rug, a retro red stool, your favorite wall art, and a unique kitchen island.
Classy Modern Scandinavian
Next on our black kitchen ideas is to create an elegant yet functional modern Scandinavian kitchen, but with black materials for all your surfaces, natural wood for your floor, and white paint for your walls. You'd be surprised that it's more attractive than having an all-white kitchen.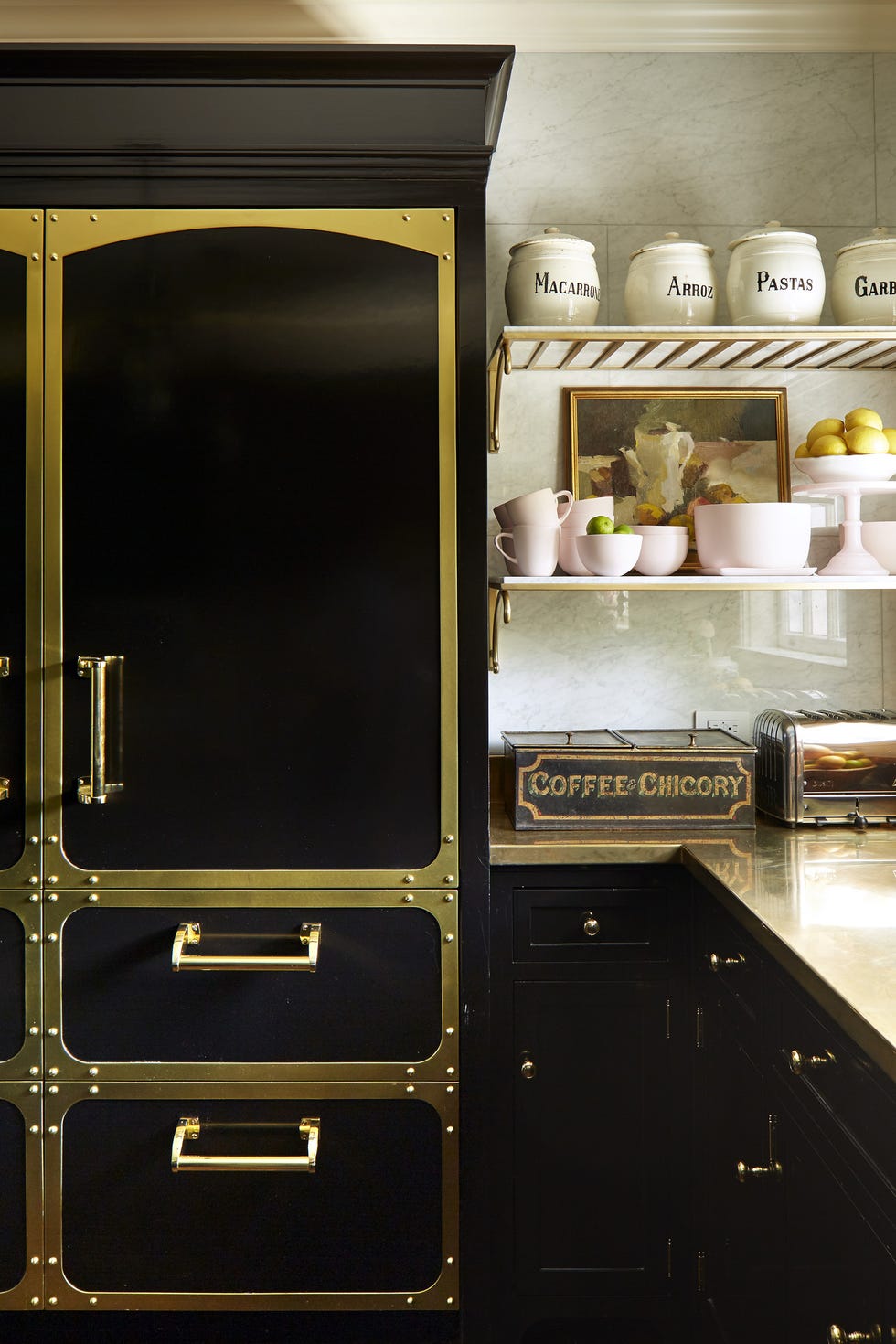 Go Retro
Create a cozy and welcoming black kitchen by going for a cool, retro look. Decorate it with vintage pieces like vintage cabinets and hardware, accessories like vintage coffee mugs, appliances, and checkered floors.
Traditional Glamour
Next on our black kitchen ideas is to create a stunning glamorous black kitchen. No, you don't have to spend a lot to achieve this look. Simply paint your kitchen cabinets black and top it with a high gloss. Then, hang a crystal chandelier or a chic chandelier of your choice to complete the look. You can also improve the style by including a marble backsplash and granite countertops.
Add Pops of Color
If you feel like a black kitchen is too dark for you, then you can add pops of color like a pot of aloe vera, a vase of your favorite flowers, a colorful backsplash, or display your colorful collection of dinnerware sets.
Stay True to Your Style
Lastly, in our black kitchen ideas is to create a kitchen that reflects your personality. There are no rules on how to style your kitchen space as long as it's functional, and you're happy with the color and decor, just like this farmhouse-chic kitchen by Scot Meacham Wood.
That's a wrap for our black kitchen ideas for every style. So, what are you waiting for? Paint your kitchen with this color for a classic and elegant house on the block.
Learn more interior design tips and ideas on Omysa's blog. Happy decorating!