Discover the top 10 kitchen trends this 2020 that will get you started on your renovation plans.
The 2020 kitchen trends are FINALLY in, and we are fired up about it. Personally, it's my favorite area in my home (even though I don't know how to cook) because it's where the food is. Kidding! I love hanging out in our kitchen. It feels warm, and it always smells so good. There are a lot of new kitchen design trends this 2020 that will make your heart full. From swoon-worthy ceilings to pretty kitchen larders. What other kitchen trends are in store this 2020?
Unexpected Shapes
Let's start with a very unexpected yet very cool kitchen trend: unexpected shapes for kitchen decor. We're talking about curves and round-edge kitchen cabinets and rounded island. It's simple, but it will definitely give your kitchen that wow factor and totally out of the box. Plus, it's safe for kids and clumsy people (like me).
Faux Marble Kitchen Countertop
Yes, we're saying goodbye to real marble and hello to faux marble. According to Hilary Matt of Hilary Matt Interiors, "Although real marble is the most beautiful to use in kitchens, most people would rather have a countertop that has zero upkeep. No one wants to worry about staining or etching which is inevitable. There are many fake marbles on the market that look so real that no one would ever know it's a reproduction."
So, this 2020, we're going to see more kitchen countertop made of faux marbles (porcelains and man-made materials).
Blue Kitchen
Classic Blue kitchen will be popular this 2020, and it's a no-brainer since it's Pantone's pick for 2020 Color of the Year. Sue Wadden, director of color marketing at Sherwin-Williams, told BHG that the blue color family is extremely versatile. Its varying shades—from light to denim to navy—have calming qualities that induce a sense of comfort at home and feel almost neutral.
Personally, if you spend so much time in your kitchen, a calming color like classic blue or dark green is the best. Plus, it gives your kitchen a classy and elegant look.
Double Islands
Since more and more people are leaning towards bigger kitchens, the kitchen island has become an essential kitchen feature. One of the kitchen trends this 2020 is double islands. One island is focused on food preparation and storage. It also has a large sink, large drawers, and undercounter appliances. The second island provides accommodation with a bar sink, wine storage, and extra seating.
"Expanding a kitchen's function and maintaining traffic flow, double islands in the kitchen are an integral feature. It's a convenient way to divide the area between meal preparation and serving or gathering. With the addition of dual sinks, cleaning up is a breeze!" — Courtney Hill Fertitta of Courtney Hill Interiors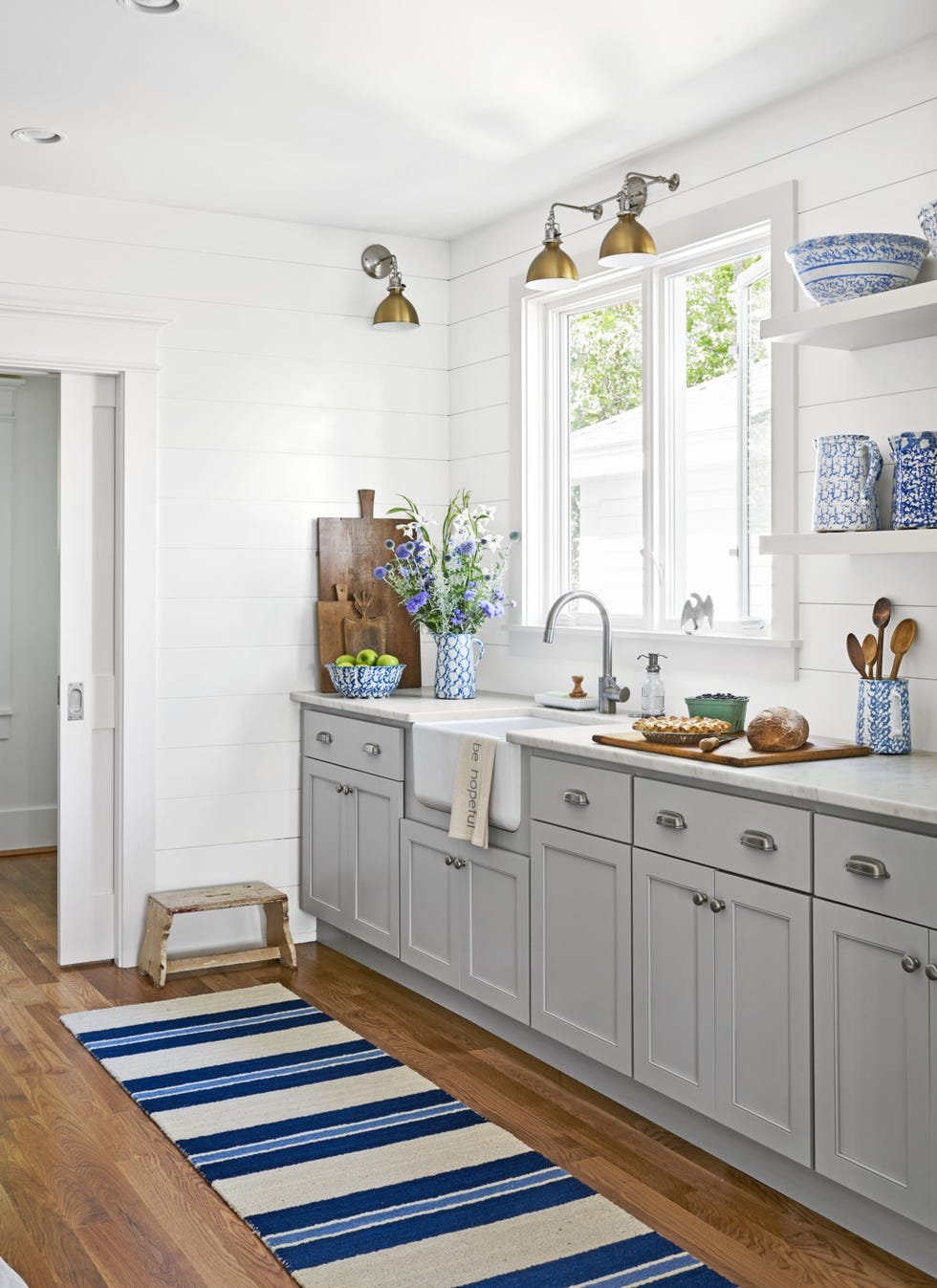 Mix and Match Kitchen Metals
Gone are the days where every kitchen finish has to be matchy-matchy. Also, mixing and matching metals doesn't have to be stressful and dramatic. You can start by picking two similar—but not identical—finishes. For example, a two-tone sink can add style in your kitchen and still be in the trend.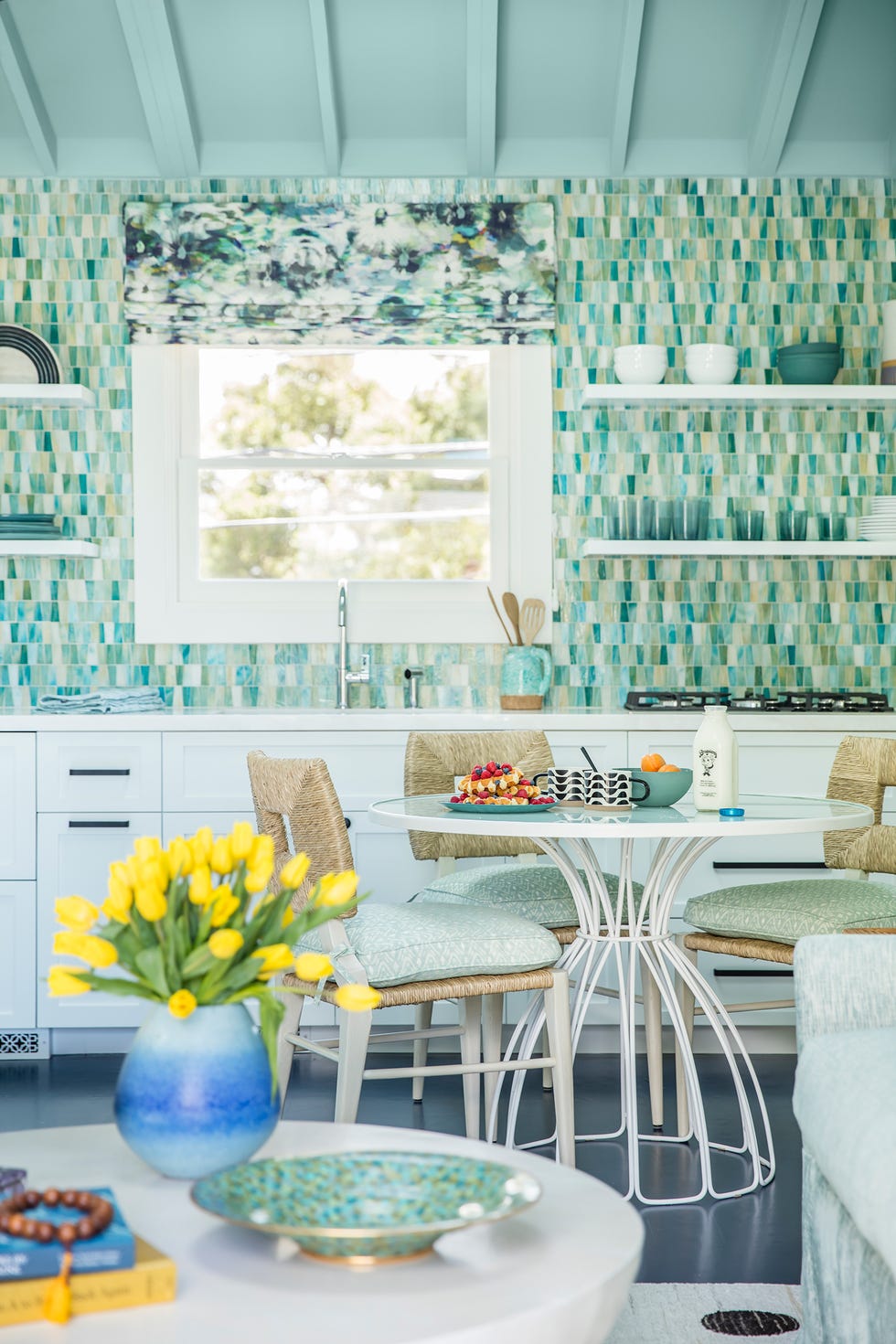 Colorful Kitchen Tile
Christine Markatos Lowe of Christine Markatos Design shared her opinion about this 2020 kitchen trend, "a backsplash is the best place to add a pop of color into a kitchen design without having to do a full kitchen renovation. While white kitchens will always be in style, people seem to be taking more risks with color and design these days." Indeed, kitchen design has become more artistic.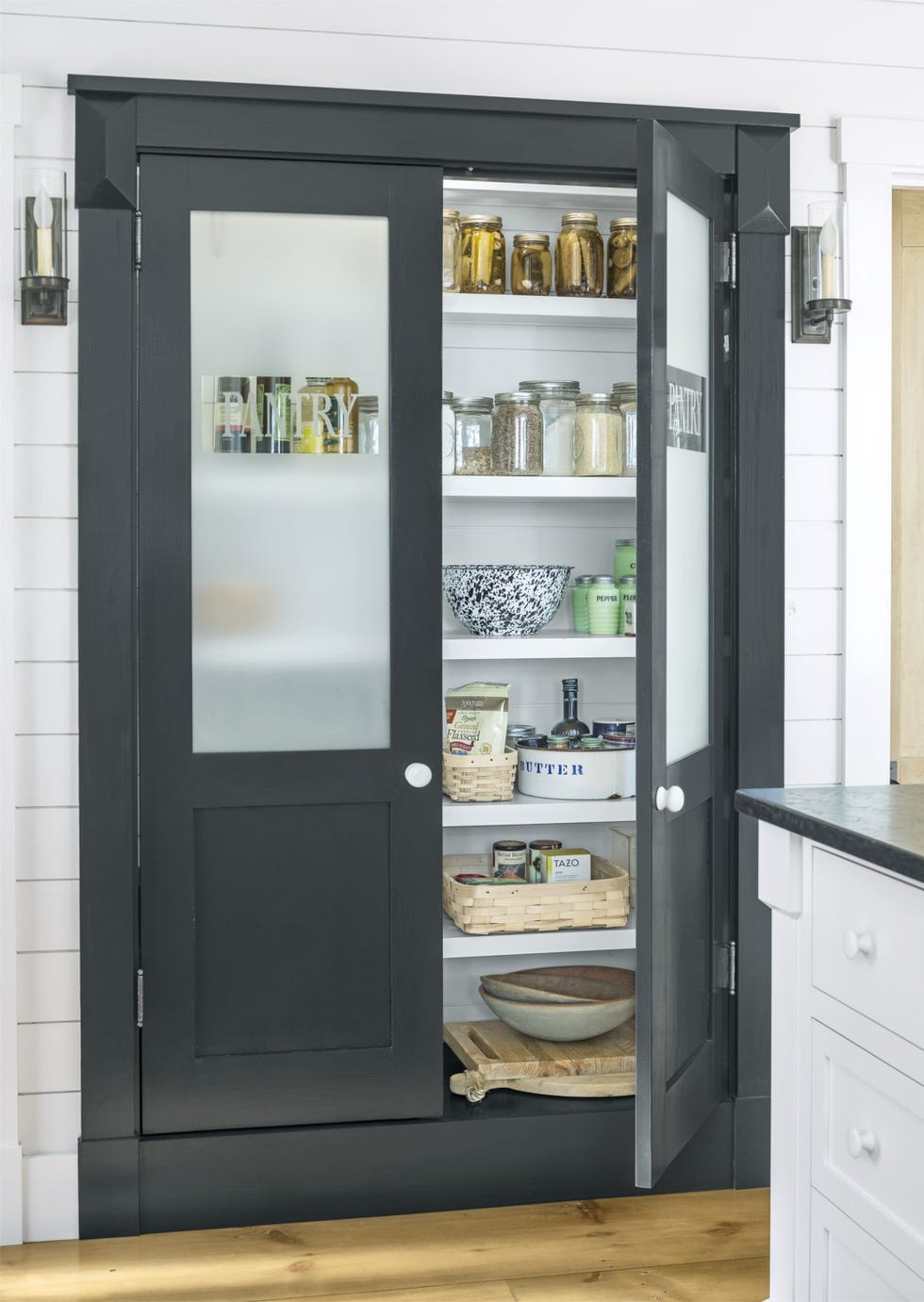 Kitchen Larders
Most people have no idea what larder means or if they have one in their kitchen. A kitchen larder is originally a room used to preserve raw meat. Yes, this is the refrigerator version way, way, back. Today, kitchen larders are what we call pantry or, for some, a stand-alone cupboard. Some people use this space to store all their dry goods and other kitchen items. To make this space beautiful, you can add a glass front or screened door.
Statement Kitchen Ceiling
Redecorating your ceiling with a fun color or wallpaper is a great way to bring detail and visual attention to your kitchen. It's all about getting creative with the materials that you use.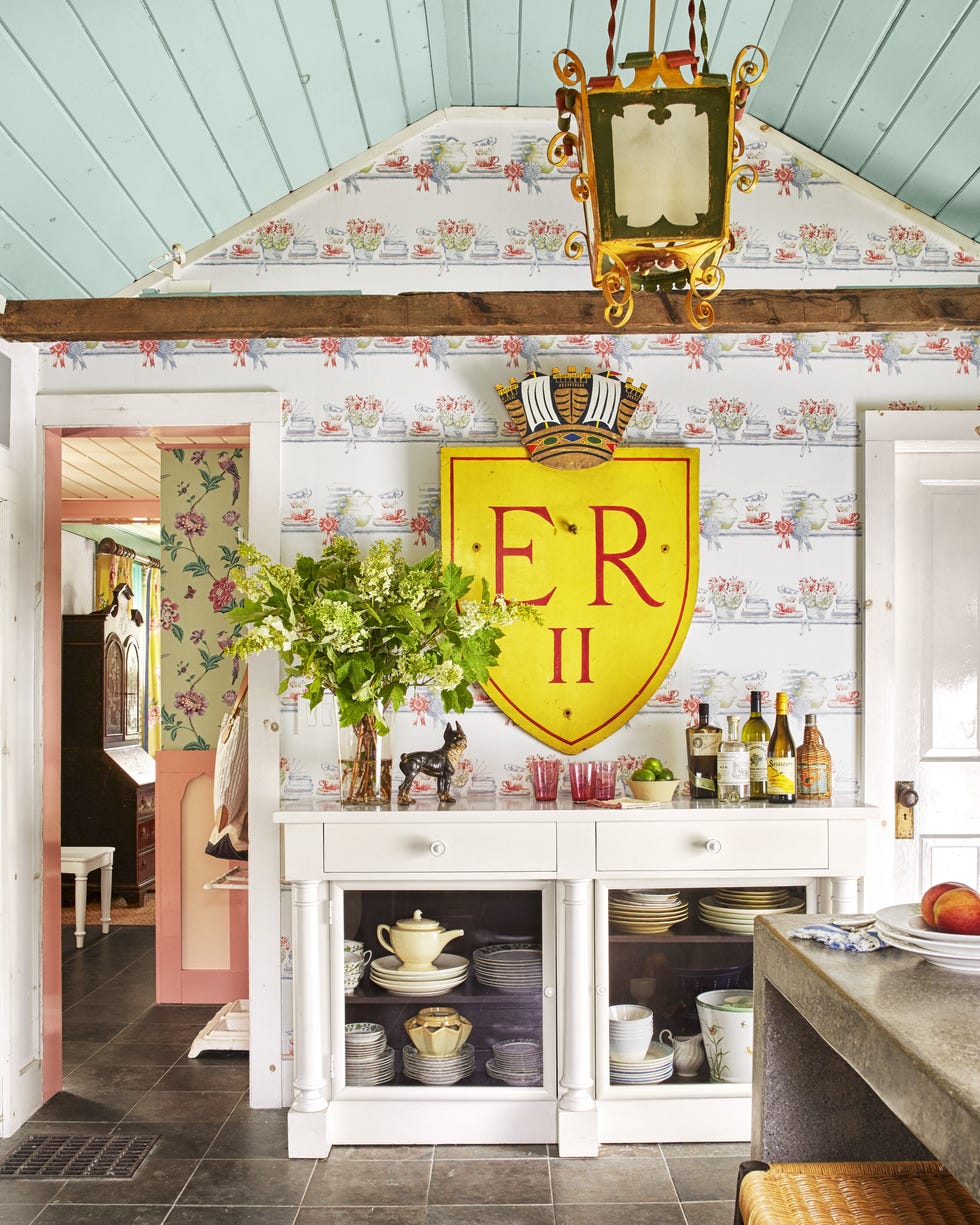 Kitchen Wallpaper
Say bye-bye to your white walls and hello to bold graphic floral wallpapers. This will definitely make your kitchen stand out from the rest. There are a lot of different ways to design your kitchen with wallpaper. You can create a wallpapered accent wall, or if you're tired of your gray and white refrigerator, give it a makeover by doing a DIY wallpaper refrigerator front.
Wallpaper can also brighten your kitchen's pantry. You can even use it as your kitchen's backsplash. It's best to use peel-and-stick wallpaper if you can't stay with the same design for too long or if you just want to try something new.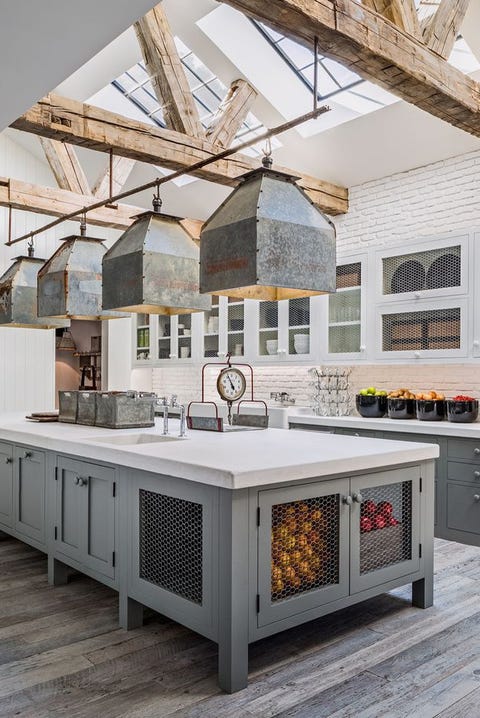 Two-Tone Cabinets
Last but not least, on our kitchen trends list, two-tone cabinets. This style is on the rise because it offers the best of both worlds. Feel free to mix it up! You can combine bright colors or neutrals.
For example, you can paint the upper part with white and the lower part with classic blue, mint green, yellow, and even dark purple works.
There are a LOT of kitchen trends this 2020, but you have the freedom to choose which trend matches your style. We hope that our 2020 kitchen trends list will guide you in decorating your kitchen.
However, if you're planning to decorate your entire home but don't know what style suits you best, you can check out our blog about the most popular interior design styles. You can also transform your home with these 2020 interior design trends.
Designing your kitchen or home can be a bit scary and stressful. Keep in mind that there are no rules in expressing your creativity. Let your interior style tell your story and personality. Now, go decorating!