Interior design mistakes are common, but you can learn how to avoid them by following these tips from experts.
Designing your dream home can be both fun and challenging. During the process, you might commit some interior design mistakes that you will surely regret after like hanging that artwork too high or buying a rug that's too small. However, even a beautiful home at Beverly Hills would make some interior design mistakes before achieving a perfect space. Plus, that's one of the reasons why a lot of homeowners would consult and hire interior professionals.
But what if you don't have the budget for an interior designer? So, how do you design your dream home? You begin by learning these interior design mistakes and how to avoid it by following these tips from interior experts.
Hanging Art Too High
I think everyone wants to showcase or highlight the precious artwork in their home, especially if it's worth a pot of gold or if it's made by someone famous. However, it's one of the most common interior design mistakes, according to interior designer Max Humphrey.
Humphrey noticed that a key interior design mistake is when art is hung too high or it's placed in an obvious way. "I think it's a mistake to be too precious about highlighting the placement of your art. Just because you spent some money on artwork doesn't mean it won't still look awesome over a sideboard in the hallway with a lamp and a pile of books right in front of it," he added.
The Solution: Humphrey suggested to hang your artwork in eye-level or a bit lower. Plus, it's ideal to use a removable hook to test the location. Also, don't be afraid to put your artwork in an unexpected, subtle area of your home.
Following Design Trends
You wouldn't believe that following design trends could be an interior design mistake but it is. Yes, we know that you just want your home to look picture-perfect, but following design trends every single year is not really advisable since it comes and goes.
The Solution: Ask yourself, What do I really want to do with the space? What's my interior style? You can mix and match colors, textures, styles, and patterns. Make it personal. Create a home that will reflect you.
Pushing All Your Furniture Against the Wall
I have to admit, I used to do this mistake because I thought that it would make the room feel more spacious, but I was wrong. The place looked lifeless and smaller.
Betsy Burnham of Burnham Design says, "For some reason, people love to push their furniture pieces up to the walls of their rooms. This makes designers crazy, and it really doesn't save or create more space!"
The Solution: Burnham suggested to pull pieces toward one another and off the walls to create more intimate, useful seating. "I always encourage people to draw even the most basic plan and play with the placement of their furniture, just as we do," she added. Also, never put your sofa closer than 6 inches from a wall. Plus, it's best if you use an area rug to provide a 'boundary.'
Wrong Rug Size
Rugs have the power to transform a room. Plus, it creates boundaries for your furniture so you have to choose the right size for the space. Emily Henderson says, "A living room rug should really ground the whole seating around it. It tells everyone that this is where the conversation is. A small rug makes it feel disjointed and really cheapens everything."
The Solution: To avoid this interior design mistake, pull out your measuring tape and measure the area before buying an area rug. Henderson added that living rooms should have a rug that's at least 8 by 10 feet or 9 by 12 feet. Plus, a rug should be big enough to fit at least two chairs or sofa legs on it.
One Light Source
"Lighting is incredibly important to any space. When lighting is washed over you from above, it can be unflattering and harsh," says Athena Calderone, founder of EyeSwoon. We agree that having one light source in each room will help you to see in the dark. Also, it's practical but it's not really enough to brighten the whole room.
The Solution: Layer your lighting. "Be sure to have lighting on dimmers and also coming from multiple sources at different heights like floor lamps and table lamps. And always choose soft white bulbs." Calderone suggested. She also added that warm lighting not only sets the mood but also makes a room feel intimate and aglow.
Failing to Consider Scale
Interior designer Abigail Ahearn says, "Scale and proportion are the holy grail of design. If everything is the same size or if everything is either too big or too small, your room will read like a hot mess." So, it's crucial to consider the heights and sizes of your furniture to make the space reach its full potential.
The Solution: Balance is key. Ahearn suggested, "Think of your space as a city and fill it with a combination of heights and proportions. Look at any cityscape and you'll find this intriguing mix of scale and a unique blend of fascinating shapes—that's what you want to nail!" Also, you can use masking tape and chalk to understand the space and to find the appropriate furniture for the room.
Treating Indoor Plants as an Afterthought
One of the interior design mistakes that I hate is adding indoor plants but not treating it well. You simply placed it in your home just to use it as a decor. That's a big no-no for me. Same with Brian Patrick Flynn of Flynnside Out Productions. "I think this happens because homeowners run out of steam (and cash) at the end of a redesign, and they want to add some element of height and organic texture, but it really doesn't add anything at all to the room."
The Solution: If you really want to enliven your space, but you don't have the green thumb to keep a plant alive, then place low maintenance plants like snake plants, devil's ivy, and ZZ plant. These plants are perfect for busy and forgetful owners. Plus, you don't have to water them all the time, and they can thrive in low light places.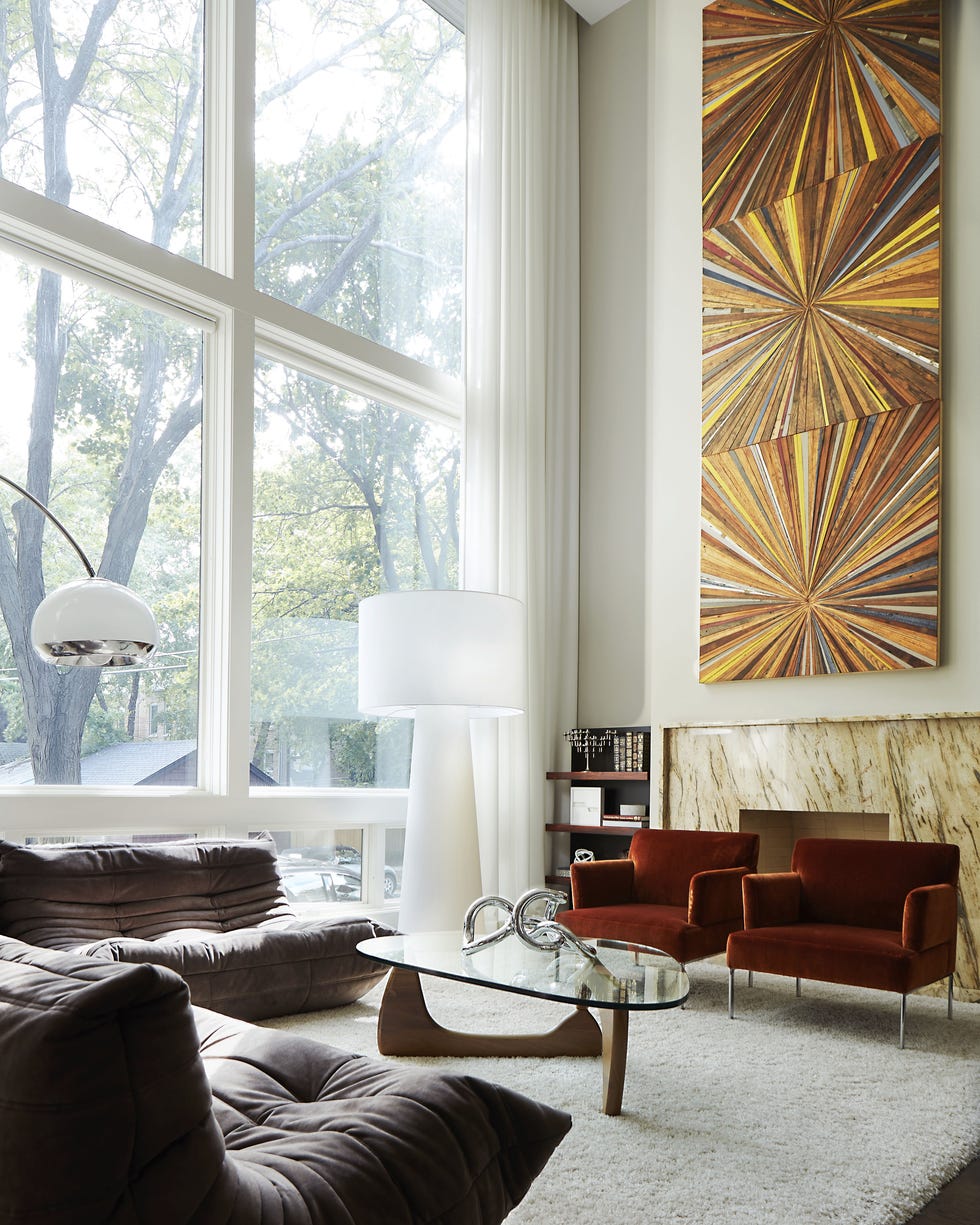 Buying All Your Furniture in One Place
Another interior design mistake that most of us are guilty of is buying all the pieces in the collection. It's like buying a whole outfit that the mannequin is wearing. It looks good, but it doesn't reflect your style and personality.
The Solution: Add personality to your home by adding furniture and decors gradually. Laurie DiGiacomo of Laurie DiGiacomo Interiors says, "A room or home should develop over time where meaningful pieces are added slowly. Doing so will give your home a more curated look."
Invest in One Furniture Statement
You won't be happy and satisfied if you settle for a cheap substitute. However, a lot of people do this interior design mistake because they thought that buying lots of inexpensive, small accents or settling for a similar piece of furniture will save them money, but it's actually the opposite.
Homepolish interior designer Ashlie Mastony says, "The most common interior design mistake I see is when people buy lots of small furniture pieces, or piles of accessories, to avoid investing in a big high-impact item like a great sofa, an awesome headboard, or an amazing piece of art. In the end, the little things cost just as much and the space feels cluttered rather than cohesive."
The Solution: Save up, buy that furniture that you love, then build the whole room around it. If you really don't have the budget, you might find your dream sofa for a cheaper price on websites like Craigslist.
Overdecorating Your Space
Lastly on our interior design mistakes list is putting too much furniture in your room with no sense of symmetry. Also, over decorating your room is different from maximalism, wherein there are balance and story behind the interior style. Overdecorating your space means that the furniture and decors don't have a purpose. The result? The room looks cramped, and it doesn't reflect your lifestyle.
The Solution: Use furniture that's more versatile. Pamela Durkin of Pamela Durkin Designs says, "I like pieces that perform multiple purposes. A small desk in your bedroom also serves as a nightstand. A swivel chair in the living room can turn to watch TV or a beautiful view out the window. Fewer pieces but better ones will serve you for many years."
That's a wrap on how to avoid these common interior design mistakes. Hope that this guide will help you create your dream home. Learn more interior design tips and ideas on Omysa's blog. Happy decorating!